Highlights

BTC and ETH may have lost in 2022, but a few cryptos are in the green on a year-to-date (YTD) basis

Only a handful of cryptocurrencies are faring above their January 1 price tag, making them outliers

Elon Musk's tweet on DOGE and US President Joe Biden's executive order do not seem to have produced any lasting gains
Many crypto-related headlines are dominated by the decline in Bitcoin's price so far in 2022. As of writing, most of the high cap cryptocurrencies, which include Bitcoin, Ether, BNB, Cardano, and Dogecoin had lost value on a year-to-date (YTD) basis.
This fall in most cryptos manifested in the total market cap of cryptos tracked by CoinMarketCap. The website has some 18,000 crypto assets listed, and the aggregate market cap was over US$2.2 trillion at the start of 2022. As of writing, it was not even US$2 trillion.
In this rough phase, however, there are a few assets that have managed to trade in green on a YTD basis. But before we know more about these, let's know about the fall in BTC and ETH.
Bitcoin and Ether's YTD returns
Much of the decline in the total market cap of cryptos can be attributed to the sharp fall in the values of the top two assets -- BTC and ETH. As of writing, BTC and ETH had a share of nearly 42 per cent and 18 per cent, respectively, in the total market cap.
In 2022 so far, Bitcoin is down in double-digit percentage points. Though the exact reason cannot be ascertained, many analysts are pinning the blame on factors like rate hike anxieties and the ongoing geopolitical conflict in Eastern Europe. Bitcoin's price was nearly US$46,700 on January 1, but it was under US$40,000, as of writing.
ETH, the native token of the popular blockchain network Ethereum, is also subdued. ETH's loss so far in 2022 is more than BTC's, and from nearly US$3,700 on January 1, the ETH token was trading at under US$3,000 as of writing.
The bearish trend in cryptos has gripped Ethereum rivals like Cardano and Solana even more, and meme tokens Dogecoin and Shiba Inu too have lost substantially this year.
Also read: 3 cryptos to watch if you are a cryptocurrency beginner
Cryptos that have gained in 2022
Below are the cryptocurrencies that defied the odds and posted YTD gains so far. That said, as cryptos are volatile, regardless of their high or low market cap, what happens in the coming months cannot be predicted.
1. Waves (WAVES)
Waves, with a market cap of nearly US$2.8 billion ranked in the top 50 cryptos at the time of writing. The Waves project includes a network that can support decentralized applications (DApps), and an exchange titled Waves DEX.
The WAVES token of the network is an ERC-20 crypto, which started its journey with an ICO. WAVES is one crypto that has risen in 2022, though the bulls entered only from the start of this month. The price was nearly US$14.8 on January 1, but it soared to almost US$30 lately.
2. UNUS SED LEO (LEO)
The LEO crypto has a market cap of nearly US$5 billion, and it is linked to the iFinex project. The project claims to be helping users of the Bitfinex exchange in saving on trading fees. It also states that the LEO crypto may have only a limited run.
On January 1, the LEO crypto had a price of nearly US$3.8. In early February, the price topped US$7. By this measure, LEO makes for an interesting watch. The token has a burning crypto feature, which means the iFinex project burns the LEO cryptos after buybacks.
Also read: What is Wilder World metaverse? WILD crypto's trading volume soars
3. PAX Gold (PAXG)
PAX Gold is a high-priced cryptocurrency. On January 1, PAXG had a price of nearly US$1,800, which lately crossed US$2,000.
The project seems very different from most others. It claims to be backed by gold. The project's official name is Paxos Standard, and it claims to enable trading in gold even in very small quantities.
It is said that all PAXG tokens are backed by physical gold. Unlike the above two, PAX Gold does not have a market cap in billions of dollars as of now.
The price of the PAXG token seems to mirror the price of gold due to the claimed peg. How the Paxos Standard project fares, in the long run, makes for a close watch.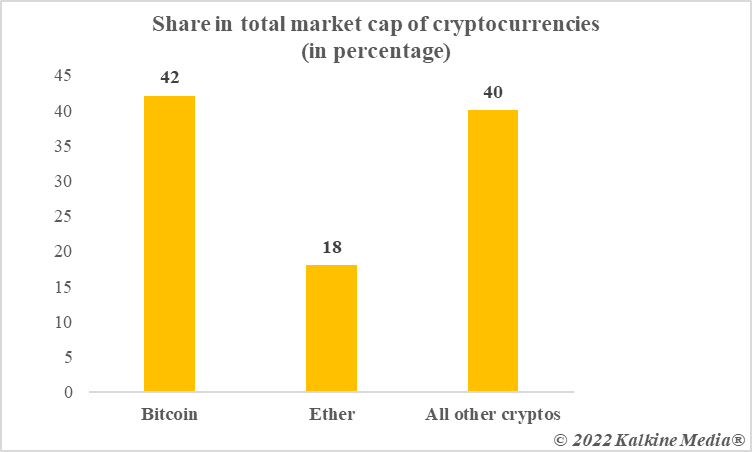 Data provided by CoinMarketCap.com
Also read: LimeWire plans comeback as NFT marketplace: A look at NFT-trading space
LUNA, ANC and ZEC
Aside from the above three, a few other cryptos were trading in the green on a YTD basis, as of writing. This included the top 10 cryptocurrency Terra (LUNA), a lending platform Anchor Protocol (ANC), and a privacy-focused crypto project Zcash (ZEC).
At the same time, it is notable that out of the thousands of cryptos listed on CoinMarketCap, only a few of them had registered gains on a YTD basis.
Viewpoint
Last year, Solana and Axie Infinity were discernibly two of the top-performing cryptos, but these are both down so far this year. This reveals the underlying volatility of cryptocurrencies, no matter how high the market cap is. But what makes the above-mentioned cryptos like WAVES and LEO notable is that they have gained at a time when the overall trend is deeply bearish.
Also read: Top 3 meme cryptos by market cap to watch after Ukraine's Dogecoin move
In the coming months, it may be possible that these would be replaced by some other cryptos. There is no guarantee where prices will move from here on.
What is important is to first understand the project to which any cryptocurrency relates. For example, ETH is Ethereum's crypto, which might mean that a lot may depend on Ethereum's blockchain's performance for the ETH token.
In 2022, Elon Musk tweeted about Dogecoin, but it did not seem to translate into lasting gains for the DOGE token. Similarly, US President Joe Biden has recently introduced an executive order for "ensuring responsible development" of digital assets.
This was viewed by some as a probable nod to cryptocurrencies, though the order for now only instructs various government agencies to study risks and benefits. Cryptos like BTC and ETH did not manifest any real positive price movement in the wake of the order.
What happens next, makes for a close watch, especially in the case of those cryptos that have gained so far this year.
Risk Disclosure: Trading in cryptocurrencies involves high risks including the risk of losing some, or all, of your investment amount, and may not be suitable for all investors. Prices of cryptocurrencies are extremely volatile and may be affected by external factors such as financial, regulatory, or political events. The laws that apply to crypto products (and how a particular crypto product is regulated) may change. Before deciding to trade in financial instrument or cryptocurrencies you should be fully informed of the risks and costs associated with trading in the financial markets, carefully consider your investment objectives, level of experience, and risk appetite, and seek professional advice where needed. Kalkine Media cannot and does not represent or guarantee that any of the information/data available here is accurate, reliable, current, complete or appropriate for your needs. Kalkine Media will not accept liability for any loss or damage as a result of your trading or your reliance on the information shared on this website.