Highlights

Limited supply cryptos mean a cap on the maximum number of coins that can be issued in the market
A few cryptos have already reached their maximum supply limit; however, some like Bitcoin will take time
An upper limit on supply side can likely act as an appeal for investors just like rare earth metals
The cryptocurrency world is not homogeneous group. If Bitcoin is a contender to replace fiat currencies like the US dollar, Cardano (ADA) is a peer reviewed platform for decentralized apps.
Low supply cryptos have their own attraction. Once the limited supply equals circulating supply, people will be more fascinated by their 'rarity'. Now that the electric vehicle industry has become a formidable player in automobile sector, countries with metals like lithium and cobalt are gaining. Why – because of limited supply.
Today, let's find out top cryptos with limited supply and also look at their key fundamentals.
1. Bitcoin (BTC)
Bitcoin is by far the most popular and biggest headline making cryptocurrency. It is also slowly making strides towards replacing fiat currencies. El Salvador has introduced it as a legal tender.
According to reports, Bitcoin can have a maximum supply of 21,000,000 BTC. At the time of writing, CoinMarketCap listed its circulating supply as 18,835,118 BTC. This means Bitcoin is nearing its total supply limit. However, it may not hit the peak until the year 2140.
Also read: Top 10 cryptocurrencies to mine in 2021
It is estimated that the last three per cent of BTC will be mined only after the year 2100. What happens is that the reward for every block reduces with time, making mining even more complex.
At the time of writing, Bitcoin was trading at nearly US$49,000 apiece. Over the last seven days, BTC has gained in double digits. The total market cap of Bitcoin is nearly US$925 billion.
2. Binance Coin (BNB)
Binance Coin is the native token of Binance, a leading cryptocurrency exchange. The coin was issued in an Initial Coin Offering (ICO) in 2017. It was declared that the total supply will be 200,000,000 BNB coins. With eventual 'burns', the supply is falling.
Binance aims to become a one-stop solution for all distributed ledger needs. The network now includes Binance Chain that supports decentralized apps or DApps.
Top cryptocurrencies with limited coin supply
At the time of writing, BNB was trading at nearly US$420. The market cap of BNB is nearly US$71.6 billion. Even the crackdown on Binance exchange by multiple regulators hasn't resulted in any large fall in its value.
3. Cardano (ADA)
Cardano is one of the best cryptocurrencies of 2021. Launched in 2017 as a blockchain platform, ADA is its native token. Cardano works on the proof-of-stake consensus, which is claimed as better than proof-of-work.
With the recent Alonzo hard fork, Cardano's blockchain now supports smart contracts. The proof-of-stake protocol is said to be less power intensive than other consensus mechanisms. Cardano (ADA) will have a total supply of 45 billion coins. The current circulating supply is nearly over 33 billion coins.
At the time of writing, ADA was trading at nearly US$2.20 apiece. The market cap is nearly US$70 billion.
4. XRP (XRP)
XRP runs on RippleNet, which belongs to blockchain-based digital payment network Ripple. XRP's own database is XRP Ledger. XRP is the native currency of this database.
XRP aims to make international payments cheaper and quicker. XRP Coin's maximum supply can be 100 billion coins. This makes it an interesting limited supply crypto token with unique blockchain features.
Also read: Top 5 cryptocurrencies available for under $1
At the time of writing, XRP was trading at nearly US$1.04 apiece, and the market cap was a little over US$48 billion.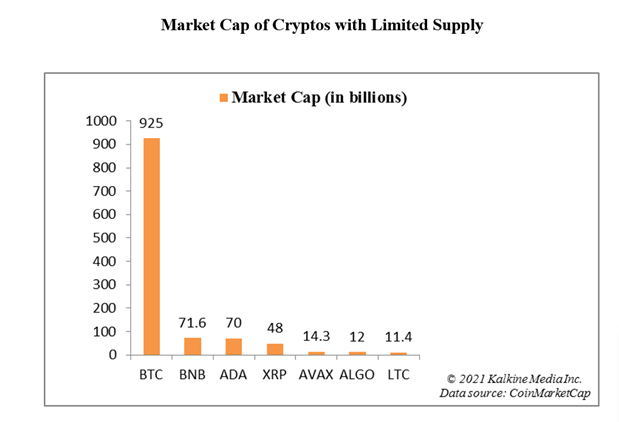 5. Avalanche (AVAX)
Avalanche allows decentralized applications to be built on its blockchain platform. Some of the projects running on Ethereum's blockchain have also integrated with Avalanche's platform. X-Chain, P-Chain and C-Chain are said to be the three distinct blockchains of Avalanche, each providing different features.
The blockchain's token AVAX can have the maximum supply of 720 million coins, of which over 391 million coins were in supply at the time of writing. Avalanche is an Ethereum competitor, which makes it an interesting crypto of 2021.
At the time of writing, AVAX was trading at nearly US$65 apiece. The market cap of AVAX is nearly US$14.3 billion.
6. Algorand (ALGO)
ALGO is another multi-billion-dollar market cap crypto with limited supply. Algorand's blockchain is said to be an alternative to Bitcoin, which is infamous for consuming too much electricity.
Based on proof-of-stake consensus mechanism, Algorand is said to be a mining-free cryptocurrency. Just like other blockchains competing to make transactions cheaper, Algorand is doing it with a permission-free protocol.
Also read: 10 little known cryptocurrencies investors must explore
ALGO can have a maximum supply of 10 billion coins, of which over 6.6 billion were already in supply at the time of writing. It was trading at US$1.9 apiece with a market cap of nearly 12 billion.
7. Litecoin (LTC)
Litecoin was created in 2011 as a Bitcoin competitor. Touted as the 'lite version' of BTC, it has a lower block time with considerably lower fees. Unlike other altcoins listed above, LTC is also a pure digital currency just like BTC.
LTC can have a maximum supply of 84 million coins, which has already been achieved. The Scrypt based coin challenges BTC's digital currency attribute, unlike Ethereum (Ether) that competes with Bitcoin as a blockchain platform.
At the time of writing, LTC was trading at nearly US$167 apiece. The market cap was nearly US$11.4 billion.
Apart from the above seven, there are a number of cryptos with limited supply of coins like Filecoin (FIL), THETA, and Tron (TRX). With a limited supply of linked coins, these blockchains provide their holders the benefit of rarity of commodity.\
Bottom line
Not every cryptocurrency has a limited supply. Ether, the second largest crypto by market cap does not have any cap on maximum number of coins. This categorizes it as a unlimited supply crypto. However, limited supply is an attraction for many investors. Bitcoin's most talked about feature remains its cap on maximum number of BTC, alongside the way one block reward reduces with time. Low supply cryptos with multi-billion dollar market cap have an even higher appeal.