Highlights

Influencers have become 'unpaid endorsers' of cryptocurrencies, their views impacting millions
Billionaires haven't just praised cryptos but have also invested in them in a personal capacity
A few prominent Bitcoin critics also deserve attention to make an informed investment decision
Not every invention picks pace on its own. New products often need some patronage from famous people to find more backers.
Today, companies involve sportspersons, movie stars and social media influencers to sell the product. The endorsement industry has thrived, and personalities like tennis legend Roger Federer and singer Taylor Swift are famous for their lucrative endorsement deals.
Top 10 crypto personalities to keep an eye on as we enter 2022
The crypto world is different. Here, it is more about the 'decentralized ledger' technology than a product. Many famous personalities have taken matters in their own hands, without demanding any payment in cash or kind. This is a key aspect that has lifted the status of crypto assets, which recently reached a combined market cap of US$3 trillion. Moreover, Bitcoin, which alone has a market cap of over US$1.1 trillion, more than Facebook or Tesla, owes its popularity and adoption to these 'unpaid endorsers'.
Here's a list of top ten cryptocurrency personalities to watch as we enter 2022.
1. Michael Saylor
An MIT Graduate, entrepreneur, author, multiple-patent holder, Michael Saylor tops our list because of two reasons. One, the company, MicroStrategy, he co-founded weathered the dot-com bubble, something that makes Saylor a person with experience on how to navigate so-called bubbles. The company lost over 60 per cent of its value in a single trading day in 2000. That's easily comparable to the ups and downs in BTC and other cryptocurrencies.
Two, both Saylor and MicroStrategy have bet big on Bitcoin.
Today, MicroStrategy is the biggest corporate investor in BTC, and it dwarfs Tesla's BTC holding by a huge margin. In September 2021, when Bitcoin was losing value, Saylor tweeted that the company has acquired 5,050 new Bitcoins. Today, the company's holding of 114,042 BTC has earned it approximately US$3.5 billion after having invested in Bitcoin only a year back. Saylor's own BTC holding is expected to be over 17,000.
Image description: BTC holding of Tesla and MicroStrategy
Also read: MicroStrategy bitcoin holding soars, dwarfs Tesla's
2. Elon Musk
Musk deserves to be the top personality on this list, but there is a reason he loses to Saylor. In May 2021, a single tweet by Musk prompted a sweeping bearish trend in cryptocurrencies. Bitcoin fell as much as 7 per cent in a single day after Musk said he was concerned over the crypto's excessive power consumption and that his company Tesla will no longer accept BTC as payment.
This was arguably the first time the world woke up to the environmental impact of Bitcoin mining. What ensued were debates and crackdowns on mining in some jurisdictions.
That tweet aside, Musk is arguably the biggest crypto personality. His tweets have the clout to trigger a wild rise in even a meme-based cryptocurrency. Much of Dogecoin's rise in 2021 owes to Musk. And the tweet in October brought a big rally in Shiba Inu. The world's wealthiest man is extremely popular, and his investment advices, no matter how covert they are, is heeded by enthusiasts.
3. Jack Dorsey
Twitter's co-founder finds a mention here for his repeated claim that Bitcoin can be the 'native currency' of the internet. This is no mean claim. The internet has changed everything from education to commerce and if a blockchain-based currency can be its native medium of exchange, fiat currencies genuinely have a reason to be alarmed.
Twitter remains arguably the most trusted social media platform, and Dorsey's spats with world leaders and governments over taking down tweets of politicians make him a formidable player. Dorsey's Square, a payments firm, has invested in BTC assets, and Dorsey is said to be exploring Bitcoin mining.
Also read: Can Bitcoin be termed as the 'asset of the century'?
4. Jay Z
The rapper doesn't make as many crypto news headlines as some others, but his fame and the respect he commands in the entertainment community make him a big crypto influencer.
In February 2021, Jay Z joined forces with Jack Dorsey to create an endowment with the aim of funding BTC development in India and Africa. India is reportedly discussing regulating cryptocurrencies, and the governor of country's central bank has sounded warnings about the proliferation of crypto investment class.
5. Nayib Bukele
The young President of El Salvador is undeniably the most ardent believer in blockchain and its ability to reduce the cost and time involved in cross-border remittances. Bukele legalized Bitcoin as a medium of exchange in El Salvador, taking lead in according cryptos the status of legal tender. Though the news of Bitcoin becoming legal tender did not immediately push prices up, it might go a long way in deciding the trajectory BTC takes.
Also read: Is investing in altcoins better than Bitcoin?
6. Stanley Druckenmiller
Druckenmiller is an investor and fund manager who finds mentions in headlines about which stocks to buy, which to sell. His investment decisions are followed by many.
The multi-billionaire considers Bitcoin as a store of value, and has famously prophesized BTC's ability to outperform gold. Druckenmiller holds Bitcoin in his portfolio.
7. Mike Novogratz
The CEO of Galaxy Investment Partners, a big-time backer of blockchain tech and cryptocurrencies, has time and again shrugged off sporadic negative movement in the prices of cryptocurrencies. His firm may also likely list on the stock market in the first quarter of 2022. Novogratz has famously prophesized that Bitcoin can soon take the sheen off gold as a preferred investment asset.
Also read: Is Bitcoin better than gold as hedge against high inflation?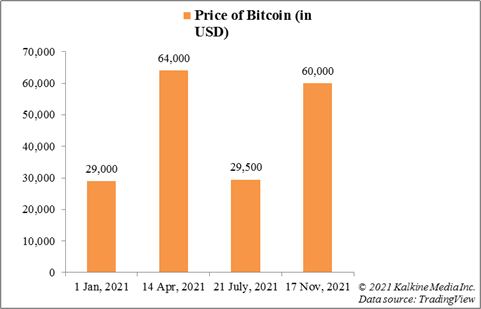 Image description: Price movement of Bitcoin in 2021
Besides these seven, there are many others that can shape investments in the crypto investment world. These include the Winklevoss Twins – Cameron Winklevoss and Tyler Winklevoss – yes, the ones who had a disputed claim over Facebook's creation. The twins have invested through their Winklevoss Capital in emerging crypto projects, and have made a fortune by investing in BTC. They also own Gemini crypto exchange, and hence their stance on cryptos is likely to be tilted towards crypto's positive aspects.
Warren Buffett, Elizabeth Warren, and Nouriel Roubini
The list cannot be complete without the mention of these three top crypto critics.
Buffett, arguably the most tracked investor in the world, did not mince his words when he called Bitcoin a 'rat poison'. Senator Elizabeth Warren is a vocal critic of cryptocurrencies, and she took the lead in the Senate's hearing where cryptocurrencies' potential to make the wider financial system vulnerable was the theme. Roubini, a prominent economist, has termed Bitcoin a 'self-fulfilling bubble'.
Also read: Can Bitcoin end 2021 with a price tag of $100,000?
Bottom line
The top influencers in the crypto space can make and break sentiments. The proliferation of social media and access to news mean that their views are quickly disseminated and consumed. A tweet by Elon Musk can cause a double-digit rise or fall in the value of any cryptocurrency. It is logical to be aware of, if not adhere to, their stance on cryptos in 2022.