Highlights

Bitcoin went above US$68,000 for the first time in 2021.
The pre-Christmas risk-off among investors roiled world markets from equities to cryptocurrencies last year.
Announcements around regulation are expected to influence market prices in 2022.
2021 has been an astonishing year for the crypto market, which saw Bitcoin hitting multiple new all-time high prices over the year. In November, the beloved cryptocurrency Bitcoin went above US$68,000 for the first time, eclipsing its previous records set during the year. However, the cryptocurrency failed to retain its momentum for long, losing over one-fifth of its value in a weekend thumping in early December.
In 2021, Bitcoin's price rallied by over 45 per cent, while its competitor Ethereum's price has surged by more than 385 per cent. The crypto market's impressive performance in 2021 has emerged on the back of several catalysts, including: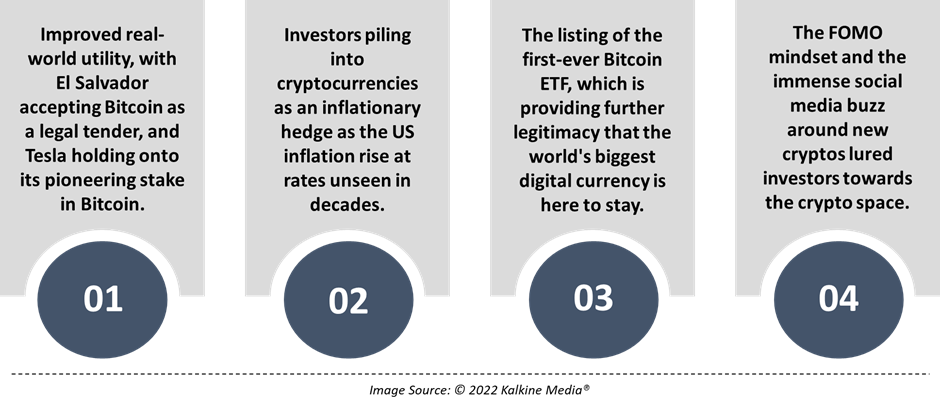 The cryptocurrency market also saw a pre-Christmas sell-off in early December 2021. The pre-Christmas risk-off among investors roiled world markets from equities to cryptocurrencies. In fact, Bitcoin became the victim of an intense bout of selling pressure, with the crypto plummeting as much as US$10,000 in an hour early in December.
Must Read: What awaits the cryptocurrency market this year?
A combination of macro-economic concerns around the Omicron variant and pre-Christmas profit taking by traders triggered the recent sell-off in cryptocurrencies. Besides, the plunge in cryptos came as the equity markets continued to struggle with renewed concerns over Covid-19 and high inflation. Rising inflation is forcing central banks to tighten monetary policy, threatening to lower the liquidity tailwind that initially lifted a wide range of crypto assets.
Certain experts saw price drop in cryptocurrencies as a buying opportunity for investors who missed the boat as prices soared through the early days of the fourth quarter.
What lies ahead?
Although the cryptocurrency market was under pressure in late 2021, the market recently extended its gains following strong US inflation data. Inflation recently jumped at its fastest pace in about 40 years in December 2021, reflecting a 7 per cent spike from last year. Surging inflation is heaping pressure on the Fed to address the biggest threat to the US economy.
Also Read: US inflation is running hot; how it could impact Aussies
Speculations are rife that the cryptocurrency market can witness a further correction in the months ahead as the US Fed has decided to reduce its bond purchases faster than expected to control inflation. The more the Fed tapers, the more volatility could be seen in the cryptocurrency market, potentially creating selling pressure.
Meanwhile, the Fed's indication of multiple interest rate hikes this year in case inflation continues to surge could spark further volatility in the crypto market. Besides, announcements around regulation, which remains one of the biggest overhangs in the crypto industry worldwide, are expected to influence market prices.
Good Read: Which sectors gain from rising interest rates?
While making payment for goods and services in cryptos does not make sense for most people now, further institutional adoption could change the market landscape in the future. Moreover, Bitcoin is not the only game in town now when it comes to crypto. Thus, one can expect traders' switch to so-called altcoins that have performed well so far.
At the same time, the Omicron variant presents a significant risk to the crypto market, which could prompt variation in prices of Bitcoin and other altcoins if virus cases continue to surge.
Tips for investors
Individuals investing in the cryptocurrency space can expect volatility and wild price swings to continue in the market. Thus, it seems imperative for investors to keep their bets in cryptocurrencies a small percentage of their total investable net worth.
Moreover, investors should refrain from altering their long-term investment strategy based on short-term price swings. Investors should also be wary of the decentralization aspect of the cryptocurrency space, which makes investing in such a market a risky area.
Though the crypto market is known for its extreme volatility, extensive observation and research can help investors to drive profit in the near future. While fundamentals of the crypto market are hard to track, investors can create profitable portfolios by focusing on as much as they can understand.
Do Not Miss: A quick guide: How do cryptocurrencies work?