Definition
Related Definitions
FAANG Stocks
In 2013, the television host of CNBC's Mad Money, Mr Jim Cramer addressed few stocks as "totally dominant in their markets". He was referring to tech titans and named them FAANG stocks (where the extra "A" was added 5 years later, in 2017).
ALSO READ: Investment in Technology Stocks - A Beginner's Guide
What Are FAANG Stocks?
"FAANG" is perhaps one of the most popular abbreviation of the business world. The acronym illustrates stocks of the famous five US-based technology corporations- first being social media giant Facebook Inc., followed by software and hardware developer Apple Inc., the e-commerce magnate Amazon.com Inc., and the streaming service provider Netflix Inc., along with the last FAANG member, internet ace Alphabet Inc. (formerly recognised as Google).
Originally, the acronym was FANG (with an "A" for Amazon.). In 2017, investors included Apple in the group, turning the acronym into FAANG. There is an interesting fact here- The original four FANG stocks were pure internet-based companies, but the later inclusion of Apple, that is a consumer hardware manufacturer, made FAANG stocks a broader group of giant technology stocks.
Widely renowned among consumers, unique in their products and services, these stocks are of few of the largest companies in the world. They trade on the NASDAQ Exchange and are included in the S&P 500 Index, making up approximately 15 per cent of the index. Market experts believe that since these stocks have a large influence on the index, they tend to have a substantial effect on the performance of the S&P 500, in general.
GOOD READ: FAANGs Defining Resilience Amid Market Downtrends
Why Are FAANG Stocks Popular?
FAANG companies exhibit several competitive advantages that make them attractive long-term investments.
Consider this- Facebook rules social networking, Amazon is the one-stop destination to buy goods online in today's digital world; Apple's iPhones are one of the most used and well-renowned gadgets globally; Netflix is considered to be a leader of online streaming; whereas Google is the search engine used comprehensively almost every day, everywhere.
These disruptive companies benefit from what is known as the network effect (indirect value goods and services gain as more people use them).
Facebook's products are valuable to new users because of its vast other active users. Amazon's Prime service brings millions of shoppers to its marketplace every day, making its seller services more attractive to third-party merchants. Millions of Netflix viewers provide feedback for the kind of content the company should invest in. Lock-in effect of the Apple ecosystem creates substantial switching costs for iOS users.
FAANG companies have intangible assets.
This opens doors to the possibility of producing higher levels of profitability than rival companies. Consider this- Facebook, Amazon, and Google have troves of user data to pursue advertisements. Netflix offers original content, exclusive licenses that make its content library unique. Apple, on the other hand, is one of the few technology companies that makes hardware as well as software for its devices.
FAANG players contribute to radical lifestyle change.
One obvious reason for the popularity of these market darlings is that each FAANG company has been known to transform not just their own industries and the markets, but also how we all live in the current contemporary lifestyles.
What is the significance of FAANG Constituents?
As the heavy weighting of FAANG stocks in indexes like the S&P 500 gives them an outsized impact on the broader stock market, it seems worthwhile for investors to learn a bit about them.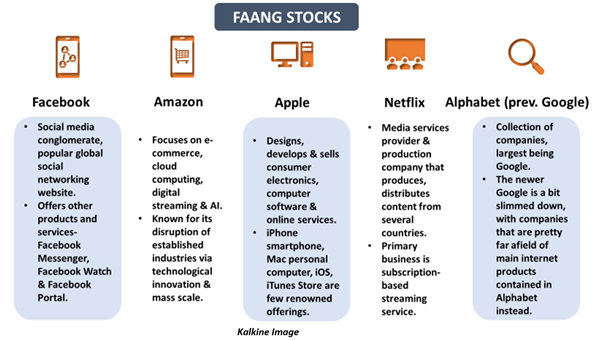 How is Investing Community Exposed to FAANG Stocks?
FAANG stocks have historically outperformed the S&P 500 index. Over the last decade, this famous group accounted for a large portion of the market's gains and American economy growth. This seems obvious given that FAANG companies have a hoard of competitive advantages making them seem like lucrative long-term investments. Offering perhaps the hottest technology trends, FAANG stocks demonstrate strong sales and earnings growth.
Each FAANG company is listed on the NASDAQ, so purchasing their shares is a straightforward process for most investors. The easiest path could possibly be via online brokerage account with companies that offer this service. At this point, it should be noted that FAANG stocks aren't cheap. For instance, for most of 2019, one share of Google sold for well over USD 1,000 and Amazon traded above USD 1,500.
However, a wise investor knows that past results do not guarantee future success. Sinusoidal equity market trends deserve closer attention to a lot of other aspects before making any investment decision. Therefore, investing in FAANG stocks should be vigilantly based on one's research of fundamental and technical aspects and risk appetite.
GOOD READ: Investing Tips: 4 Reasons Big Techs can always stay your best pal
Are There Any Risks Associated to Investing in FAANG Stocks?
Market experts believe that there are no sure plays in the investing world. Simply put, there is a risk in every aspect of investing. Though favourable market conditions and investor enthusiasm for technology seems to be here for good, global uncertainties always should be considered.
Overly bullish expectations coupled with certain political pressures and economic worries may hinder these big techs' growth. Some experts opine that as these companies continue to mature amid mounting worldwide risks, it may get increasingly difficult for them to maintain their rapid growth pace.
Legal Regulatory, market and operational risks of these FAANG players need to be considered before taking any exposure to FAANG stocks. Amazon and Google have often come under regulatory examination for potential anti-competitive business practices. Facebook and Google have faced criticism for lack of data privacy and security. On the other hand, Netflix has encountered new competitors in streaming video and as few reports suggest, a huge debt load linked with content production.
Valuations of FAANG players should be well justified viz-a-viz earnings guidance of these players, before taking any investment exposure.
Are There Global Peers to FAANG Stocks?
Just like FAANG stocks, there are several groups of companies that can be looked upon as peers to the tech group. Let us cast an eye on similar groups-
The Australian variant, WAAAX stocks comprises WiseTech Global Limited (ASX:WTC), Appen Limited (ASX:APX), Altium Limited (ASX:ALU), Afterpay Limited (ASX:APT) and Xero Limited (ASX:XRO).
GAFAM is an acronym for the five most popular US. tech stocks: Google, Apple, Facebook, Amazon, and Microsoft.
BATX is the abbreviation for the four popular technology stocks from China: Baidu, Alibaba, Tencent and Xiaomi.
TAND, which comprise of Tesla, Activision, Nvidia and Disney are often looked up as future giants of tech.
TANJ stocks in Hong Kong comprise Tencent, Alibaba, NetEase and JD.com.
The Canadian big tech club DOCKS constitutes Descartes Systems, Open Text, Constellation Software, Kinaxis and Shopify.
Do You Know These Interesting Facts About FAANG Stocks?
The FAANG group has been a stock market superstar on both short and long-term basis. These stocks have more or less consistently delivered above-average sales and profit growth and maintained juicy margins. Let us look at a few interesting facts about these tech titans-
In August 2018, FAANG stocks were responsible for nearly 40 per cent of the S&P 500's gain from the lows reached in February 2018.
Over the past decade, FAANG stocks have grown faster than the overall S&P 500 or the more technology-focused NASDAQ.
There is no exchange traded fund dedicated solely to FAANG stocks.
Since the market bottom in March of 2009, the worst performing FAANG stock, Apple, has returned over double that of the index average.
Amid the COVID-19 market downturn FAANG companies were one of the biggest beneficiaries as the "stay-at-home" economy led to an acceleration in their trajectories as people's lives shifted online.
Rather than resting on their achievements and dominant market position, FAANG companies choose to use their cash on hand to make investments in cloud computing, AI and other technologies that they believe may lead to continued revenue growth.