Definition
Accidental Death and Dismemberment Insurance
What is AD&D Insurance?
AD&D insurance is a form of coverage. It pays out when an individual is killed in an accident, and the policy's beneficiaries claim a lump-sum payout. If you are injured, you could be eligible for living insurance, whose amount varies depending on the type of injury.
Source: © Designer491| Megapixl.com
While AD&D overlaps with life and disability insurance, it does not entirely replace either. AD&D pays out whether you die or are seriously hit in an accident, such as a car accident. However, the death or injury must be a direct consequence of the accident and unrelated to all other factors. For instance, if you have a heart attack while driving and the result is a fatal car accident, the insurance is unlikely to payout.
It aids in the financial protection of one's family if one is injured or killed in an accident. Accidental death and dismemberment insurance, unlike most conventional life insurance plans, will payout to the insured while they are still alive. Beneficiaries dying naturally would result in them not receiving AD&D benefits.
Summary

When an insured person dies in an accident or loses a limb because of an accident, an AD&D insurance policy covers a death benefit.
Accidental fatalities include motor vehicle/heavy machinery accidents, car accidents, falls, drowning, burning, suicide.
As compared to conventional (term) and whole life insurance, AD&D coverage is cheap.
Frequently Asked Questions
What does "Accidental Death" mean?
AD&D insurance policy will payout in the case of an accident or a health-related incident. This suggests that the insured's death was not caused or led to by a disease. Accidental fatalities include motor vehicle/heavy machinery accidents, falls and drowning.
What Is the Definition of "Dismemberment"?
The advantage of AD&D insurance plan is that they pay only if the insured is accidentally dismembered in any way. The loss of an appendage, sight, hearing or another bodily function is referred to as dismemberment.
How Does AD&D Insurance Work?
AD&D will reimburse beneficiaries a specific sum in the case of a fatal accident or an accident that causes them to lose voice, eyesight, hearing, or a limb. Injury or death must have occurred within a few months of the accident date and must be proven to be a direct result of the accident to be liable for accident damages.
The insurance provider will typically pay half of the full benefit if you lose one member (sight in one eye, foot, hand, leg, voice, or hearing). You will earn the full advantage if you lose two members. The amount of partial or complete paralysis coverage varies, but it is usually 25 or 50 per cent.
What are the different types of AD&D insurance?
The primary goal of this type of insurance is to offer financial assistance to a specified recipient in the event of an employee's death. The lump-sum payout, as well as the extra services provided in specific policies, will make a significant difference if an employee dies or is permanently disabled because of the policy's terms.
Basic AD&D- This employer-paid coverage option offers an accidental death benefit comparable to the employee's basic term life insurance benefit.
Dependent AD&D - This provides wives and dependents with a benefit equivalent to the dependent term life benefit amount.
Business Travel Accident- This provides an extra benefit covering fatal or serious injury for staff travelling on company business, both domestically and abroad.
Source: Copyright © 2021 Kalkine Media
What is not covered by AD&D insurance?
War
Surgery-related death
Infection of bacteria
Drug overdose
Death caused by a mental or physical ailment
Participation in any paid or profit-making professional sport
Hernia
Drunk driving
Skydiving
Natural causes
Attempting to commit suicide or suicide
Engaging in an unlawful profession or practise or committing a crime
Flying an aeroplane.
Voluntarily swallowed, administered, or ingested fumes, toxic, or poison
Source: Copyright © 2021 Kalkine Media
Where can you buy AD&D coverage?
AD&D plans are usually issued by major insurers, although they can also be obtained via credit card deals or credit unions. AD&D can be used or included by certain life insurance firms in their community insurance policies.
How much does AD&D insurance cost?
AD&D insurance rates can be as low as $60 a year, depending on the amount of coverage offered and the benefits provided.
As part of the compensation package, several employers have AD&D insurance. The benefits of these group policies are usually less than the benefits of individual policies.
What are some examples of AD&D insurance?
Car accidents, falls, drowning, burning, and other deaths caused by circumstances beyond one's control that are unrelated to health are examples of accidental deaths.
Loss of a leg or finger, loss of sight, speech, or hearing, or even paralysis are all covered dismemberments. Work-related industrial equipment injuries can also be compensated.
Source: Copyright © 2021 Kalkine Media
What are the benefits of AD&D coverage?
AD&D insurance does not entail a health examination, which may benefit those who choose to avoid the hassle.
Since these plans do not include death caused by illness, no one would be turned down because of their fitness.
Young workers, who are statistically more likely to die in an accident than from injury, find AD&D particularly appealing.
What are the drawbacks of AD&D coverage?
A significant disadvantage is the limited coverage. For example, no benefit is paid if anyone dies due to a terrorist attack because it is deemed a wartime act. Only if the loss were caused by an accident would AD&D pay you a benefit. If the insurance does not cover illness-related deaths, the chances of it paying out are greatly diminished.
Coverage is not as inexpensive as it seems. AD&D policy would be less expensive than life insurance. However, this is due to the low likelihood of an AD&D payout.
If a company or an individual provides the compensation, it may not be transferable if the employee leaves the organization. Coverage often ends when the employee's relationship with the sponsor ends, leaving them vulnerable before new coverage is provided.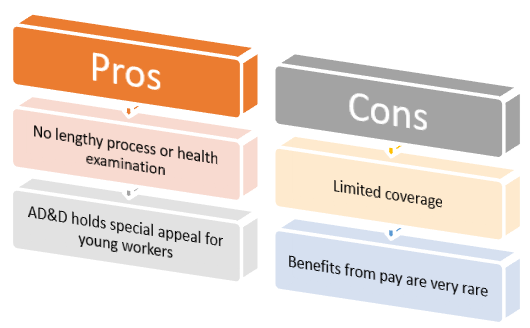 Source: Copyright © 2021 Kalkine Media