Summary

Canadian food stocks, a part of consumer industry, show resilience during the pandemic.
Shareholders and investors enjoy a good dividend payout and returns from the listed food stocks in Canada.a
The ability to withstand temporary shocks and bumps determines the best bet in terms of safety and value derived.
As Canada is known for its energy and manufacturing industry. But it's food industry, which is the second-largest contributor to the Canadian GDP, is also popular among investors.
Every month, the sector adds nearly C$ 27.13 billion to the GDP boosting economic growth and prosperity. The industry also employs the highest number of Canadians, adding to the employment rate and figures.
Here are few Canadian consumer stocks that investors can consider looking at:
MTY Food Group Inc. (TSX: MTY)
MTY Food Group offers fast food, casual dining, and quick-service restaurants. Its business model consists of both company-owned and franchisee restaurants, which are mostly located in the food courts of mall, business centers, airports and so on.
One of the top consumer stock, MTY stock has 24.71 million outstanding shares and a market cap of C$ 1.73 billion.
The stock is trading at C$ 69.39, up nearly 20 per cent year-to-date (YTD). In the last three months, the stock price jumped by 35.87. It skyrocketed by 138 per cent in one year, giving a decent return to investors.
It's total revenue is C$511.1 million for year ending November 30, 2020, down 7.2 per cent year-over-year (YoY). Gross profit increased by 6.7 per cent YoY to C$284.8 million.
For quarter ending May 31, 2021, the revenue was C$139.9 million, up from C$ 119 million in the prior quarter.
The company distributed a dividend of C$ 0.18 apiece. The dividend yield is 1.08 per cent, while the five-year dividend growth is 14.19 percent.
Goodfood Market Corp. (TSX: FOOD)
Meals kit company Goodfood, which offers complete set of items from the farm to grocers for cooking ready to eat meals, has seen its fortunes rise amid the pandemic.
The company debuted on the TSX on April 23, 2015. It has 74.30 million shares outstanding and a market cap of C$ 732.39 million.
The scrips spiked by 51.78 per cent in one year and is currently trading at around C$9.7, over 33 per cent below its 52-week high of C$ 14.72 on January 26, 2021.
The food company's revenue has been on the rise for four consecutive years. For the year ending August 31, 2020, the revenue was C$ 285.4 million, up 76.9 per cent YoY. The quarterly report also indicates 24.5 per cent quarter-on-quarter (QoQ) revenue growth to C$ 107.8 million for three months ending May 31, 2021.
The company has a higher forward EV/EBITDA of 86.58x versus the industry median of 16.85x. It is expected that revenue would reach C$ 391.19 million, as per Refinitive data.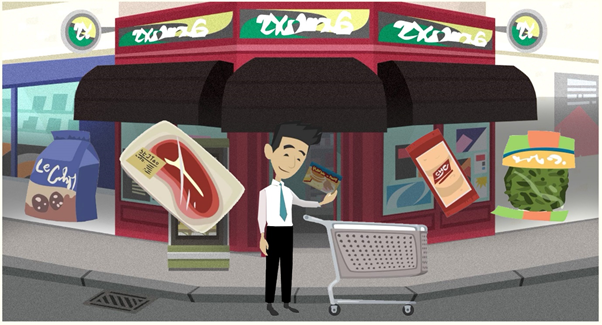 Copyright © 2021 Kalkine Media
Restaurant Brands International Inc. (TSX: QSR)
The stock closed at C$ 63.87 apiece on July 15 and is trading nearly 10.25 per cent below its 52-week high of C$ 71.12, reached on May 03, 2021. The stock saw a modest increase of 9.75 per cent in the last one year.
The total revenue in 2020 grew by 11.3 per cent YoY to US$ 4.9 million while the net income surged 24.4 percent YoY to US$ 486 million. As per the latest quarter earnings, revenue stands at US$ 1.26 billion for quarter ending March 21, 2021, up 2.9 percent QoQ. This depicts the financial strength of the company.
Out of the total revenue in FY2020, Canada contributed 57.41 per cent and the remaining 42.59 per came from the US.
The net profit margin is 15.10 per cent, which is higher than its industry peers. The ROE stands at 20.87 per cent higher, also than the industry players.
The stock dividend yield is 3.32 per cent and the five-year average dividend growth is 36.43 per cent. The five-year average dividend payout ratio being 77.60 per cent.
Pizza Pizza Royalty Corp. (TSX: PZA)
The stock last traded at C$ 10.94 apiece on July 15 and is trading about 1 per cent below its 52-week high of C$ 11.06 (on July 05, 2021). The company has 24.62 million outstanding shares and holds a market cap of C$ 271.18 million.
The stock gained over 30 per cent in the last one year, and is up nearly 19 per cent YTD.
The 2020 revenue depicts a 11.6 per cent decline YoY to reach C$ 31.79 million. But, the 2021 first quarter filing shows a 13.8 per cent QoQ revenue gain at C$ 7.03 million.
The stock holds a higher net margin of 76.99 per cent while ROE stands at 8.50 per cent. The company rolled out C$ 0.055 apiece as dividend to its holders in June.
Dollarama Inc. (TSX: DOL)
Dollarama is a online discount retail store operating with 1,368 stores in Canada. The company opened 12 new stores in the first quarter of this year.
The stock price has jumped nearly 17.83 per cent in one year and up over is trading between its 52-week low and high prices.
The recent quarterly filing as on May 02, 2021, shows total revenue of C$ 954.2 million, down from C$ 1,103.7 million, while the net profit out its operations stands at C$ 113.6 million
The company witnessed a net profit margin of 14.02 per cent, merchandise margin of 43.80 per cent. These margins are higher than its industry comparables.
The dividend yield is 0.36 per cent, lower than industry average of 1.1 per cent. The five-year dividend growth rate is 8.57 per cent.