Stocks of pot producers Canopy Growth (TSX:WEED) and Tilray's (TSX:TLRY) reflected a growth about three per cent in the first hour of the trading session on Tuesday, June 1 (10:05AM EST).
Ontario-based firm Canopy Growth's stock price spike came as it posted higher revenues on a year-over-year (YoY) basis for the fourth quarter of fiscal 2021.
Tilray stocks, which began trading on the on the Toronto Stock Exchange (TSX) on May 6 this year, have gained nearly six per cent since their debut date.
, while Tilray was marginally down by 0.097 per cent to US$ 20.51 on the TSX.
Let us glance at these cannabis stocks' price performances:
Canopy Growth (TSX:WEED)
By the end of the day, Canopy stocks dipped by three per cent to close at C$ 29.33 on Tuesday. But taking a long-term perspective, the company has been beefing up its cannabis retail operations, which could bolster its stock movement from a bearish trend to a bullish trend this year.
While the pot stock has declined by about 58 per cent from its 52-week high of C$ 71.60, it has advanced by 35 per cent in the last one year.
The company recorded C$ 148 million in revenue for the fourth quarter of fiscal 2021, which was a surge of 38 per cent (YoY). For the full fiscal year, it registered a top line of C$ 546.6 million, up 37 per cent YoY.
Its adjusted EBITDA loss stood at C$ 94 million for the latest quarter, noting an improvement of eight per cent compared to the previous year.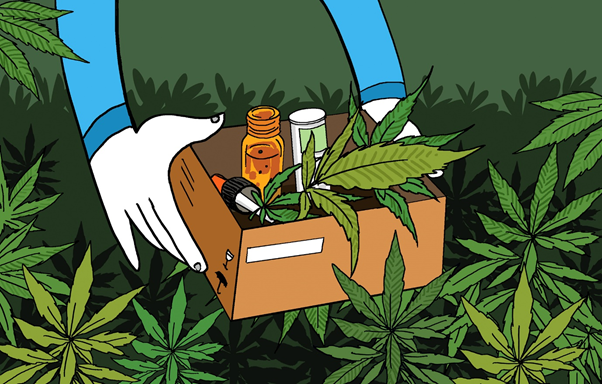 Copyright ©Kalkine Media 2021
Tilray Inc (TSX:TLRY)
After merging with Aphria last year, the joint entity has been operating under the Tilray name, with Aphria shareholders owning a 62 per cent stake in the combined company.
Most of the company's marijuana products sales are recorded in Canada. It also exports medical cannabis to the international market and offers cannabidiol (CBD)-based products via Manitoba Harvest and beverages through SweetWater across the US market. The company continues to trade on the New York-based NASDAQ exchange under the ticker symbol 'NASDAQ:TLRY'.
The cannabis stock has soared by 11 per cent in the last one week, with a 10-day average trading volume of 1.54 million. However, it is down by over eight per cent against last month's high of C$ 22.62 (May 28, 2021).
Tilray's operations are prevalent across the North American pot market against its rivals. Once the US legalizes cannabis federally, its stock could zoom record highs.
The above constitutes a preliminary view and any interest in stocks should be evaluated further from investment point of view.