Highlights:

Investors are keeping a close watch on the cannabis segment amid US midterm trends.
Aurora Cannabis would report its Q1 2023 financial results on November 10.
Cronos Group Inc. noted a three per cent YoY growth in its Q3 FY22 revenue.
The results of the US midterm elections would determine whether Democrats' hold over Congress would continue. However, the recent trends from the election polls seem to have diminished the "red-wave" anticipation that many observers were hoping for.
Although the latest trends suggest that the GOP might attain a majority in the House of Representatives, there is an intense level-pegging fight for the Senate seats.
While the results could also change the future performance of some sectors, the anticipation over a split government has also eased the concerns of the investors, as it would allay certain uncertainties in the market.
Now, let's explore two cannabis stocks-Aurora Cannabis Inc. (NASDAQ: ACB), and Cronos Group Inc. (NASDAQ: CRON), and see how investors are reacting to the midterm trends:
Aurora Cannabis Inc. (NASDAQ: ACB)
Aurora Cannabis is a Canada-based licensed cannabis producer that is focused on improving people's health, wellness, and lives. The US$ 389.06 million market cap cannabis firm's stock fell to nearly 76 per cent YTD and about 82 per cent YoY.
However, in the current quarter through November 9, the ACB stock soared over seven per cent and touched its 52-week low of US$ 0.9801 on October 11, 2022. The dual-listed (in Nasdaq and TSX) company said that it would report its starting quarter fiscal 2023 financial results on November 10, at 5 pm ET.
Aurora Cannabis Inc's revenue was down eight per cent YoY to US$ 50.21 million in Q4 FY22, while its medical cannabis revenue rose four per cent YoY to US$ 36.57 million. From the prior quarter, its total revenue growth was flat, while its medical cannabis revenue fell seven per cent.
The cannabis company's net loss from continuing operations totaled US$ 618.77 million in the final quarter of the previous fiscal year, against a loss of US$ 133.96 million in Q4 FY21.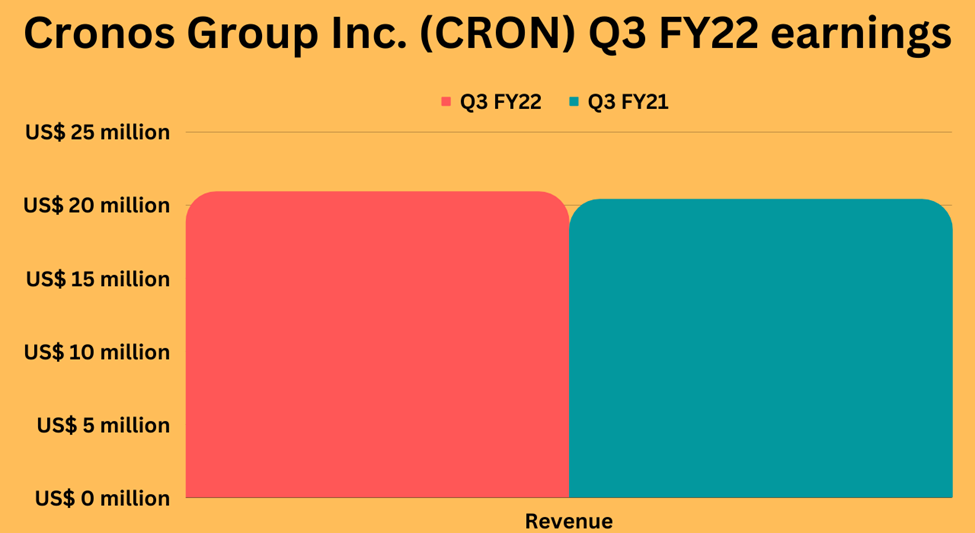 Source: ©Kalkine Media®; © Canva via Canva.com
Cronos Group Inc. (NASDAQ: CRON)
Another Canadian cannabinoid firm, Cronos Group Inc's stock was up over one per cent in the morning trading hours on Wednesday, November 9. The US$ 1.05 billion market cap cannabis research and technology firm's stock fell over 29 per cent YTD and 51 per cent YoY.
Cronos Group's revenue rose three per cent YoY to US$ 20.92 million in Q3 FY22, while its revenue from the US business tumbled 76 per cent YoY to US$ 514,000.
Bottom line:
The cannabis sector has been one of the worst-performing sectors this year, amid hovering concerns over the legalization of marijuana products in the US. The investors kept a close watch on the referendums for advancements toward marijuana legalization in more states.
Meanwhile, voters in Maryland and Missouri approved the recreational sale of cannabis late Tuesday, and before the market opened on Wednesday, voters of other states, including Arkansas, North and South Dakota have rejected the legalization.
Despite the mixed results from the states, some investors are hoping that it would create legalization pressures on Congress at the federal level.
Meanwhile, some analysts believe that the Republican control of Congress might push federal legalization off the table for now, while a continuing Democratic majority would be favorable for the industry.