Summary

Several pot producers and distributors have pinned hopes on the upcoming US elections, anticipating it will play a critical role in the marijuana legalization movement across the world.
Canopy Growth stocks has gained over 20 per cent in last one month.
The net revenue of Aurora Cannabis for fourth quarter of fiscal 2020 is down five per cent to C$72.1 million.
Should Covid-19 be blamed in entirety for pot stocks trending bearish on TSX? On October 17, 2018, Cannabis legalized recreational cannabis for adults, but things did not get any better for the cannabis stock market in real terms.
After clocking an all-time high post its launch in the Canadian markets, pot stocks went south in 2019. The companies faced federal restrictions, cultivation hurdles, high product prices due to taxation, lack of efficient regulatory response system, and unrealistic valuation of firms. This was followed by a wave of bankruptcies, mergers and consolidations, write-offs in early 2020, before the pandemic hit.
From the Cannabis bubble burst in 2019 to finding new grounds of stability in the Cannabis 2.0 market, investors continue to be hopeful on marijuana stocks and believe it is just a matter of time when the tables will turn.
Several pot producers and distributors are counting hopes on the upcoming elections in the US, anticipating it will play a critical role in marijuana legalization movement across the world. Some analysts believe cannabis tax revenue and jobs in the medical cannabis market could contribute to economic recovery.
Until that eventually happens, here are two trending cannabis stocks to explore - Canopy Growth Corporation (TSX:WEED) and Aurora Cannabis Inc (TSX:ACB).
Canopy Growth Corporation (TSX:WEED)
Current Stock Price: C$26.10
Canopy Growth is one of the largest Canadian cultivator and seller of medicinal and recreational Cannabis and hemp products. Its brand portfolio includes Spectrum Therapeutics, Craft Grow, Tweed and more. The company owns distribution and production licenses in more than 12 countries to drive its international expansion goals of medical cannabis across the globe.
In April 2019, the company announced plans to acquire US multistate cannabis operator Acreage Holdings Inc for C$3.4 billion. The deal was amended in September 2020 owing to slump in cannabis stock prices and Acreage's financial troubles. The new amended arrangement values Acreage at about US$900 million and will include US$37.5 million payment in cash.
This amended arrangement provides Canopy an entryway into the US market, which may expand after the country legalizes recreational cannabis. Meanwhile, both companies plan to launch THC-infused beverages in the US cannabis market by the summer of 2021.
WEED STOCK PERFORMANCE
Year-to-date performance of the stock shows a decline of 4.43 per cent. As per data on the TMX portal, the company's market capitalization is C$9.70 billion, and 10-day average trading volume of shares is 1.89 million.
However, the stock has gained over 12 per cent in the last three months and up 21 per cent in last one month.
WEED FINANCIAL HIGHLIGHTS
Net revenue of the company for first quarter fiscal 2021 is C$110 million, an increase of 22 per cent year-over-year. Adjusted EBITDA loss of C$92 million is Q1 2021, compared to a loss of C$93 million in Q1 2020. Net revenue from Canadian recreational cannabis sales declined by 12 per cent from C$49.5 million in Q1 2020 to C$44.2 million in Q1 2021.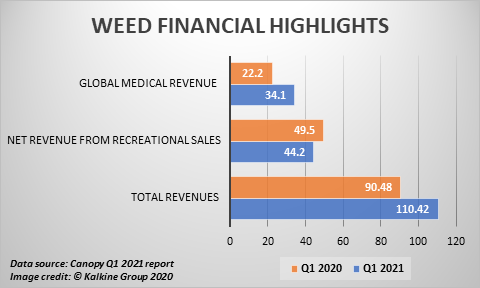 However, global medical revenue increased by 54 per cent year-over-year from C$22.2 million in Q1 2020 to C$34.1 million in Q1 2021.
Current Stock price: C$6.18
Edmonton-based Aurora Cannabis cultivates and sells cannabis for both medicinal and recreational use and markets them through a portfolio of brands including CanniMed, MedReleaf, Aurora, Whistler, Woodstock, Daily Special and San Rafael '71. The company has cannabis production facilities in more than 20 countries.
Miguel Martin was appointed as Aurora CEO earlier this year and a progress update on business transformation plan was announced on June 23. As per the plan, the company expects operation revenues for the first quarter of 2021 to approximate C$42 million. Through inventory revaluation, facility rationalization, and strategic acquisition of Reliva, LLC the company plans to enter the U.S market and become an international cannabinoid leader. It expects to improve its gross margins and generate positive cash flow this year.
ACB STOCK PERFORMANCE
Aurora stocks have lost over 81 per cent this year. In the last six months, the stocks lost near 50 per cent value as the company adjusted to the pandemic. As per data on TMX, the company's profit-to-book (P/B) ratio is 0.176.
ACB FINANCIAL HIGHLIGHTS
According to financial results announced by Aurora Cannabis Inc (TSX:ACB), its net revenue for fourth quarter of fiscal 2020 (ended June 30, 2020) was C$72.1 million, down five per cent from the prior quarter. Cannabis net revenue of C$67.5 million in Q4 2020, was down three per cent quarter-over-quarter, and the medical cannabis net revenue was C$32.2 million. The consumer cannabis net revenue stood at C$35.3 million.
Aurora reported C$60.1 million of Selling, General and Administrative (SG&A) expenses during Q4 2020. Aurora reported Adjusted EBITDA loss of C$34.6 million in Q4 2020, which includes $3.1 million costs relating to divested businesses, severance, and benefit costs and $0.8 million of R&D termination costs.
During Q4 2020, the company raised cash of C$48.3 million from the At-the-Market ("ATM") program and C$33.7 million through the sale of its investments in Alcanna Inc., EnWave Corporation, and through sales of property, plant and equipment.