The Canadian stock market finished down on Thursday, September 9, extending previous losses, as investors remained cautious about buying equities amid concerns of a delay in the global economic recovery owing to an increase in coronavirus infections. Investors also looked for direction in the United States' unemployment claims data and the European Central Bank's policy announcement.
Despite rebounding from a weak start, the TSX Composite Index fell into negative territory in late-morning trading, ending the day with a loss of 36.52 points or 0.18 per cent at 20,705.27.
The shares of consumer staples and industrials were the biggest losses. IT equities performed well, while the energy, finance, materials, and healthcare shares had a mixed performance.
One-Year Price Chart (as on September 09, 2021). Analysis by Kalkine Group
Active volumes
Nevada Copper Corp., Suncor Energy Inc. and Enbridge Inc. were among the most active stocks from a volume standpoint.
Movers and laggards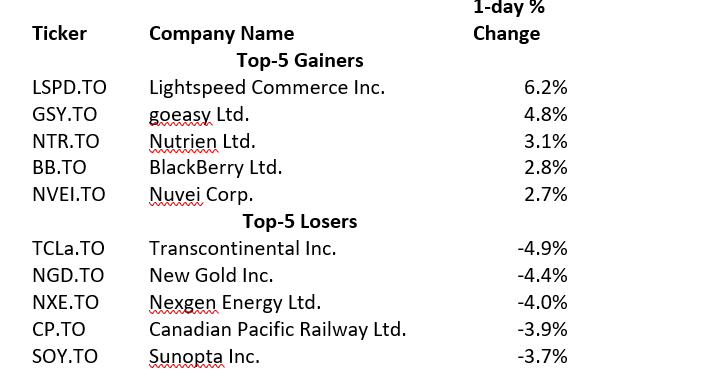 Wallstreet update
Stocks were generally down throughout the trading day on Thursday after failing to sustain an early surge in the positive. The major indices retreated from their early highs and are now in negative territory. The Dow Jones Industrial Average dropped 151.69 points or 0.4% to 34,879.38, while the S&P 500 dropped 20.79 points or 0.5% to 4,493.28, and the Nasdaq lost 38.38 points or 0.3% to 15,248.25.
Commodity update
Gold traded at US$ 1,800.00, up 0.36%. Brent oil was US$ 71.45/bbl up 1.58%, while crude oil traded lower at US$ 68.14/bbl down by 1.67%.
Currency news
The Canadian Dollar was up against the U.S. Dollar on Thursday, while USD/CAD closed at 1.2662, down 0.21%.
The U.S. Dollar stood weak against the basket of major currencies on August 09, 2021, and closed at 92.53, down 0.13%.
Money market
The U.S. 10-year bond yield slid on September 09, and closed at 1.297, tanking 2.90%.
The Canada 10-year bond yield tanked for the second straight session on Thursday and closed in red at 1.176, down 2.73%.