The broader Canadian equity index remained in green zone for the third consecutive trading session, gaining 81.38 points or 0.40% to close at 20,311.78. The market was boosted by material and energy sector, which climbed on the back of rising gold prices. Positive quarterly earnings by various Canadian companies such as Cenovus Energy Inc., Kirkland Lake Gold Ltd., and West Timber Co. also drove up the TSX up.
The TSX composite Base Metal sector went up by 2.08% while the Energy sector gained 0.45%. However, the healthcare sector declined by 2.07%.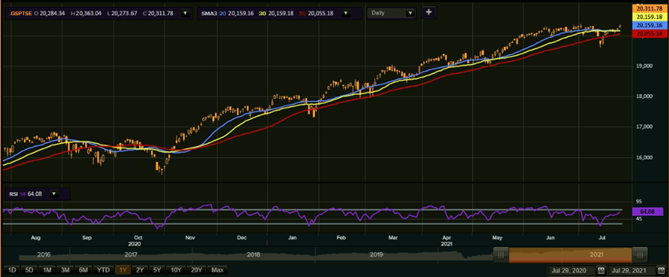 One-Year Price Chart; Analysis by Kalkine Group (Source: Refinitiv)
Gainers and Losers
Actively Traded Stocks
Suncor Energy Inc. was the most actively traded stock with 10.64 million shares exchanging hands, followed by Lundin Mining Corporation with a daily trading volume of 6.47 million, and Kinross Gold Corporation with 5.89 million.
Wall Street Update
The Dow Jones Industrial Average and the S&P 500 both hit record highs on Thursday as the US economy grew steadily in the second quarter, pushing the GDP over its pre-pandemic peak, albeit at a slower rate than experts predicted. The Dow climbed 153.60 points or 0.4 % to 35,084.53, the S&P 500 gained 18.51 points or 0.4% to 4,419.15, while the Nasdaq inched up 15.68 points or 0.1% to 14,778.26.
Commodity Update
Gold regained some resilience and traded at US$ 1,831.20, up 1.75 percent.
Brent Crude Oil climbed 1.75 percent to US$ 76.05/bbl, while WTI Crude Oil increased 1.7 percent to US$ 73.62/bbl.
Currency News
The Canadian Dollar gained some ground against the U.S. Dollar on Thursday, while USD/CAD closed at 1.2444, slide 0.66%.
On July 29, 2021,the U.S. Dollar index corrected for the fourth straight session against the basket of major currencies and closed at 91.88, down 0.48%.
Money Market
The US 10-year bond yield gained some ground and appreciated 2.28% on July 29, 2021, to 1.266.
The Canada 10-year bond yield, also surged on Thursday trade and closed at 1.206, climbed 3.08%.