Summary

BNPL company Laybuy Group started its journey in 2017. The Company holds a strong position in New Zealand and the UK and has a growing presence in Australia.
The Company debuted on the ASX on 07 September 2020 and has made significant progress since then. However, the stock has witnessed a challenging time since its debut.
Recently, Laybuy completed a capital raise of AU$40 million (via placement and SPP) to speed up its growth in the UK.
The Company does not pay a dividend at present.
Laybuy Group Holdings Limited (ASX:LBY) is an aggressive Buy Now Pay Later (BNPL) provider which made its ASX debut on 07 September 2020. The Company holds a market-leading position in New Zealand and the UK and has a growing presence in Australia.
Source: Copyright © 2020 Kalkine Media
Laybuy Group debuted in New Zealand in May 2017. Gary Rohloff and his wife Robyn and sons James and Alex build the Laybuy platform. Gary found a market prospect after seeing that the conventional layby payment method was not user friendly and was a bulky product for merchants to manage.
At present, Laybuy's payment platform offers a payment platform that allows consumers to divide the payment of buys online and offline around six weekly, interest-free instalments, the initial being at the point of sale (POS).
Laybuy doesn't pay dividends to its shareholders at present.
Laybuy's History
Since Laybuy started the business in 2017, the Company made significant progress during this time frame. Below are a few milestones achieved by the Company from 2017 till 2020.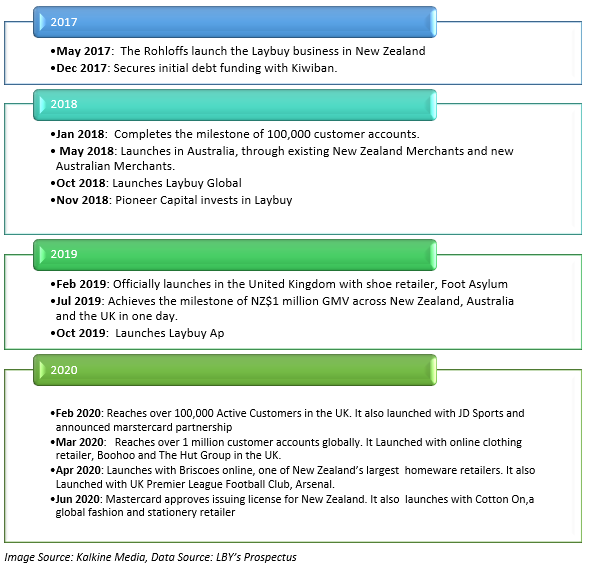 GOOD READ:
Stock Performance
Post the IPO, Laybuy shares started trading at AU$2.05. However, since then, the Company witnessed a significant drop in its share price (~75%). By the end of the day's trade on 22 June 2021, the shares settled at AU$0.515. LBY has a market cap of AU$124.67 million.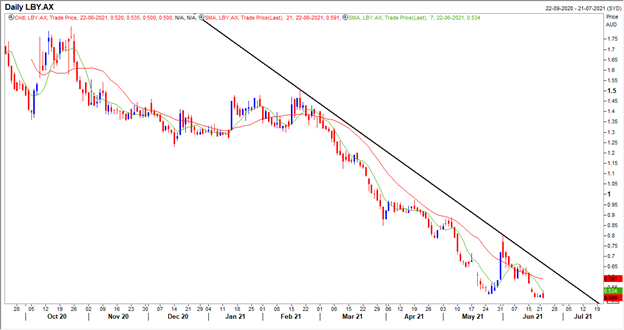 Source: Refinitiv Eikon
Recent developments
Completion of AU$35 million placement and AU$5 million via SPP
On 19 May 2021, Laybuy finalised a capital raise of AU$35 million from new as well as current institutional & sophisticated investors via placement. The Company raised fund to support its growth in the United Kingdom. These funds would be invested in technology, marketing, & individuals to speed up LBY's growth in the United Kingdom.
It also completed its share purchase plan on 21 June 2021 and raised AU$5 million in this process. The SPP received strong support with ~ AU$14.4 million of valid applications received from qualified shareholders.
As per Gary Rohloff, Laybuy's Managing Director.

Trading Update:
On 6 May 2021, LBY provided a trading update for April 2021 and reported record sales throughout all areas during its Laybuy Mania. Laybuy Mania was organised in the final week of April 2021. The Company noted record sales in the United Kingdom, Australia, and New Zealand compared to the previous Mania events.
Laybuy reported a Gross Merchandise Value of NZ$2.9 million in 2 days of this Mania event in the UK.
The figures represent a growth of 70% on Mania conducted in April 2020 & 32% compared to Mania organised in November 2020.
In ANZ, the Gross Merchandise Value was NZ$1.9 million in a one-day event, up 3% Mania April 2020 and 11% on Mania November 2020.
FY2021 Highlights
For the full year ended 31 March 2021, Laybuy's FY2021 operating metrics include:
Gross Merchandise Value (GMV) was NZ$296 million in the UK, up 504% compared to the previous corresponding period.
ANZ GMV for the period improved b 65% to NZ$293 million.
Total active customers during the period increased by 87% to 756,000 and active merchants by 75% to 9,126 in the UK and ANZ.
ALSO READ:
Quarterly Rebalance
In the quarterly rebalance announced on 12 March 2021, LBY was included in the All Ordinaries index.