Highlights

EML Payments has reported record numbers across key financial metrics during FY21 while also expanding into new verticals.
The innovative payment solutions provider remains optimistic about acquiring Sentenial Group and intends to reinvest its profits in growth opportunities in the coming years.
The Company has provided its FY22 earnings guidance earlier than expected, indicating a positive outlook following outstanding full-year results.
EML Payments Limited (ASX:EML) is a Payments Technology company that empowers businesses worldwide to create unmatched customer experiences while enabling disruption in the fintech space.
In order to maintain the lead in payment innovations worldwide, EML has been looking to accelerate its growth through expansion into new verticals.
The Company recently announced its FY21 results, marked by record-breaking numbers across multiple key metrics. Let us delve deep into EML's performance during the fiscal year.
FY21 results demonstrate record growth across key metrics
During the financial year ended 30 June 2021, EML maintained its track record of consistently improving Gross Debit Volume (GDV), revenue, EBITDA and cashflow, notwithstanding the challenging economic conditions.
Below is a snapshot of the results: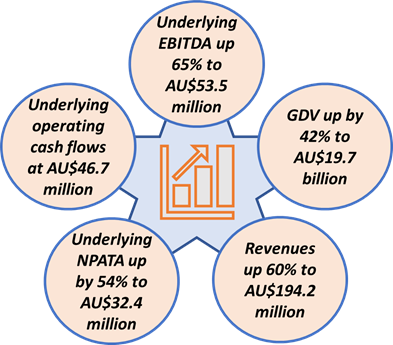 Source: EML Announcement 17/08/21
Specifically, EML has demonstrated record GDV growth in the last decade, with the figures surging to AU$19.7 billion, compared to AU$100.9 million in FY12, a CAGR of 80%.
Strategy implementation and achievements
EML's Accelerator strategy helped attain robust growth in the new business, with 121 additional clients signed during the year. The Company remains optimistic that the expanding demand for embedded, innovative, and highly configurable payment solutions will drive additional growth in the next 5–10 years.
During the year, EML executed 144 new programs. The Company now enters FY22 with a healthy pipeline of programs slated for execution.
EML believes that the increased penetration of digitisation and e-commerce globally boosts demand for globalisation throughout several verticals.
The Company introduced its three-year strategy to expedite growth and made a strong start in the first year. Key achievements of this strategy are described below: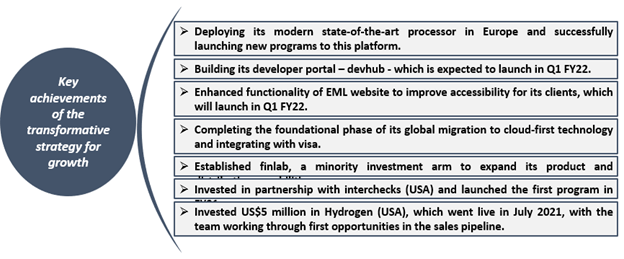 Source: EML Announcement 17/08/21
Acquisition of Sentenial
In April, EML inked a deal to acquire Sentenial Group (SG) for an enterprise value of AU$110.9 million and an earn-out component of up to AU$63.3 million.
Copyright © 2021 Kalkine Media
Since Sentenial is anticipated to become earnings accretive in FY24, EML intends to reinvest its profits into growth prospects in FY22 and FY23. This adds to the planned investment of approximately AU$2.5 million in sales and marketing in FY22.
EML has secured regulatory approval from the UK's Financial Conduct Authority in July 2021 and looks forward to concluding the acquisition in early September upon approval from ACPR.
EML working alongside Ireland's central bank
EML has been closely working with the Central Bank of Ireland (CBI) for the regulatory correspondence concerning its PFS Card Services Ireland Limited (PCSIL) business, received in May this year.
The CBI has conducted investigations into various aspects of PCIL business, and EML has shared a detailed response with the CBI on all matters. EML has also delivered a detailed remediation plan and is actively working with the CBI to implement it.
Besides, EML has engaged specialist advice for the remediation plan to conclude a major part of the plan by the end of CY2021 and the rest by March 2022.
FY22 earnings guidance
This time around, EML has provided earnings guidance for FY2022 (subject to updates as the year progresses) along with FY21 results instead of November as done in previous years. The Company expects growth across key financial metrics in FY22, with the guidance range as follows:
GDV to be in the range of AU$93-100 billion (Prepaid GDV AU$24-26 billion, with Sentenial generating AU$69-74 billion)
Revenue to be in the range of AU$220-255 million
Underlying EBITDA to lie in between AU$58-65 million
Operating Cash Flow to be around 80-90% of EBITDA
Bottom Line
All in all, EML has turned the corner, reporting record numbers despite the extremely challenging economic environment. In addition, the Company boasts a strong balance sheet that supports its growth objectives and provides operational resilience to tackle operational and economic uncertainties worldwide.
On 18 August, EML shares closed at AU$3.620, up 2.259%.