Summary

Elsight Limited has launched Renounceable Rights Issue to raise approximately A$8.15 million to gather funds to meet various significant requirements.
The Renounceable Rights Issue have started trading on ASX under the Ticker 'ELSR' on 18 November 2020.
Through these funds, ELS aims to provide additional investment for ongoing product development as well as boost general working capital to accelerate order delivery.
ELS had also lodged a prospectus with ASIC on 16 November 2020 concerning the Rights Issue.
Advanced communication technologies developer, Elsight Limited (ASX:ELS) has introduced Renounceable Rights Issue to raise approximately A$8.15 million, which started trading on ASX under the Ticker 'ELSR' on 18 November 2020.
The rights will cease to trade on 01 December 2020. For trading these rights, eligible shareholders can approach their brokers.
The funds raised would be predominantly focus on activities that would boost and accelerate sales activities like additional hiring for sales, extend current as well as fresh distribution channels, grow investment on a variety of marketing and promotion activities.
Further, the funds shall also be utilised towards accelerating order delivery through increasing general working capital as well as offering additional investment for continuing product development, human resources, and to meet the costs of the offer.
Interesting Read: Elsight (ASX:ELS) Stays Ahead Of the Curve Amid COVID-19, Ensures Business Continuity With Ace
The offer provides its shareholders one New Share for every six existing shares held on 19 November 2020, i.e. the Record Date and 1 attaching listed Option for every 2 New Shares subscribed. These options are exercisable at A$0.90 and have an expiry date of 31 March 2023.
The price of the rights issue indicates a discount of:
22% to ELS's previous close of A$0.58 on ASX; and
25% to ELS's 30-day volume-weighted average price (VWAP) of A$0.60.
Hoping that Rights Issue shall be fully subscribed, ELS is optimistic about being suitably funded with approximately A$8.15 million in new capital. Moreover, the Company shall also be placed to draw benefits from a variety of commercial opportunities that have stemmed from the indicated functionality of its latest flagship product.
Did you read: Casting an eye over the breakthrough Connectivity Platform of Elsight – Halo
In addition to this, ELS plans to finance a substantial growth in new orders and awaited regulatory aviation approvals in the USA and conduct trials with new customers. A part of the funds shall also be allocated towards product working capital and to develop inventory as it anticipates improved sales and the strategic need to pace up delivery time in future.
The Company is optimistic that such initiatives shall empower the Company to fulfil current as well as fresh orders quickly.
Must Read: Elsight Secures First Halo Order of US$300k
On top of this, funds shall also be allocated towards the expansion of ELS's sales and marketing activities, as well as undertake future product development activities while contributing towards ongoing general working capital requirements. ELS also looks forward to creating a backup to enable future opportunities like merger and acquisition to propel the aggressive planned organic growth.
ELS has provided a tentative schedule in respect of the capital raising, which is as follows: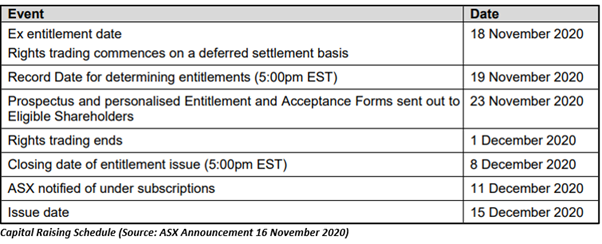 Did you read: Elsight's connectivity platform is bridging the digital divide
The offer remains open for eligible shareholders who hold shares on the Record Date and have a registered address within Australia or New Zealand. While the Rights Issue closes on 8 December 2020, the entitled shareholders shall be able to apply for shortfall shares more than their entitlement.
The issue is partially underwritten to the amount of A$3 million by Mahe Capital, and all New Shares issued under the Rights Issue shall rank equally with current shares on issue.
Interesting Read: Elsight (ASX:ELS) Share Price Rallies 107% Over Last Four Months, Benefitting From Cutting-edge Technology
During mid-2020, ELS began providing its ultra-high resilience, strict military-grade for civil usage in three fresh markets with encouraging preliminary results. Moreover, the COVID-19 pandemic also drove the demand for a proven communication solution for the people who have no access to internet connectivity and rely on telemedicine and remote learning.
Presently, ELS has secured provisional waivers for drones, including by the US Federal Aviation Authority (FAA) for testing reasons. ELS, in conjunction with its drone manufacturer partners, is advancing towards obtaining complete FAA Type Certification. If granted, this shall be the first in the world and is significant because major online retailers and other tech businesses are strategically competing to emerge as the pioneers of drone-based delivery.
Interesting Read: Elsight (ELS) Bags US$133,000 Repeat Order from Leading Cash-In-Transit and Security Company
Notwithstanding the challenges faced during COVID-19, ELS managed to complete several material new and repeat orders and further aims to capitalise on this opportunity.
Overall, the Company showcases a strong commitment for prudent management of its capital resources through a critical focus on meeting goals and capturing opportunities.
September Quarter Update: Elsight (ASX:ELS) Boasts Busy September Quarter, Aims To Cash In On Opportunities From Ongoing Crisis
At 11:27 AM AEDT, ELS share price quoted at A$0.585 on 25 November 2020, with a market capitalization of A$64.24 million.