Summary

Like several other sectors, virtual reality has been glorified for several years. The industry, however, has prospered in 2020 amid COVID-19.
ASX listed VR industry players like Vection Technologies and Indoor Skydive have witnessed spiralling growth in terms of share price as well as operational performance.
Vection Technologies has grown with multiple partnerships and integrations in recent times and has delivered exceptional returns to shareholders.
Indoor Skydive Australia Group Limited recently announced the opening of its third venue of FREAK Entertainment on 13 November.
2020 might not have been the best year for the world, but there have certainly been few plus points for the businesses that have spurred due to the opportunities in such challenging times. Tech businesses, especially the Virtual Reality (VR) industry, are leapfrogging on the back of the development of new production techniques and business models. The VR industry is amongst those that have been hyped a lot in recent years but have also witnessed a spiralling growth in 2020.
DO WATCH: What is Virtual Reality?
Market experts predict businesses to disrupt most manufacturing and global supply chains profoundly, and this is just one aspect of a vastly shifting landscape. This changing business landscape and consumer preference in recent times have helped companies to leap years ahead in value in only a few months.
INTERESTING READ: Shedding light on another World within sight - Virtual Reality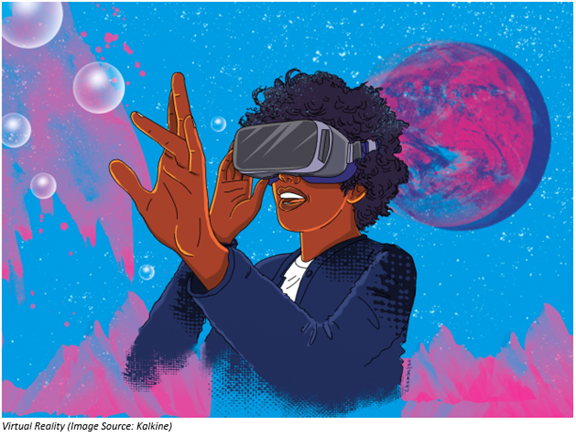 Let us look at the ways two ASX-listed VR industry stocks are shaping up in 2020.
Vection Technologies Ltd (ASX:VR1)
The share price of multinational software company focusing on real-time technologies, Vection Technologies Ltd has skyrocketed by ~223.53% in the last six months (as on 25 November 2020 at AEDT 12:36 PM). In the previous three months, the stock has delivered ~75% return.
The Company has witnessed multiple partnerships in recent times, the latest being an MoU signed with Tim Group's IoT farm Olivetti. As part of the collaboration, the two players will launch VR and AR in the B2C and B2B segments to integrate Olivetti's current solutions portfolio.
The MoU will emphasise the integrated commercial proposition definition to insert VR1's solutions in Olivetti's market segments. The segments include Manufacturing and Logistics, Financial-Insurance & Healthcare, and Agriculture & Farming, among others.
Earlier in November, the Company entered a formal partnership with Luiss Business School, which is a leading Business School of Europe with AMBA and Equis global accreditations.
This partnership aims to accelerate the promotion of the adoption of Augmented Reality (AR) Healthcare solutions across the national (public as well as private) healthcare sector. Interestingly, this partnership comes after the initial trial with the AORN S.G. Moscati hospital, where VR1 is progressing well with integrating its AR Healthcare solutions.
The Company believes that the ongoing pandemic environment is presenting a non-deferrable need for the healthcare system to revolutionise with emerging technologies such as AR/VR, artificial intelligence, big data etc.
Presently, several key trends in the environment are acting as the driving forces and market opportunity for VR1 to navigate a post-COVID-19 environment. These include:
DIGITALISATION AND INDUSTRY 4.0: The ways manufacturers are innovating and responding to customer demands are being shaped through VR/AR.
CAD CONVERGENCE: Design and creation workflows are being completely revolutionised through AR across industries.
HEALTHCARE: AR technology is helping to create value in the healthcare sector.
BEHAVIOURAL CHANGE: Remote working and work from home are shaping a new normal amid COVID-19 induced restrictions.
EMERGENCE of 5G: More opportunities are expected in future after the introduction of Super-fast mobile networks technology like 5G that can boost the potential of Extended Reality.
EDUCATION & TRAINING: Shifting trends towards online learning are opening new possibilities to induce AR/VR for making learning fun.
Thankfully, we are witnessing increased efficiencies and significantly reduce risks across the entire healthcare system. Moreover, the Company believes that it is suitably positioned to reap benefits from the first-mover advantage in the Italian sector.
They remain confident about the results of its long-term strategy and is optimistic about achieving robust revenue generation during 2H of the current financial year.
On 25 November 2020, VR1 shares were trading at A$0.115, in line with the previous close (at 01:42 PM AEDT). The Company has a market capitalisation of A$111.05 million.
Indoor Skydive Australia Group Limited (ASX:IDZ)
An owner and operator of a Virtual Reality business, Indoor Skydive Australia Group Limited has witnessed a growth of 180% in its share price over the last six months (as of 25 November 2020 at 12:05 PM AEDT).
Over the last three months, the stock has generated 133.33% returns for its shareholders.
The Company's VR business operates under the consumer brand FREAK Entertainment that is an immersive virtual reality site blending leading-edge multiplayer games, extraordinary 4D effects and carefully selected spaces to allow users to experience something beyond reality.
On 13 November 2020, IDZ announced the opening of the third venue of FREAK Entertainment, under the agreement with Scentre Group (ASX:SCG) for a 14-month pilot program.
The venue, opened at Westfield Bondi Junction, is FREAK's first standalone venue. The venue offers gaming experience such as Ghost Patrol and Arizona Sunshine Arena, exclusive to FREAK.
The Company looks forward to establishing the product to further retail sites in NSW throughout 2021.
IDZ believes in remaining at the forefront to partner with innovative retailers to deliver fresh, and engaging experiences to the customers through its centres.
With the re-opening of both facilities in late June, the Company witnessed a strong quarter (ended 30 September 2020) in terms of wind tunnel sales. It continued to perform beyond the expectations of the management.
Notably, FREAK Gold Coast was launched on 5 September 2020, notwithstanding Queensland border closures and the Company initiated preparation for FREAK Bondi Junction during the period.
The Company remains cash flow positive, thanks to the cash receipts of A$1.544 million generated through customers since the re-opening.
On 25 November 2020, IDZ shares were trading at A$0.014, in line with the previous close (at 01:42 PM AEDT). The Company has a market capitalisation of A$4.71 million.