Summary

Small-cap investment is riskier but offers excellent opportunity to earn big in the market.
Superloop registered 37 per cent increase in group revenue for FY20 and achieved the midpoint of guidance for EBITDA at AUD 13.5 million.
COVID-19 shutdown in the US impacted Next Science's Q2 revenue. Launch of XPerience in the US remains on track for mid-2H20, following FDA approval.
Retail Food Group doesn't expect Tullamarine facility's temporary closure due to three workers testing COVID-19 positive to have a material financial or operational impact.
Companies that trade in a stock market are segmented into small-cap, mid-cap and large-cap stocks, based on their current market capitalisation. Large-cap companies have a market cap of more than USD 10 billion. Mid-cap companies' market cap is between USD 2 and USD 10 billion, and market capitalisation lower than this range makes a company fall into the small-cap segment.
Small-cap stocks listed on the Australian stock exchange often operate in the niche industries and grow fast. Small companies hold the ability to grow in ways that are impossible for established players. As small-cap players roll out different products/services and explores new horizons, investors get a chance to ride along a growing younger firm.
New to Small- Cap Industry Investment? Do Read Your One Stop Guide to Investing in Small Cap Stocks
Small-cap investment is volatile and riskier relative to mid- and large-cap stocks, but at the same time, it offers a tremendous opportunity to gain more in the market. On that note, let's discuss a few ASX-listed small-cap stocks, covering their latest announcements.
Superloop Registers 46% Growth in New Fibre Connectivity Annualised Revenue
Superloop Limited (ASX:SLC) is an autonomous provider of connectivity services - designing, building, and operating networks across the Asia-Pacific metro region. Its business and working practices are migrating towards the cloud.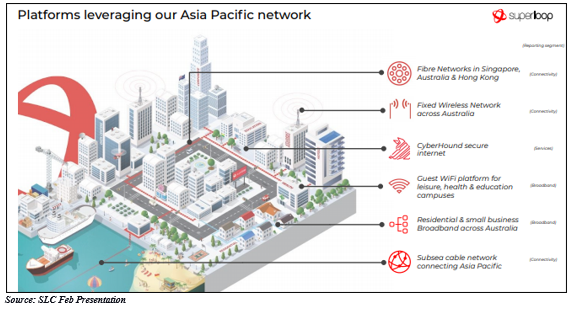 On 23 July 2020, SLC released its trading update and confirmed guidance (unaudited) for the year ended 30 June 2020 (FY20).
SLC reported continued robust sales of fibre connectivity, with 46 per cent year on year increase in entire new fibre connectivity annualised revenue to AUD 16.4 million as compared to AUD 11.2 million in FY2019. Backed by robust growth in underlying recurring fibre connectivity revenue, group revenue stood at AUD 107 million, ~ 37 per cent YoY growth (excluding construction and subsea one-off revenue).
Superloop has reached the midpoint of guidance for EBITDA at ~ AUD 13.5 million and decreased its capital expense (~70 per cent) year on year (excluding IRU's), due to a significant network infrastructure finalised in FY2019.
Related: Superloop Expects FY2020 midpoint EBITDA Guidance of A$13.5 million
On 24 July 2020, SLC closed the day's trade down by 0.435 per cent to settle at AUD 1.145. The Company has a market cap of AUD 420.75 million and its stock has delivered a three-month return of 50.66 per cent.
Next Science's Q2 Revenue Impacted Due to Pandemic-Led Shutdown
Sydney-based medical technology company, Next Science Limited (ASX : NXS) is engaged in research, development and commercialisation of products based on its exclusive XbioTM technology. The products are useful for people with infections related to biofilms and their incumbent bacteria, fungus and viruses.
NXS announced business performance for Q2, highlighting that the business was affected by the pandemic-related shutdown in the US, as elective medical procedures were halted temporarily, and outpatient wound care clinics were closed. The sales of Bactisure, SurgX and BlastX were majorly affected.
The clinics are gradually trying to re-open, but the pace of re-opening is being affected by the further COVID-19 outbreaks. Despite challenging times, online acne sales continued to increase. Also, the talks are going on for licensing NXS' Surface Disinfectant.
Do Read: Your Complete Guide: Companies Hitting the COVID-19 Vaccine Charter
Cash receipts from customers stood at AUD 1,904,000 for the second quarter of 2020. The cost of research and development slightly went down from Q1 2020 and stood at AUD 745,000 for Q2.
Operating costs during Q2 2020 (barring cash receipts from operating activities) were steady at AUD 3.7 million. At the end of June, NXS held cash and cash equivalents of AUD 11.9 million.
NXS Outlook - Next Science is looking forward to the launch of Bactisure Surgical
Lavage in Europe and Australia, with sales of BlastX expected to start in Canada, during the second half of 2020.
Next Science is planning to focus on:
Supporting the partners in managing the adoption of NXS' technology through Bactisure, BlastX and SurgX sales.
Launch of XPerience in the US market in mid-2H20, providing surgeons with the first anti-microbial solution that can be left in a surgical cavity.
XPerience launch in the US is on track and waiting for FDA clearance. The independent US sales agents were hired and trained during Q2, and NXS has developed a sales network of more than 71 entities. It has more than 200 people and the sales network covering most states in the US. All the salespeople are well-trained and ready to promote the sale of XPerience.
On 24 July 2020, NXS closed the day's trade at AUD 1.370, moving upward by 2.622 per cent from its previous close. The Company has a market cap of AUD 242.36 million and its stock has delivered a negative return of 12.46 per cent in the last three months.
Do Read: HLS, PGC, VRT: Are these Medical technology stocks undervalued?
Retail Food Group Temporarily Closes Dairy Country's Tullamarine Facility
Headquartered in Queensland, Retail Food Group Limited (ASX: RFG) is a global food and beverage firm.
Recently, the Company reported that three of its employees at Dairy Country's Tullamarine facility tested positive for COVID-19. The facility has been temporarily closed for a deep clean, and as a precaution, all other employees' testing will be done.
The cases were reported even though the Company was taking all the precautions of maintaining hygiene and social distancing while liaising with Victoria's Department of Health & Human Services (DHHS).
RFG maintains that employees' and customers' safety is a high priority for the Company. It also stated that these events would not impact Dairy Country's Campbellfield facility, which will continue functioning as before.
Must Read: Collins Foods, Retail Food Group and Freedom Foods – All That You Need to Know
FY20 Guidance – During late-June 2020, RFG announced FY20 guidance, with underlying EBITDA expected at AUD 35 million. The guidance assumes full year
contributions from all continuing operations; however, it excludes the impact of AASB15 and AASB16.
On 24 July 2020, RFG closed the day's trade flat at AUD 0.066, with a market cap of AUD 139.79 million. The last three-month return of the stock was noted at 34.69 per cent.
Do Read: Investors seem to be looking at these 5 Retail Stocks - CCX, LOV, NCK, TPW, ADH