Summary

Coles sales revenue was $7.7 billion for the third quarter, a decrease of 6.1% on the prior corresponding period.
The eCommerce sales grew by 49% with sales penetration increasing to 5.5% in the third quarter.
Own Brand delivered $2.5 billion in sales, reaching 31.6% penetration.
As the earnings season has already kicked off, Coles Group Limited (ASX:COL) released its earnings update on Wednesday for the third quarter ended 31 March 2021. During the reported period, the Supermarkets sales fell 6.1% to $7.7 billion over the prior corresponding period as the company cycled the significant impacts of COVID-19, which occurred in late February and throughout March last year.
Image Source: Copyright © 2021 Kalkine Media Pty Ltd.
However, the Liquor and Express sales increased by 2.6% to $759 million and 7.4% to $275 million, respectively.
The eCommerce sales grew by 49% with sales penetration increasing to 5.5% in the third quarter, up from 5.3% in the second quarter. The eCommerce B2C sales grew by 57% with B2B sales returning to growth in the third quarter. Pleasingly, the Perfect Order Rate reached a record high during the quarter as a result of improved availability.
Coles recorded deflation excluding tobacco and fresh of 0.8% for the third quarter. Total Supermarkets price deflation of 0.2% was recorded for the third quarter, the first quarterly deflation since FY18, which was largely a result of the cycling of pantry stocking that led to uncertainty of supply.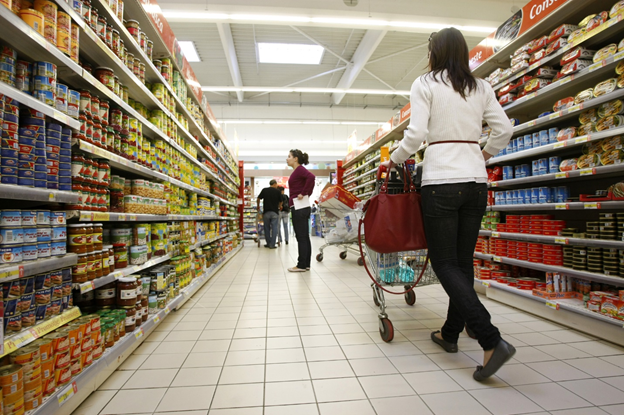 Image Source: ID 17886239 © Dudau | Megapixl.com
The company's Own Brand continued to deliver value and innovation for customers with sales in the third quarter of $2.5 billion. Over 260 new products were launched in the quarter, including Coles Perform, a new sports nutrition brand with a range of nutritionist-approved frozen meals, and the Urban Colour brand, offering cosmetics for the customers seeking affordable luxuries.
Read More: Coles' Chocolate hot cross buns gain top spot as tastiest treats on offering
Consumer behaviour normalising
The retail giant is also witnessing normalisation towards the consumer behaviour as the pandemic-stricken economy is recovering. Customers returning to shopping centres and CBD stores, and workers returning to offices, are indicating that 'local shopping' is beginning to unwind. The Sundays are also returning to be the busiest trading day of the week supported by normalised routines.
Image Source: ID 3461561 © Fredgoldstein | Megapixl.com
Increased shopping trips and improved transaction growth are also supporting a recovery in specific categories such as impulse, convenience, and food-to-go.
Read More: 3 Retail stocks investors are accumulating
Price Performance
YTD return of: COL (Orange), WOW (Purple), CCL (Cyan), JBH (Grey), SUL (Blue)
Image Source: Refinitiv, Thomson Reuters
Coles' share price last closed 0.13% up at AU$15.62 on Tuesday. The stock has delivered a YTD return of negative 11.88% (as of 27 April 2021), significantly underperforming its peers. It's arch-rival Woolworths Group Limited (ASX:WOW) has delivered 8.08% YTD return, while Super Retail Group Limited (ASX:SUL) has beaten the competition hands down with a 20.39% YTD return.
JB Hi-Fi Limited (ASX:JBH), and Coca-Cola Amatil Limited (ASX:CCL) delivered 3.07% and 4.85% returns, respectively.
Read More: Woolworths Group (ASX:WOW) marks a strong start to FY21, online sales and net profit go higher