Summary

QEM progressing the dual commodity opportunity at its flagship Julia Creek vanadium and oil shale project.
Vanadium test work returned excellent extraction efficiencies of up to 92% for both the OSL and OSU shale samples; highest recoveries registered from ash produced at 900°C.
Further vanadium extraction testing underway, with additional roasting agents examined to determine the optimal economic process route.
Vanadium and oil shale explorer, QEM Limited (ASX:QEM) recently released the activity update for the quarter ending 30 September 2020, outlining numerous milestones achieved in Vanadium extraction and metallurgical test works at Julia Creek, which is a vanadium and oil shale project that stretches over 249.6 square kilometres in North West Queensland.
Mr Gavin Loyden, the Managing Director at QEM, stated that the successful outcomes at Julia Creek during the September quarter invigorates the company to advance the dual commodity opportunity towards pre-feasibility phase.
Suggested Read: QEM Advances Dual Commodity Opportunity Following Outstanding Test Results
In fact, QEM is the only company currently positioned to develop a vanadium and oil combination project in Australia.
Why is this important?

Australia now imports over 90 per cent of its liquid fuel. Domestic refining capacity is decreasing with only four refineries remaining in operation nationally and that may reduce even further with Ampol announcing on 8 October 2020 that it may be closing its Lytton Refinery in Brisbane in the very near future. Viva Energy is considering the same for its Geelong refinery in Victoria, potentially halving Australia's current capacity.
According to monthly publication Australian Petroleum Statistics, as of July 2020, Australia had 63 days of liquid fuel supply, which includes not only fuel stored in Australia, but also ships on the way here or sitting in overseas terminals.
This figure is well below the mandated 90 days which Australia should have in reserve in the event of any severe disruptions to supply.
The supply for petrol and diesel is even less, at 25 days and 20 days respectively. It is closer to 3 days' supply at the local bowser for the general population, with the balance being required for industry and emergency services.
Australia is a signatory to the International Energy Agency's 90-day reserve policy and has not been in compliance with this policy since 2012, leaving the country exposed to any external supply shocks that may arise. COVID-19 has further exposed this shortfall as a 'significant risk' to Australia's national security.
The Federal Government is trying to address this issue by recently purchasing almost $100 million in fuel and having it stored underground in Texas in the USA, 8000kms from Australia. This initiative is welcomed but only goes a small way to resolving the issue.
QEM hopes to take advantage by providing a level of domestic fuel supply, including diesel for industrial and agricultural businesses from its Julia Creek Project.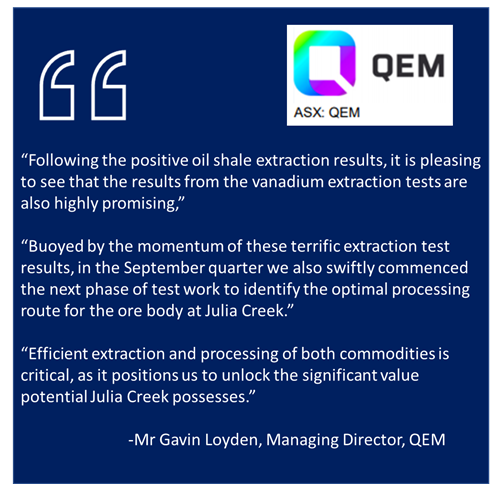 Must Read: QEM Releases Investor Presentation Outlining the Dual Commodity opportunity at Julia Creek
Vanadium is also important to Australia's resilience and is regarded as a "Critical Mineral" by both the U.S. and Australian governments. As such, projects such as QEM's Julia Creek Project can expect strong government support to help expedite development and streamline approval processes, as outlined in the Critical Minerals Strategy 2019.
Vanadium is vital to the production of high strength steel used in building construction, for tools, in automotive and aircraft construction, as well as many other uses.
The other high growth application for vanadium is in the production of Vanadium Redox-Flow Batteries or VRFB. These batteries are highly suitable for large scale grid support and have key advantages over Li-ion.
As renewables become more and more prevalent in the energy mix, so too does the need for large scale energy storage solutions, and VRFB is one of the leading technologies in this space.
Source: VANITEC
Interesting Read: QEM's Julia Project Vanadium Project, an answer to the Energy Storage Puzzle
Processing route optimisation, additional extraction results expected in December quarter
The recent extraction tests provided a strong foundation for the commencement of further tests in the September quarter to optimise vanadium extraction.
The test work results are anticipated to be finalised during the incumbent quarter, leading to engineering and costing activities, including the economic assessment of the integrated process.
Must Read: Outstanding test results from QEM Limited's dual commodity opportunity reinforces significant value potential
Business Performance during the Pandemic Era
With a strong focus on the safety and health of employees and vendors, while also progressing the Julia Creek project, QEM experienced no material impacts from the ongoing COVID-19 pandemic to its business operations. QEM maintained and adhered to the government policies and directives to mitigate the risk of virus spread.
Read Here: QEM reports Vanadium extraction efficiencies up to 92%, Optimisation studies to follow
QEM holds a cash and cash equivalents of $2.244 million as of 30 September 2020 and is focussed to progress on exploration and development activities at Julia Creek.
QEM closed at $0.110 a share on 16 October 2020, with a market capitalisation of $11 million.
All financial information pertains to Australian Dollar unless stated otherwise.