Summary

Surefire Resources will commence drilling at the Yidby Gold Project on 16 October 2020.
The Company has sought an alternative drilling contractor, who will be paid up to 50 per cent of the invoiced drilling component via fully paid ordinary shares in SRN.
The program of work (PoW) is scheduled for the granted licences E59/2390 and E59/2426.
Up to 2,000m of reverse circulation (RC) drilling will test beneath historic gold intercepts and pursue contiguous mineralisation along the steeply dipping structures.
Advancing its development trajectory, Surefire Resources NL (ASX:SRN) will finally commence a drilling program at its Yidby Gold Project on 16 October 2020, as per its latest ASX announcement.
The Company is focused on a rigoured approach around project development. It has exploration assets in Western Australia. The robust management team has extensive experience in project development- right from resource through to operations across commodities and jurisdictions.
DON'T MISS- Developments At Surefire Resources
Continuing to seek and develop projects, Surefire Resources recently acquired high-grade gold tenements in the Yidby and Perenjori project areas, Western Australia. Both projects encompass well-mineralised shear zones, banded iron formations, as well as several untested target areas.
Yidby Gold Project Drilling Program Overview
The PoW for the granted licences E59/2390 and E59/2426 will include up to 2,000m of RC drilling. The drilling program is likely to serve the below-mentioned purposes-
Test beneath historic gold intercepts.
Test for contiguous mineralisation along the steeply dipping structures at depths down to 200m from the surface.
Alternative Drilling Contractor
The drilling program was scheduled to commence earlier. However, the extension to the work program for the RC drill rig allocated to Yidby caused an unavoidable delay. Consequently, Surefire Resources had to appoint an alternative drilling contractor for the PoW.
The Company further notified that the drilling contractor has agreed to be paid up to 50 per cent of the invoiced drilling component (with a minimum of 25 per cent). Payment would be by way of fully paid ordinary shares in Surefire Resources at an agreed price of $ 0.02 per share.
Acquainting With Yidby Gold Project
The Project is stationed 300km north-east of Perth. It is situated between the towns of Wubin and Paynes Find, adjacent to the Great Northern Highway. Yidby Gold Project tenements are near Ninghan Station Homestead (north of Mount Gibson, Mount Singleton, and Extension Hill).
The Project consists of three granted Exploration Licences. It is in the midst of other significant gold deposits/projects/mines, such as Karara Iron Project, Golden Grove Project, Minjar Gold Mine, Rothsay Gold Mine and Kirkalocka Mine.
The Project area is centred over several clusters of historic workings that pursued high-grade gold-bearing quartz veins within folded mafic-ultramafic volcanic units. The two key targets are the Yidby Road Prospect and the Delaney Well Prospect. Both of them reportedly have recorded significant high-grade gold intersections from historic drilling operations.
While the market awaits Surefire Resources' PoW to progress, let us cast an eye on significant characteristics of the Project-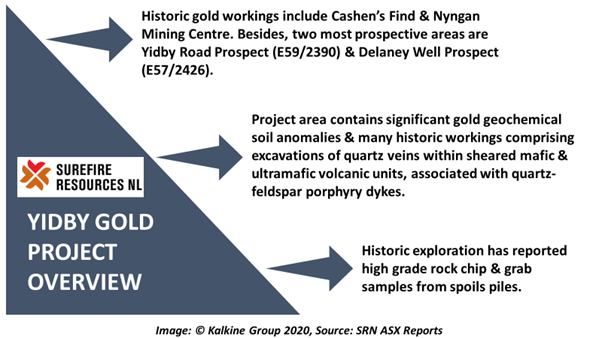 Stock Performance
After receiving an update of the commencement of drilling at the Yidby Gold Project, investors seemed to have built positive sentiment towards Surefire Resources' shares, that have been trading on the ASX since 1999.
SRN traded up by 4.166 per cent at $ 0.025 on 14 October 2020, with a volume of over 18 million shares.