Summary

Ionic Rare Earth's Makuutu is a low-cost, strategically significant Rare Earths Project in Uganda.
Makuutu holds the REE mineralisation in the ionic adsorption clay, similar to the deposits of southern China, which are characterised by a simple cheaper extraction process.
Ionic Rare Earth is planning a substantial Mineral Resource Estimate upgrade and updated Scoping Study in Q1 2021.
The ASX-listed mineral explorer and developer Ionic Rare Earths Limited (ASX:IXR) concluded its Annual General Meeting (AGM) on 27 November 2020, showcasing the investors' presentation that outlined the salient features of various projects and also focused on the company's future objectives.
Project Details on: Ionic Rare Earths eyes a sweet spot in Rare Earth Element Market
IXR published a corporate presentation that highlighted the project development and target goals of the company
A Unique REE Project Development Opportunity
Ionic Rare Earth holds the 51% interest in the Makuutu Rare Earths project in Uganda. The Heavy and Critical rare earth element (REE) mineralisation is hosted in ionic adsorption clay (IAC) deposits and is similar to the IAC deposits of southern China.
The Chinese deposits are highly profitable and are the source of 95% of the world's HREE supply. Makuutu is one of the largest Ionic Adsorption Clay deposits outside China, with all required infrastructure in place.
Infrastructure Map of Makuutu Project (Source: ASX update 27 November 2020)
Makuutu bears near-surface, high-grade ionic clay deposits stretching across a 26 kilometer long mineralisation corridor which makes it a low-cost development opportunity and hence, a strategically significant long life project.
Earlier, IXR had announced the Mineral Resource of Makuutu to be 76.8Mt @ 840 ppm of TREO (Total Rare Earth Oxide) at a cut-off grade of 300 ppm TREO-C2O3.
The company intends to meet its Exploration Target at 270 - 530 million tonnes grading 0.04 – 0.1% (400 – 1,000 ppm) TREO
The assay results from the drilling program have been highly encouraging and has indicated the potential of a substantial mineral resource estimate (MRE) upgrade at Makuutu.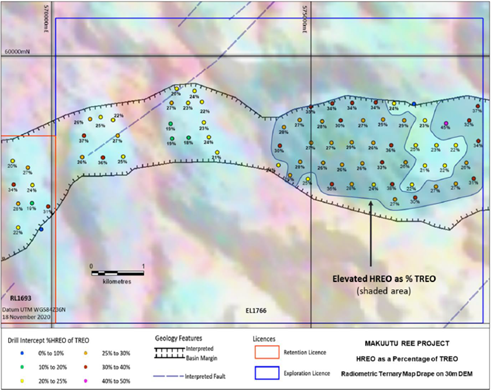 Elevated HREE content assayed in drill holes in Makuutu Eastern Zone showing extended MRE potential at Makuutu (Source: ASX update 27 November 2020)
Ionic Adsorption Clay deposits present unique features which make them highly sought-after deposits for heavy and critical rare earths over the higher cost light rare earth dominant hard-rock deposits. Ionic clay hosted deposits enjoy an upper hand as they facilitate low-cost extraction in addition to easy and rapid recovery of high value heavy rare earths with a higher payability.
Comparison of REE distribution in LREE dominant hard rock Vs HREE/CREE dominant Ionic Clay (Image Source: USGS FS087-02)
The above figure illustrates the proportions of individual REE in two representative ores. Bastnäsite on the left, dominated by La, Ce, and Nd, with Eu through Lu plus Y totaling only 0.4%; so a negligible HREE content. The Bastnaesite ore found in California, USA contains REE of low economic values (nearly 80% low value light REE La + Ce) with a basket price of US$6-7 per kg REO equivalent received for the product produced at current spot prices.
Alternatively, the lateritic ion-adsorption clay ore on the right, which is Y-dominated, has a comparatively lesser content of lower value LREE (nearly 23%) and elevated heavy plus critical REE content of 77%. The basket value of these deposits is more than fivefold of hard-rock and fetches US$39 per kg of REO equivalent product.
The other major advantage is that the IAC process doesn't leave any radioactive tailings, unlike hard-rock LREE projects, which leave behind tailings dams which are a major environmental challenge and long-term legacy issue for hard rock deposits.
IXR Ready to Claim Market Share in Rare Earths Segment
China extracts the bulk of the light REE mainly from three hard rock rare earth deposits, mainly in Inner Mongolia and Sichuan Provinces. The heavy REE are recovered from the numerous small-scale IAC deposits in southern China which produce 95% of HREE and are low cost and easy to produce. Excessive and illegal mining over the past three decades has depleted the IAC reserves significantly, and China implemented quotas over 10 years ago to help address this.
As per China's 2012 White Paper on the rare earths industry, its IAC reserves were estimated to last for 15 years. At that rate, it was predicted the IAC reserves will be exhausted within a decade. In the absence of the Chinese supply, the low-cost and high-grade Makuutu will provide an alternative supply of rare earths.
With those IAC deposits now pending exhaustion, China has imposed restrictions on REE exports from 1 December 2020, but more specifically the high value HREE obtained from the IAC deposits in the south. These imposed restrictions have seen the price of the IAC sourced heavy REEs Ho and Tb increase in the month of November by 35 and 29% respectively.
IonicRE Value Proposition
Project Status
The Company recently released the tranche 4 assay results from the Phase 2 drilling campaign. The assay result is highly encouraging and indicates continuous mineralisation up to the boundaries. Also, an elevated HREE zone has been delineated, indicating the potential of higher value product from the deposit.
Also Read: Ionic Rare Earth (ASX:IXR) flying high as tranche 4 results indicates more Heavy Rare Earths Reserves
IXR has applied for the renewal of the Retention Licence No. 1693 and also for new Exploration Licence applications – TN03424 and TN03425;
TN03424 is spread over 60.3 KM2 and is located due east and adjoining to the existing exploration licence EL1766.
The EL- TN03425 is 48.15 KM2 in area and is located due north and adjoining to the existing retention licence RL1693.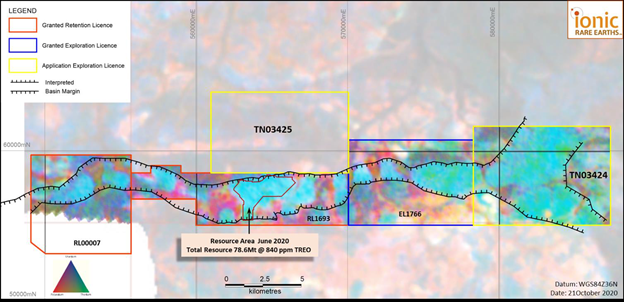 Additional exploration licence applications extending immediately east of the recently announced trancje 4 drilling assays (Source: ASX update 27 November 2020)
Near-Term Project Goals
The Company has planned to upgrade the mineral resource of the project in Q1 2021, after the final assay result is received, which is expected by December 2020.
IXR has planned further exploration drilling campaign in Q2 2021.
The Bankable Feasibility Study (BFS) is set to commence by Q2 2021 and complete by the 4th quarter of 2022.
Phase 2 Metallurgical Variability Test Program is scheduled in Q2 2021.
IXR will submit the Mining License Application by the end of CY2022.
AGM
At the AGM, Ionic shareholders voted in favour of all resolution including for the allocation of Options to the Directors of the Company, allocating the Options at a price of 2.15 cents, a premium of 50% to the VWAP (Volume Weighted Average Price) of the share price over the last 30 days moving average.
IXR shares closed at A$0.013 on ASX on 30 November 2020, with a market cap of A$38.52 million.