Summary

Coda Minerals operates the Elizabeth Creek Copper Cobalt Project located in southern Australia.
The project lies in a prime copper exploration region surrounded by massive deposits including Olympic Dam, Oak Dam West and Carrapateena.
Coda has well-funded exploration programs focused on rapid delivery of shareholders' return. A$5.6 million has been spent on exploration operation on the Elizabeth Creek Project.
Coda operates in the Australian Market, which is the seventh-largest producer of copper in the world and is expected to witness increased earnings from copper export to A$11billion in 2021-22 from A$ 9.9 billion in 2019-20.
Perth-based mineral explorer Coda Minerals Limited (ASX:COD) is a new entrant to the official list of ASX, making its debut on 28th October 2020. The IPO provides CODA additional funds to propel exploration activities at its Elizabeth Creek project.
The company is engaged in copper-cobalt-silver exploration at the Elizabeth Creek Project in South Australia. Australia is the seventh-largest producer of copper in the world. Resources and Energy Quarterly in September edition has forecast copper earnings to reach A$11 billion in 2021-22. The report further mentioned that copper production is set to grow by 1.9% and export may grow by 2.1% in Australia in 2021-22.
World-Class Copper Assets in Premium Jurisdiction
Under the Mt Gunson Copper-Cobalt Project Farm-in Agreement, Coda holds the right to earn up to 70% interest in the Elizabeth Creek Copper Cobalt Project with an option to acquire an additional 5% interest. At present, the company holds a 51% interest in the project.
The project lies at the heart of the Olympic Copper Province with some of the region's most famous deposits such as Olympic Dam, Oak Dam West and Carrapateena immediately surrounding the project area.
Elizabeth Creek covers an area of 739 square kilometres in the Eastern Gawler copper province. The company reported a JORC-compliant indicated resource of 159,000 tonnes of copper and 9,500 tonnes of cobalt in two deposits- Windabout and MG14.
Coda recently completed the IOCG prospectivity review with consultants Resource Potentials using all available geophysical data. Two IOCG prospects were identified as highest priority exploration drilling targets - Emmie Bluff Deeps and Elaine.
Elizabeth Creek – Coda's Flagship Project
The Elizabeth Creek Project hosts Emmie Bluff, Coda Minerals' flagship prospect which has been the main target for exploration in recent years. The Emmie Bluff Exploration corridor offers potential for significant resource base uplift.
The company has 17 diamond drill holes over 3km of strike with an approximate average depth to mineralisation of 400m. The mineralisation at the prospect is flat-lying in narrow stratiform lodes that will allow easy extraction and narrow pillars.
A recent magnetotelluric (MT) survey showed anomalies extending beyond historical drilling targets, pointing towards large exploration corridor lying south of the exploration target.
The exploration drilling has covered only 30% of the anomaly area so far. A seismic survey carried out this year confirmed the findings of MT, and new drilling targets have been identified. The firm commenced the drilling programme in October 2020.
Location of Emmie Bluff with prominent copper deposits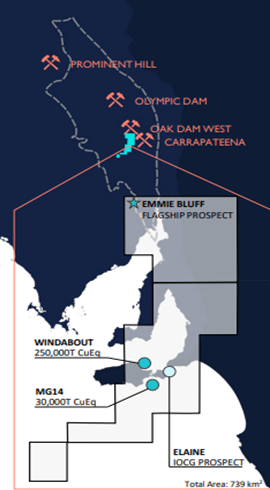 Source: Company Presentation August 2020
Significant intersection results included:
4m at 1.8% Cu equivalent in Hole SAE 6;
4m at 2.75% Cu equivalent in Hole SAE 12;
2.95m at 2.55% Cu equivalent in Hole SAE 17;
2.6m at 2.85% Cu equivalent in Hole SAE 18;
3.15m at 1.97% Cu equivalent in Hole SAE 19;
3m at 6.06% Cu equivalent in Hole SAE 20
Coda's massive IOCG Potential
Coda Minerals has identified three high priority iron oxide copper gold (IOCG) targets in the Elizabeth Creek Project using gravity, magnetic and MT survey data. Additional geophysical survey data may be required to de-risk the drilling operation. The company is planning to move ahead with an advance geophysical survey in 2021-22.
The high priority targets delineated by the geophysical data are:
Emmie Bluff Deeps
Historical drilling data has indicated the presence of an IOCG system in the region. The prospect hosts narrow IOCG mineralisation with a broad halo of geochemical anomalism. The new MT data interpretation revealed a crustal-scale vertical conductor less than 5km south of the historical drill locations.
Coda is optimistic about the possibility of a large mineralisation system based on the analysis of historical intercept data.
Elaine
After the comprehensive geophysical and geological analysis of the tenure, Coda Minerals delineated the Elaine prospect as the highest priority IOCG target at the Elizabeth Creek project.
Elaine is a coincident gravity and magnetic anomaly. Historical drilling encountered alteration consistent with the presence of an IOCG system. The company is focusing on the undrilled core of the gravity anomaly.
Elizabeth North/Chianti North
The prospect lies in close proximity to the Cattlegrid Fault Zone and has complex basement geometry as indicated by the gravity and magnetic anomalism.
The MT anomalism also supports the presence of a major crustal structure.
Coda Resource Base and Expansion
JORC 2012 compliant indicated mineral resource at Elizabeth Creek Project
Existing Mineral Resources (JORC 2012 Indicated) 0.5% CuEq. cut-off

Source: Company Presentation August 2020
The company has the potential to expand on its existing Zambian-style shale hosted Cu-Co-Ag mineral resources through expansion drilling and exploration of potential satellite deposits around the Mt Gunson mining region.
On 9 November 2020, COD closed at A$0.370 at 10:58 AM AEST, with a market cap of A$32.49million.