Summary

BlackEarth Minerals is focussed on exploration at its flagship Maniry Graphite Project in Madagascar and Donnelly River Ni-Cu-PGE Prospects in Western Australia.
The Company's recent Share placement was oversubscribed and raised $1.4 million at $0.05 per ordinary share.
The proceeds from the recently undertaken successful Placement and recently announced SPP would be used to advance feasibility study at Graphite project and commence exploration at Donnelly River.
Graphite from BlackEarth's Maniry project meets the specifications of tier 1 players from diversified industries.
Perth-based diversified critical commodity explorer and developer, BlackEarth Minerals NL (ASX: BEM) continues to progress its highly prospective exploration assets, that have the potential to enhance the shareholder's value. The Company has been currently focussed on exploring opportunities concerning downstream value-added graphite processing.
Notably, the primary assets of the vertically integrated graphite developer include advanced mining projects in Madagascar and base metal prospects (Ni-Cu-PGE) in Western Australia. The Bankable Feasibility Study (BFS) is currently underway at Company's flagship Maniry Graphite Project, stationed in Southern Madagascar.
The dedicated approach to graphite exploration has positioned BlackEarth well to leverage off the current booming momentum in graphite market. Significantly, the graphite potential has been pepped up by the pent-up demand for EVs, predicted natural graphite shortage and improved demand outlook for battery commodities.
INTERESTING READ: BlackEarth Minerals' Maniry Graphite Suitable for EV Batteries, Says Evaluation Testwork Program; Stock Up 13.95%
Amidst the affluent prospects, the Company has been undertaking exciting exploration activities at Maniry and Donnelly River. Let us explore some of the key undertakings and anticipated developments, bolstering the advancing journey of BlackEarth Minerals.
A Glimpse at the Recent Capital Raise
BlackEarth in early October 2020 secured firm commitments of $1.4 million for 28.413m new fully paid ordinary shares at an issue price of $0.05 per share. The Share Placement received outstanding support from the Australian investors and was closed in three hours after being oversubscribed by over 50%.
The Company has also announced a Share Purchase Plan (SPP) on 5 October to raise $ 1.7 million at $0.05 per share.
The Company plans to use the funds generated from the proceeds in advancing Maniry Graphite Project feasibility study and kickstart exploration activities at the Donnelly River Ni -Cu -PGE prospect.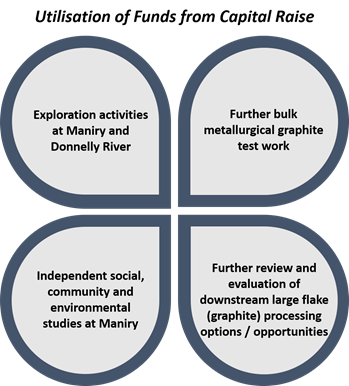 (Image Source: ©️ Kalkine Group, Data Source: BEM ASX Update, 6 October 2020)
Maniry Graphite Project Making Headway
The Company has successfully fast-tracked its financially and technically robust Maniry Graphite Project in Southern Madagascar, to the BFS Stage, in under two years, for a total cost of less than $6m.
The project with granted 40-year mining lease and has significant grade and tonnage upside. It is typically characterised by well-understood geology, very low LOM strip ratio of 0.9:1 and simple floatation processing.
ALSO READ: BGRIMM Stage 1 Study: Another Milestone Towards Advancing BlackEarth Minerals' Maniry DFS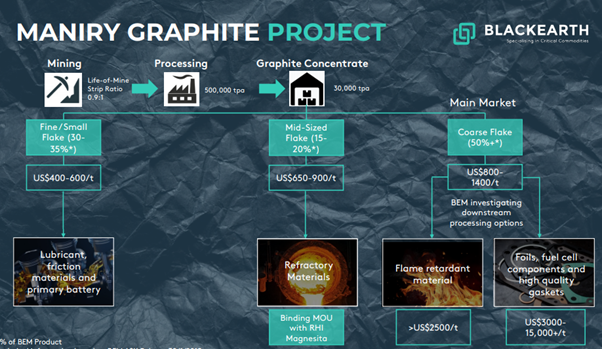 Data Source: BEM ASX Update, 6 October 2020
Graphite from BlackEarth's Maniry project meets the specifications of the following diversified industries, consistent with the Tier 1 players.
Expandables Industry
Germany-based NGS Germany achieved outstanding results of 400 cm3/g, exceeding the industry benchmark rate of 250 cm3/g
The largest expandable graphite producer in the world received positive test results and has given its quality approval
Refractory Industry
BlackEarth entered binding MOU with RHI Magnesita, which is the world's largest refractory group. RHIM dominates the global supply of high-grade refractory products, systems and solutions, while it also remains as large natural flake graphite consumer for various refractory products and materials.
Li-Batteries
Maniry spherical graphite conform to the requirements of lithium-ion anode material manufacturers
Spherical graphite production yields of up to 52% achieved, which is substantially higher compared to the industry average of 40%.
Tier-1 spherical graphite producers as well as anode material manufacturers have provided positive feedback.
ALSO READ: BlackEarth Minerals Tapping Opportunities in Graphite Expandables Market
Data Source: BEM ASX Update, 6 October 2020
Exploration Focus at Donnelly River
The Donnelly River Ni-Cu-PGE Prospect, located ~240km south of Perth is situated immediately adjoining the Thor and Odin Ni-Cu-PGE prospects. BlackEarth has planned a comprehensive exploration program at Donnely River with activities ranging from review of previous data to conducting surveys and drilling endeavours.
All available open file technical data would be completely reviewed and consolidated through:
The processing and interpretation of Open file Airborne magnetic data
All relevant GSWA Core Library drill holes undergoing geological logging.
Meanwhile, regional geochemical sampling and geological mapping at Donnelly River prospects would be done in two phases. In the first phase, LAG and rock chip sampling would be carried out along public road and rail easements. In Phase 2, BlackEarth would undertake a grid-based LAG sampling program post the negotiated access to all the project area.
Significantly other exploration endeavours include airborne magnetic and electromagnetic data surveys, landowner access agreements, systematic geochemical sampling and ground-based detailed gravity survey. The plan includes ground geophysical surveys and drilling on identified targets.
(Image Source: ©️ Kalkine Group, Data Source: BEM ASX Update, 6 October 2020)
On 12 October 2020, BEM stock closed the day's trade at $0.050, with the capitalisation of $5.65 million.