Summary

Avenira has completed the maiden aircore drilling campaign on its Jundee South Project.
259 holes were drilled in the latest campaign, with 247 holes to test Priority 1 and 2 targets.
The project is located in the Yandal greenstone belt which hosts some famous projects including Northern Star's Jundee Mine and the historic Bronzewing operations.
Gold and Phosphate explorer, Avenira Limited (ASX:AEV) has announced the successful completion of the maiden aircore drilling campaign at its wholly-owned Jundee South project. The gold project covers 720 km2 in the prolific Yandal Greenstone Belt of Western Australia.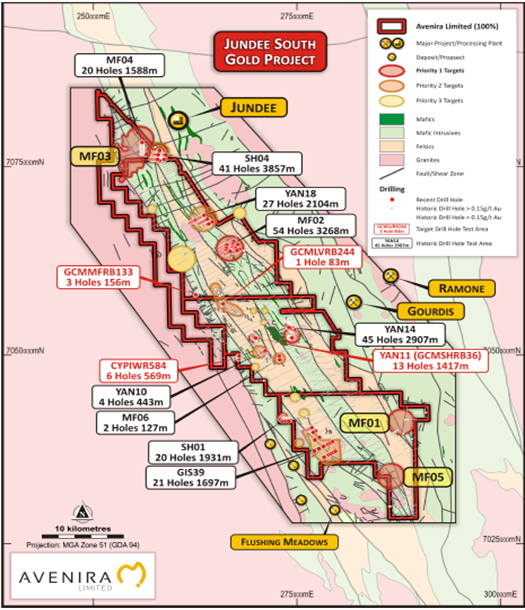 Drill hole locations (Image Source: ASX Update, 15 December 2020)
Read More: Tapping right Opportunities, Avenira Limited (ASX:AEV) under Spotlight
Campaign Details
The campaign included 259 holes drilled for 20,147 metres to test priority targets and selected historical RAB intercepts. Here are the major highlights of the maiden aircore drilling campaign:
247 holes aggregating to 19,134 metres were drilled to test accessible Priority 1 and 2 targets.
An additional 12 holes were drilled for 1,013 metres confirming grades, lithologies and structures intersected in 4 selected historic RAB intercepts including 8m @ 5.74 g/t Au.
Assay results are pending.
Also Read: Avenira shared the results of historical data compilation of the Jundee South Project

Kalkine Group Image (Data Source: ASX Update, 15 December 2020)
Results from Geological Logging
Encouraging results showing alteration and other strong indicatiors for gold mineralisation were observed during geological logging. In addition to the pervasive alteration previously observed at the YaN18 target, substantial alterations were identified at subsequent targets, including YaN14.
Drill hole JSA20_293 at target YaN14 recorded a 9-metre long intercept consisting of 3-5% stockwork quartz veining along with 5-10% ferruginous veinlets, interpreted as oxidised sulphides. Notably, gold mineralisation at Jundee and Bronzewing is closely associated with sulphides and quartz veining.
Goals set for 2021
Avenira has prepared a work plan for the next two quarters on the basis of initial findings from the drilling campaign. The Company has divided the work program in 2 quarters, as shown below:
For Q1 of 2021
Kalkine Group Image (Data Source: ASX Update, 15 December 2020)
For Q2 of 2021

Kalkine Group Image (Data Source: ASX Update, 15 December 2020)
Avenira traded at $0.012 at 2:27 PM AEDT on 16 December 2020 with a market cap of $10.35 million