Summary

Lake Resources NL has produced high-purity battery quality lithium carbonate, demonstrating a clean, sustainable, cost-competitive solution to delivering high purity lithium.
LKE shall transport lithium carbonate samples to Novonix Battery Technology Solutions and other potential off-take partners in Asia and Europe.
LKE seeks to produce the cleanest battery quality lithium carbonate at a scale that can be readily used in the rapidly growing battery and EV market.
LKE is well-funded to initiate Kachi Project Definitive Feasibility Study and other studies along with works to advance the Kachi project.
Clean lithium developer, Lake Resources NL (ASX:LKE), reported production of high purity 99.97% battery quality lithium carbonate from Kachi brine. It was produced using clean, direct extraction technology at Lilac Solutions' pilot plant.
This is just one of the several key achievements of the Company during the September 2020 quarter.
Related: Lake Resources Concludes Commissioning at Lilac's Pilot Plant Module, Stock Soars
High-Quality Lithium Chloride Solution Produced From Kachi Brine
A high-quality lithium chloride solution was produced during the quarter from Kachi brine which was then processed at Lilac Solutions' pilot plant through direct lithium extraction (DLE). Subsequently, Hazen Research Inc. treated this solution to convert the lithium chloride to low impurity, high-quality lithium carbonate - 99.97% Lithium Carbonate.
Neutralisation and precipitation of LKE's lithium product at Hazen Research's Lab (Source: ASX Announcement 29 October 2020)
This lithium carbonate showed 70% reduction in the overall level of impurities compared to LKE's previous lithium carbonate production and a substantial reduction of 94% in impurities compared with 99.5% lithium carbonate, broadly received as "battery-grade" in the current market.
In a nutshell, the results indicate significantly low metal and cation impurities including iron and boron, reflecting the efficacy of the DLE process in producing a lithium chloride solution that can produce a high-quality lithium carbonate desired for the battery market.
Prospects To Attain Significantly Higher Prices For LKE's Lithium Carbonate
LKE aims to bring its Kachi Lithium Brine Project towards production by using the efficient, disruptive and low-cost direct extraction technology Lilac Solutions Inc.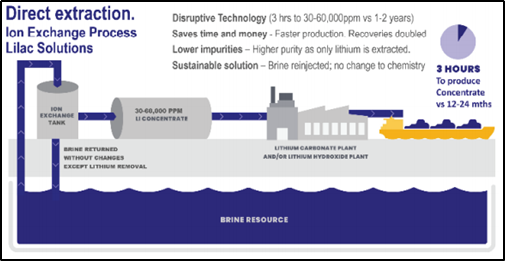 Lilac Solutions direct extraction process (Source: ASX Announcement 29 October 2020)
Lithium carbonate grade and the level and type of impurities play a key role in determining the pricing in lithium carbonate market. Opportunistically, the results reported by Lilac and Hazen with Kachi brine indicate the possibility to attain significantly higher prices than predicted earlier.
Interesting Read: Lake Resources Zooms ~9% on ASX; New Research Reflects Kachi Project's High Potential
Lilac's pilot plant module treatment of Kachi brine was conducted and successfully completed to produce lithium chloride solution. These tests from brine to final product provide LKE the encouragement to replicate the results at planned production scale. On top of this, consistent product quality and ready production scalability are offered by the direct lithium extraction as built by Lilac.
Compelling PFS And Transportation Of Lithium Carbonate To Novonix
Earlier, LKE had concluded a compelling Pre-Feasibility Study (PFS) for the Kachi Project to produce sustainable, high-purity, low impurity lithium carbonate to attract premium pricing and indicated
Long-life (25 years), low-cost operation
Post-tax NPV8 of US$748 million (A$1,180 million)
IRR of 22%
Moving ahead, LKE plans to send Lithium carbonate samples to Novonix Battery Technology Solutions, subsidiary of Novonix Limited (ASX:NVX) and is currently engaged in developing "million mile" battery technologies with ground-breaking anode and cathode materials. Other than Novonix, LKE also plans to send samples to other potential off-take partners in Asia as well as Europe.
Testing of LKE's lithium carbonate shall be undertaken together with commercial battery cathode precursor materials in NMC622 batteries
Performance of LKE's lithium product shall be assessed for conformity with lithium-ion battery industry standards using Novonix's pilot cell line and proprietary advanced diagnostic tools
Related: Lake Resources' Technology Partner in California Picks Up Steam After Restrictions are Lifted
The data so generated shall assist potential users and off-takers of LKE's product in making direct and significant comparisons of its performance to familiar cell chemistries. While testing is expected to take at least four months, LKE anticipates first results to arrive two months after the production of first cathode material.
Cauchari Project Progressing To Production In 2021
Interestingly, LKE holds mining leases over ~45,000 hectares in two areas (both 100% owned) in Jujuy Province in NW Argentina and multiple high-grade lithium brine sources were identified at Cauchari Lithium Brine Project in late August 2019. Further, similar grades and lithium brines extending into Lake's properties from the adjoining Ganfeng/ Lithium Americas Cauchari project (NYSE:LAC) were confirmed through the drilling, and the project is progressing to production in 2021 at 40,000tpa LCE.
Interesting Read: Lake Resources Produces Initial Samples of Lithium Chloride, Samples Indicate High Lithium Concentrations
Cash and Funding Position of LKE
As on 30 September 2020, LKE held cash of $3.06 million (in AUD, USD and Argentine Pesos) with no debt and is well-financed for its current plans, which include the commencement of the Definitive Feasibility Study for the Kachi project.
Moreover, discussions regarding funding for other studies and works to advance the Kachi project through to the establishment of construction finance are also advancing with international investment funds.
Additional funding was secured through private placement to sophisticated and professional investors that raised $2.55 million before costs in August 2020
Did you read : Lake Resources Concludes Commissioning at Lilac's Pilot Plant Module, Stock Soars
All in all, with low impurities being a key indicator of battery quality, LKE is optimistic that the product shall be highly attractive for the lithium-ion battery market. Significant optimism also surrounds LKE to emerge as an efficient, cost-competitive and environment-friendly supplier to produce high-purity, responsibly sourced lithium carbonate.
LKE's Annual General Meeting of Shareholders is scheduled to be held virtually on Thursday 26 November 2020, given the significant health concerns attributed to the COVID-19 pandemic.
Related: Lake Resources Optimistic on Lithium Outlook; Update from Investor Stream Interview
On 29 October 2020, LKE share price quoted at A$0.056, with a market capitalisation of A$46.73 million.