Summary

With COVID-19 severely affecting the respiratory system and also leading to mortality, healthcare players have ramped up their efforts to develop vaccines or drugs to counter the life-threatening disease.
MGC Pharma recently completed its Phase 2 clinical trial for ArtemiCTM on COVID-19 patients to evaluate the safety and efficacy with interim findings meeting the primary endpoint.
Mesoblast Limited has reported the 2nd interim study of the clinical results following the DSMB recommendation to continue remestemcel-L.
Dimerix has announced that the global REMAP-CAP domain protocol, including DMX-200 ARDS treatment in COVID-19 patients, is now available online.
COVID-19 pandemic has driven the healthcare industry into the limelight, initiating a race for developing preventive as well as therapeutic interventions. The severity of COVID-19 is palpable with over 51.84 million infected cases, and more than 1.28 million casualties reported so far across the globe (as of 12 November 2020 4:41 PM CET).
With COVID-19 affecting the respiratory system and causing mortality in patients, healthcare players all over the world have ramped up their efforts to develop vaccines or treatments for this ongoing fatal infection rapidly. Meantime, healthcare companies are testing their lead candidate for COVID-19 treatment.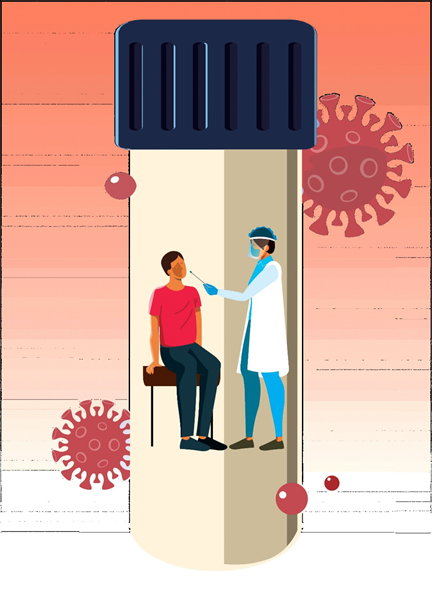 Image Source: © Kalkine Group 2020
In this article, we will discuss the progress of 3 ASX-listed healthcare companies with their COVID-19 treatment.
MGC Pharma completed ArtemiCTM Phase 2 trial on COVID-19
European biopharma company MGC Pharmaceuticals Ltd (ASX:MXC) is engaged in the development and supply of medicines derived from phytocannabinoid to patients across the globe. MGC Pharma has several research collaborations with prominent academic institutions worldwide.
On 5 November 2020, MGC Pharma updated the market that the Company had completed its Phase 2 clinical trial for ArtemiCTM, on COVID-19 patients to evaluate the safety and efficacy.
The interim findings of the trial met key FDA primary endpoint of sustained clinical recovery, preventing the requirement for intensive care or invasive mechanical ventilation in patients having high-risk.
MGC Pharma mentioned that the final findings of the 50 patient Phase 2 clinical trial are likely to be published next month following independent technical review and statistical validation of the trial data.
The Company is well-placed to accelerate ArtemiCTM production to meet its demand post-publication of full clinical trial results. The board of MGC Pharma consider that positive findings from the clinical trial have the ability to provide material commercial supply prospects for ArtemiCTM immediately as a food supplement.
Now, the Company is designing protocols and parameters for the next phase of the clinical trial with endpoints and study population to be defined as per the FDA guidelines, subject to positive trial results.

Stock information: On 13 November 2020, the share price of MXC was last noted at A$0.021 with a market capitalisation of almost A$36.09 million.
Mesoblast Limited Reports Second Interim Analysis of Clinical Outcomes
ASX 200-listed biotech company Mesoblast Limited (ASX:MSB) is a world leader in developing off-the-shelf medicine. Mesoblast has a robust global IP portfolio with protection extending in all major markets through to at least 2040.
On 10 November 2020, Mesoblast updated the market that the Phase 3 trial of remestemcel-L in patients with moderate to severe COVID-19 induced ARDS had received a recommendation to continue from the independent DSMB after the completion of the second interim analysis.
The Company said that the second interim analysis was performed on the first 135 patients, 45% of the overall target of up to 300 randomised patients' all-cause mortality within 30 days of randomisation and all safety data. Mesoblast said that the DSMB recommended continuation of trial after reviewing the primary endpoint.
The key secondary endpoint is days alive without any mechanical ventilatory support within the two months of randomisation. Mesoblast also mentioned that the 3rd and final interim analysis would take place in the upcoming weeks.
Dr Fred Grossman Chief Medical Officer Mesoblast commented-
Stock Information: On 13 November 2020, the share price of MSB last quoted at A$3.250, up by 1.562%. The market capitalisation of Mesoblast stood at A$1.87 billion.
Dimerix's DMX-200 moves one step ahead for COVID-19 ARDS
ASX-listed clinical-stage biopharmaceutical player Dimerix Limited (ASX:DXB) is engaged in developing innovative therapies for unmet medical needs. Currently, the Company is developing its product DMX-200 for diabetic kidney disease, FSGS and ARDS, along with DMX-700 for treatment of COPD.
On 9 November 2020, Dimerix updated the market that the global REMAP-CAP domain protocol including DMX-200 for treatment of ARDS in COVID-19 patients is available online.
The Company added that the renin-angiotensin system (RAS) domain protocol was formally approved by the 42-member REMAP-CAP International Trial Steering Committee.
The RAS domain will evaluate the efficacy of DMX-200 when given in combination with an angiotensin receptor blocker for up to ten days, compared to no RAS inhibitor, and ARB alone or an ACE inhibitor alone.
The study enrols patients admitted to hospital with acute illness due to suspected or proven COVID-19, including patients admitted to an ICU.
REMAP-CAP domain protocol will be submitted to regulatory agencies in jurisdictions with high recruitment rates permitting Dimerix to submit IND to support patients' recruitment to the DMX-200 study arm.
Notably, some global specialists see DMX-200 as a potential treatment to reduce lung inflammation during SARS-CoV-2 virus infection.
CEO & Managing Director of Dimerix, Dr Nina Webster said-
Stock Information: On 13 November 2020, the share price of DXB was last noted at A$0.260, up by 1.960%. The Company has a market capitalisation of A$50.45 million.