Summary

Theta Gold has planned to produce more than 160,000 ounces of gold per year from its near-surface mines.
The bulk metallurgical gold sampling from Theta's three underground mines has exhibited excellent gold recovery with Carbon In Leach (CIL) process.
The Company is moving forward with Pre-Feasibility Study (PFS) on several underground mines, and CIL plant funding and design are currently been negotiated.
ASX-listed gold development company Theta Gold Mines Limited (ASX:TGM, OTCQB:TGMGF) holds several high-grade prospective gold assets in the heart of South African gold mining region.
The surface and near-surface high-grade gold projects have cost advantages over other regional gold producers.
Theta Gold controls the Eastern Transvaal Gold Fields, lying in close vicinity of the historic gold mining town of Pilgrim's Rest. It is a vast area and very little explored gold province. The field has 1.3 Moz open-cut resources and 4.5 Moz of the underground resource.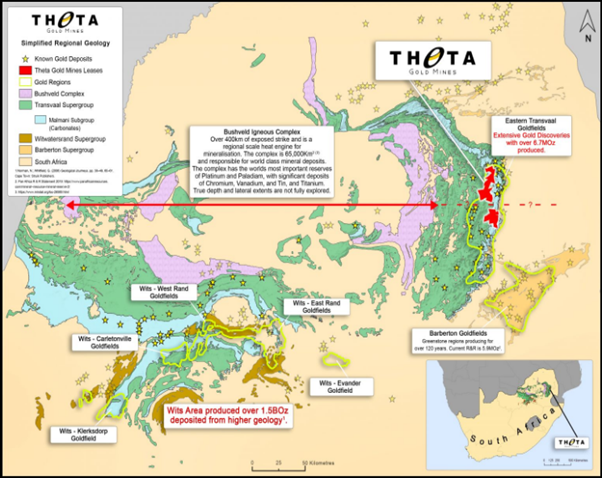 Project Location Map (Source: Company Website)
Theta Gold has more than 43 historical mines spread over 62,000 hectares of land. The Company has 6 Moz of gold resource in the region and the potential to add more to the resource base as the tenement contains many unexplored targets.
Theta Gold, in its recent update to ASX, disclosed the results of the bulk metallurgical gold sampling program. The Company collected 9 samples weighing 50 kg each from the several shallow underground mines, including Rietfontein, Beta and Vaalhoek Gold mines.
Significant results from the sampling program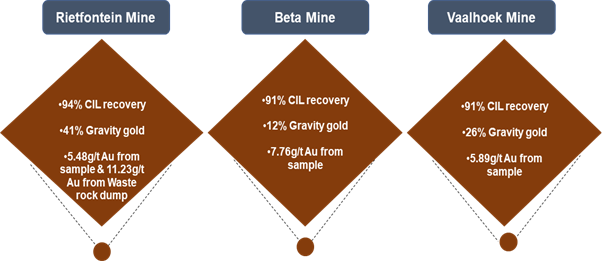 Metallurgical Sampling Results (Data Source: ASX Update 18 November 2020)
The results are highly encouraging and pave the way for the underground Pre-Feasibility Study (PFS). The samples have shown excellent gold recovery with Carbon in Leach (CIL) process.
The Beta Reef bulk sample has given higher-than-expected recovery result in the CIL process. The 91% CIL recovery is quite unique for the mine having ~1.1 Moz of gold resource.
Mineral Resource

Combined Mineral Resources as on 1 May 2019 (Source: Company Website)
What will keep TGM busy in Q4 2020
To commence Pre-Feasibility Study (PFS) on several underground mines, including Rietfontein and Beta Mines.
To start initial underground sampling work.
Engineering Design solution for the construction of the CIL plant along with funding solution.
Refurbishment of Ball Mill to commence in Q4.
Approval of Environmental Authorisation expected for its initial open-pit Theta Project from the Department of Mineral Resources and Energy.
Apart from the above-mentioned work program, the Company has formulated a 5-year strategy to develop 2.75 Moz from its 6 Moz resources by a transition of its four mines into production in the next 5 years in 4 stages.
Stage 1-4 of project development (Source: ASX Update 27 October 2020)
Theta Gold shares closed at A$0.300 on 01 December 2020, with a market cap of A$133.44 million.