Summary

The Commonwealth Bank of Australia has been a consistent dividend payer since its ASX debut.
The bank provides dividend twice a year - interim dividend after the interim results and final dividend after the full-year results.
The Commonwealth Bank also provides a Dividend Reinvestment Plan (DRP) option to its qualified shareholders.
A dividend is a portion of the Company's earnings paid to the shareholders as decided by the board of directors. Several companies pay a dividend to the shareholders as a reward for investing their money into their business.
Large, established companies that have more predictable profits are regarded as the best dividend payers. A significant chunk of dividend-paying firms is from industries including basic materials, oil and gas, banks and financial, healthcare and utilities. On the other side, start-technology/biotech companies may not provide regular dividends as they are either in the early stage of development or invest huge capital in research and development or expansion plans.
Investors prefer dividend stocks as they provide benefits through both dividend payments and stock price appreciation. Besides, dividends are real and can't be faked or developed via fraudulent accounting. They also tell you about the financial health of the Company.
With this backdrop, let us walk through CBA's dividend plan.
When Commonwealth Bank pays a dividend?
Commonwealth Bank of Australia (ASX:CBA) is one of the Top 4 banks in Australia and has consistently provided a dividend to its shareholders. Generally, the bank announces dividend payments two times a year – An interim dividend in February and a final dividend in August.
In 1H FY2021 (period ended 31 December 2021), CBA paid a fully franked dividend of AU$1.50 on 30 March 2021.
Source: Refinitiv Eikon
How does CBA pay the dividend?
The Company pays dividends by direct credit, and the amount gets deposited in the nominated bank account of the shareholders. These shareholders belong to either of the three regions - Australia, the UK, and New Zealand.
Shareholders from regions other than the ones highlighted above can opt for dividend payments through direct credit into the nominated bank account, provided the bank account is in the country of the nominated currency. These currencies include EUR, HKD, SGD, CHF, and USD.
If the shareholder does not provide bank details by record date and is not a participant in Dividend Reinvestment Plan, then the amount would be held on behalf of shareholders in a non-interest-bearing account. On receipt of the payment instructions, the amount is paid to the nominated account.
Does Commonwealth Bank provide a Dividend Reinvestment Plan?
Yes, CBA offers a DRP plan to its shareholders. Dividend Reinvestment Plan or DRP allows qualified shareholders in Australia and New Zealand to reinvest all or a portion of their dividends to get additional shares in the Company instead of cash payment. The advantage of opting for DRP is that the shareholder can easily increase their holdings, and they will not have to incur any transaction cost.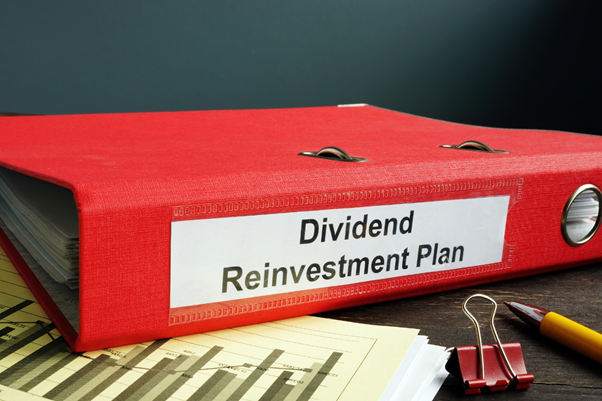 Source: © Designer491 | Megapixl.com
Features of DRP
The qualified shareholders would receive shares instead of a cash dividend.
The number of shares the shareholders would get would be as per the market price of the share.
A franking credit is applied to dividend invested under DRP.
The shares issued under the DRP would rank equally with other CBA shares.
If there is any residual amount left in the DRP account, it would be added in the next dividend to evaluate any upcoming share entitlements.
Participation in DRP is optional, and the shareholder can change the election at any time.
CBA's Development in 2H FY2021
On 27 May 2021, the Company provided an update its strategy and investment to reimagine products & services and develop the best digital banking experiences. CBA's CEO stated that the Company is moving towards digital banking, and CBA is investing to stay at the forefront of innovation. The Company aims to become the most trusted partner of its customers' financial lives by saving them money, provide better control over their finances and making banking simpler and easier.
On 21 June 2021, CBA announced that it signed an agreement to sell its Australian general insurance business to the Hollard Group. Through this deal, CBA would establish a 15-year strategic partnership with Hollard to distribute home & motor vehicle insurance products to retail customers of Commonwealth Bank in Australia.
INTERESTING READ: