Summary

The automotive industry has been hit hard during the pandemic; loss of jobs and income crunch magnified the problems for the industry.
Policymakers are playing key role in injecting liquidity and offering tax cuts to revive the economy as a whole.
Eagers Automotive (ASX:APE) has started to pick up sales from the historic lows but supply restrictions due to global factory shutdown are still seen.
Autosports Group (ASX:ASG) posted normalized revenue of $1,699.3 million for FY20 owing to strategic acquisitions and organic growth.
Bapcor Limited (ASX:BAP) reported 12.8% YoY increase in the revenue to $1,462.7 million but profits declined by 18.4% to $79.2 million for FY20. Despite new restrictions in Victoria and Auckland, the company is reporting increased revenue.
Super Retail Group (ASX:SUL) also reported increased sales figures of $2.83 billion, up by 4.2% from pcp.
All these automotive stocks have recovered remarkably from the March meltdown, with a few making new 52-week highs.
The coronavirus pandemic has created havoc across the world, impacting every country, industry and business. The automotive industry has also been hit hard as a consequence of nation-wide lockdowns and restricted movements. Loss of jobs and salary cuts reduced the disposable income, which further put a pressure on demand-driven factors for automotive vehicles.
On the supply side, it impacted all the stakeholders from parts manufacturers to distributors who faced considerable medium-to-long term impact. The major hindrances faced were shortage of raw materials, liquidity crunch which hampered working capital of the companies, deferred launches and not to forget the enormous burden of fixed cost.
Although the policymakers across the world are playing their part in supporting the impacted industries primarily by infusing more liquidity to aid the continuation of the business operations Besides, tax incentive schemes have been under the radar to boost the demand side.
Let's have a look at some prominent automotive players who have gone through the initial shock and are coming out of it remarkably, owing to their qualified management, strategic initiatives and vast experience.
Eagers Automotive Limited (ASX: APE)
Eagers Automotive Limited (ASX: APE) is an Australian automotive player having a long history or more than a century. The company services more than a million units per year in dealership locations across Australia and New Zealand
In the recent 1H20 numbers, the company reported statutory profit after tax at $11.8 million, down from $42.2 million reported in 1H19. However, the revenue increased significantly from $1845.7 million to $4155 million during the same period.
In the recent trading update for the nine months ended 30 September 2020, the company stated that some demand was picking up from the March lows which was experienced doing nation-wide lockdown. But the supply constraints caused by the global manufacturer factory closures during the June quarter has led to lower vehicle deliveries.
The stock has also participated in the global recovery and risen quite well from the low of $2.5 in March to $10.860 as on 30 October. This is a multifold gain of more than 340% in a few months.
Autosports Group Limited (ASX: ASG)
Autosports Group Limited (ASX: ASG) commenced its operations in 2006 and listed on ASX in 2016. The company represents luxury automotive brands like Audi, Bentley, BMW, Jaguar, Lamborghini etc. with more than 40 dealerships.
In FY20, the company garnered a normalized revenue of $1,699.3 million, higher by 1% than FY2019 revenue of $1,681.9 million. The normalized gross profit stood at $265.3 million and profit before tax at $23.1 million. The company acknowledged an unprecedented challenge posed by Covid19, but its strategic acquisitions and organic growth cushioned the revenue.
The COVID-19 response was also visible on the company's cash outflow. The Non-Executive Directors' fees was forfeited for April to June 2020. The rent abatements of $1.4 million (Including $808k related party support) in H2FY20 and $1.7 million for H1FY21 also took place.
The stock has shown a consistent uptrend after the March crash and has risen from a 52-week low of $0.54 to $1.46 as on 30 October. Even after a good upside move, the stock is far from its 52-week high of $1.84, and YTD return stands at negative 3.9%.
Bapcor Limited (ASX: BAP)
Bapcor (ASX: BAP) is a vehicle parts, accessories and equipment provider, covering end-to-end supply chain. The company's wholesale business includes AS Oceania, MTQ, Roadsafe etc. while retail business has brands like Autobarni independents Autopro, Sprint Auto Parts etc.
The company posted revenue of $1,462.7 million in FY20, increased by 12.8% YoY while statutory net profit after tax declined by 18.4% from $97.0 million to $79.2 million. The earning per share also took a hit due to lower profit and decreased by 9.2% from 33.45 cps to 30.36 cps.
In the 1st quarter update for FY21, the company again took a hit on the sales due to government-imposed restrictions in Victoria and Auckland amid the rise in the Coronavirus cases. However, despite this, the business did pretty well, and the group's revenue was notched up by 27%.
These numbers were assisted by government stimulus and reduction in the use of public and shared transport amongst customers. The company expects to deliver strong first half but unclear about the second half and therefore refrained from giving guidance for the current financial year.
The stock settled the day's trade at $7.66 on 30 October 2020.
Super Retail Group Limited (ASX: SUL)
Super Retail Group (ASX: SUL) is one of the top 10 retailers in the listed space, which owns and operates a broad portfolio of brands like Supercheap Auto, Macpac, Rebel Sport.
In FY20, the entire group posted a $2.83 billion of sales figures, up by 4.2% from pcp, owing to the company's Omni-retail strategy which led to quick adaption to changes after the COVID-19 pandemic.
The company's outdoor brand BCF, having 139 stores present in every Australian state, posted online sales growth of 33% with 1.54 million active club members. The pandemic heavily impacted the outdoor camping idea but the company's marketing strategy to capture the camping experience at home quickly grew traction.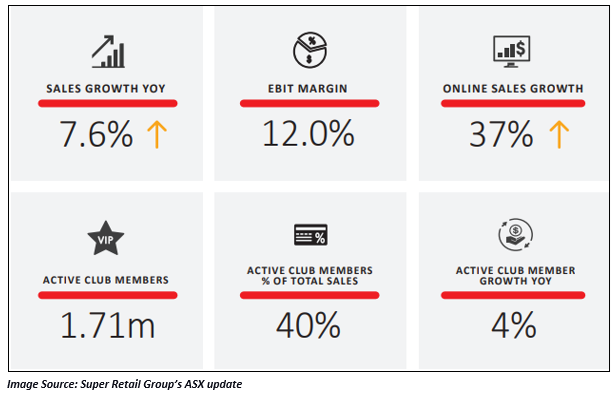 Its's largest specialty auto parts and accessories brand Supercheap Auto also grew online sales by 37% with 1.71 million active club members. Since the launch of "My Garage", Supercheap Auto's online self-service technology solution to search for car parts, more than 550,000 vehicles have been stored with 4.8 million registration searches.
The stock settled the day's trade at $11.190 on 30 October 2020.