Summary
• The Board of Coca-Cola Amatil has recommended shareholders to accept the offer tabled by Coca-Cola European Partners plc at $12.75 per share in cash.
• In 3Q20, the overall performance of the company improved compared to the first half of 2020, albeit varied performance across regions with different restrictions.
Coca-Cola Amatil Limited (ASX:CCL), Australia's leading non-alcoholic beverage bottler, could be off ASX boards upon approval of a $9.3 billion takeover offer. An indicative, non-binding offer has been tabled by Coca-Cola European Partners plc (CCEP).
The proposed offer was assessed independently by Amatil's Related Party Committee (RPC) without the involvement of nominee directors of TCCC.
Group Managing Director Alison Watkins and RPC have recommended the shareholders to accept the proposed offer in the absence of a better proposal. The transaction is also subject to confirmatory due diligence, independent opinion, and necessary approvals.
CCL shares have been valued at $12.75 per share in cash, less any 2H20 dividend paid before the implementation of any scheme. The Coca-Cola Company (TCCC) also holds a stake in Coca-Cola Amatil, which would have less favourable terms.
This proposal by CCEP follows several proposals and remains conditional. The offer price implies an equity value of around $9.3 billion on a 100% fully diluted basis and an enterprise value of $10.87 billion.
It represents a significant premiumto the volume-weighted average price over one week, one month and three months at 23%, 28% and 38%, respectively. It was also highlighted that the transaction is priced at EV/EBITDA multiple of 12x based on CY19 EBITDA.
CCEP is the world's largest independent Coca-Cola bottler in terms of revenue. It is a strategic bottler partner of The Coca-Cola Company in Western Europe. In 2016, the merger of three bottling companies formed Coca-Cola European Partners plc.
The experience of the merger demonstrates CCEP's integration capabilities. As of 23 October, CCEP had a market capitalisation of $25 billion. In 2019, it recorded revenue of €12 billion and underlying operating profit of €1.7 billion.
ThirdQuarter Trading Update
Alison Watkinsstatedthat earnings momentum is returning in markets with eased restrictions. Western Australia and New Zealand have delivered growth in 3Q20, indicating the expected path to recovery in other Australian states.
In 3Q20, the trading conditions have continued to improve. Group trading revenue was down 4.2% compared to the same period last year. This was an improvement compared to the first-half results where revenue was down by 9.2%.
Group volume shrunk by 5.4% during the quarter but improved compared to the first half decline of 11.6%. Trading revenue for the third quarter was $1,105.8 million, down by 4.2% compared to the same period last year.
YTD revenue to 25 September was $3,291.7 billion with a change of negative 7.6% compared to the previous corresponding period. This revenue momentum was achieved despite lockdowns and restrictions in Victoria and Auckland.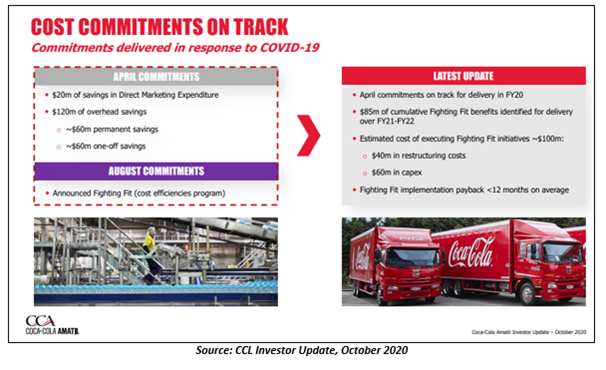 In the initial three weeks of October, Amatil's Australia and New Zealand businesses delivered volume growth of 1.5% and 1.8%, respectively.
In the wake of the pandemic, the company introduced a cost efficiency program, which is on track to deliver $140 million in savings this financial year. It recently announced the 'Fighting Fit' program, which is expected to deliver $85 million of savings between FY21 and FY22.
Australia
In Australia, the trading conditions improved, but recovery was uneven, given different levels of restrictions in each state. Due to toughlockdowns measures in Victoria, volumes in the state were lower by 13.8% in 3Q.
Volumes in Western Australia improved significantly with volume growth of 13.3%. In September, national volumes rose 1% over the previous corresponding period, excluding Victoria. NSW volumes also improved significantly in September.
Total revenue from Australia was $707.5 million in 3Q, showing a decline of 0.9% over the same period last year.
Indonesia and Papua New Guinea
In Indonesia, the company continues to face challenges given the high number of infections of COVID-19 and difficult macroeconomic environment. In the third quarter, volumes were down 15%. CCL responded with operational efficiencies to keep the business EBITDA and free cash flow positive.
Despite a recent increase in COVID cases in Port Moresby and deferral of promotion activity, Papua New Guinea delivered modest growth in volumes in 3Q. Also, volumes were consistent with the previous corresponding period in the first three weeks of October.
In 3Q, the segment delivered revenue of $199.4 million, down by 20.1% compared to the same period last year.
New Zealand & Fiji
New Zealand's performance was pleasing in 3Q with volumes up by 5.5% and trading revenue up by 6.4% compared to the same period last year. In the first three weeks of October, volumes in New Zealand were up 1.8%. Fiji continues to languish through travel restrictions and the tourism downturn.
In 3Q, the segment delivered trading revenue of $185.5 million, up by 2.8% against the same period last year.
On 28October 2020, CCL last traded at $12.445, down by 0.121% from the previous close.