Highlights

Renegade Resources is actively pursuing copper projects as the demand for the metal is expected to remain strong.
The Company entered into a JV with Burke Copper to acquire up to 75% interest in the North Isa Project.
RNX has commenced exploration operations on the newly formed JV assets.
The Board made a strategic decision to reorganise the Company and sold Yandal and Yukon projects.
RNX's net profit for the period from the operations remained at AU$2,046,670.
Amidst strong demand for copper Renegade Exploration Limited (ASX:RNX) continues to develop copper assets in Australia and overseas. Renegade's recently released half-yearly report highlights the strategic decision taken by the Board to re-focus its efforts on developing first class copper projects across the Mt Isa region in north-west Queensland.
Related read: Renegade Resources (ASX:RNX) eyes dominant role in copper market through North Isa Project
The Company estimates the demand for copper to remain strong as the adoption of new age technologies grows globally. RNX continues to consolidate its operations in highly prospective copper locations with an aim to generate exceptional values for its shareholders.
In a bid to strategically reorganise the Company, the Board successfully sold the Yandal Project in Western Australia, and the Yukon Project in Canada on favourable terms. The Company received AU$1.3 million in cash proceeds from the deal, and 40 million shares of the ASX listed Strickland Metals worth circa AU$2.92 million on 31 December 2021.
RNX has enough cash available on its balance sheet, thanks to recent asset disposals. Considering this financial position, the Company plans to focus its exploration and development endeavours on three high potential prospects located in the North Isa Project tenement area. The development works are going in full force on these prospects with a target to drill test the geology as soon as possible.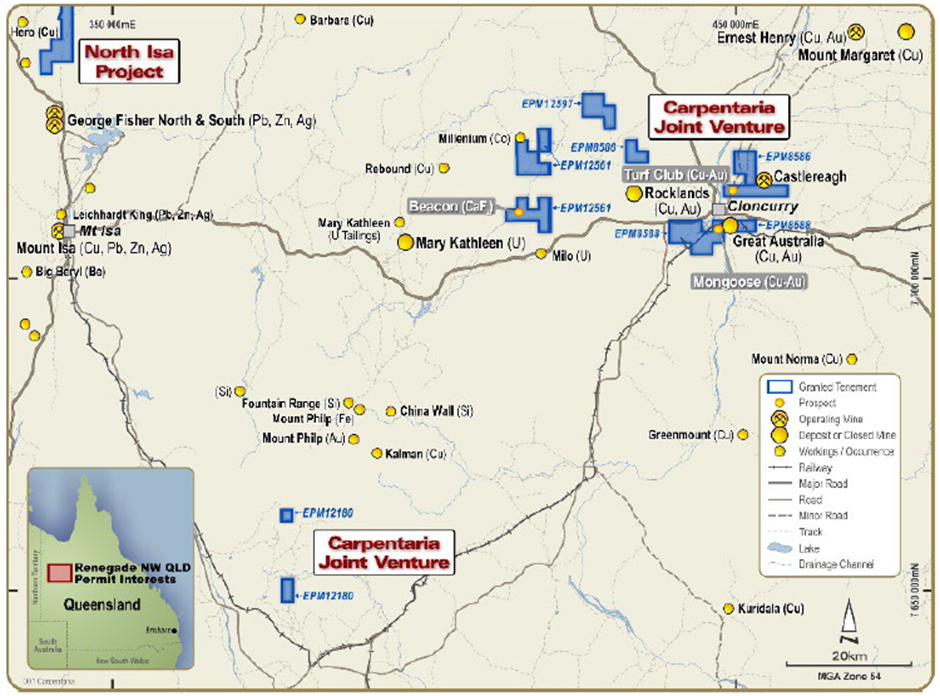 Permit locations of Renegade (Image source: Company update, 14 March 2022)
Recent update: Renegade Exploration (ASX:RNX) soars 7% on appointment of new non-executive director
Renegade maintains exposure to a high-quality prospective tenement package in the Cloncurry and Duschess regions. The Company holds a 23% stake in the Carpentaria Joint Venture Project. The project is operated by Glencore's subsidiary Mount Isa Mines (MIM).
The JV partners are planning to drill test the tenement later in the year once the areas of high-grade copper mineralisation are delineated.
During the reporting period, Renegade continued to explore new opportunities within Australia and overseas as a part of efforts to optimise the future project portfolio while also aiming to maximise shareholder value from current assets.
Considering that there are limited quality exploration prospects in the current competitive market, the Board seized the opportunity to sell the Yandal Project to Strickland Metals for cash and shares. Renegade benefits from this transaction since it provides the following:
a lucrative transaction that generates AU$800,000 in cash to support future prospects in Queensland
Owning 40 million Strickland Metals shares, valued at AU$2.92 million at the end of the review period, provides a leveraged upside in the Yandal Project.
Recent update: Renegade Resources (ASX:RNX) receives final payment for the Yandal Project
The Company is focused on copper-gold and base metals. The rising geopolitical risks are threat to the existing supply chain. Due to the absence of large investments in copper exploration projects in the past no major copper discoveries have been reported in the recent times.
The world is moving towards more renewable sources and several large projects of solar, wind and other renewables will be required. These projects will require huge quantities of copper. The burgeoning EV market is also pushing the demand.
Renegade's purchase of a 23% stake in the Carpentaria Joint Venture signalled a commitment to copper exploration in a safe jurisdiction with a well-understood geological setting. The Board jumped at the chance to work with joint-venture partner Glencore plc because of the potential for growth.
North Isa Project JV
Renegade recently reached an agreement with Burke Copper Pty Ltd to form a joint venture in the North Isa Project (NIP). NIP contains a number of advanced prospects on which significant exploration campaigns have been conducted in the past. Historical drilling, geophysics, ground field activities, and historical mining have all been part of the project.
Related read: Renegade Exploration (ASX:RNX) wraps up December quarter on a high note, acquires North Isa Project
NIP is 35km north of Mt Isa and is accessible through bitumen and well-maintained gravel roads. Renegade has put in a lot of effort into gathering data and analysing opportunities.
North Isa Project (Image source: Company update, 14 March 2022)
Renegade is focused on identifying copper-gold and base metal prospects inside the tenure by exploiting considerable historical data (which includes the adjacent George Fisher Mine). Furthermore, there is an opportunity to make the best of any material discoveries because of its proximity to mining infrastructure and processing.
The Company has identified three high-potential targets- Lady Agnes Mines, Tulloch and Pipeline.
The Lady Agnes Mine, which has been the subject of previous exploration work aimed primarily at discovering big deep prospects, is a potential of immediate interest. Renegade's geology consultant has been working on soil programs and updating the data base to include all relevant information. Renegade intends to drill 2,000m RC drilling on the prospect, subject to final clearances and geological appraisal.
Related read: JVs & cash deals: Inside Renegade Resources' action-packed 2021
Tulloch is an intriguing proposition because the targeted structure is now in the control of a single party. Once clearances are secured, field work will begin, with infill soil sampling, rock chip sampling, mapping, and other activities planned.
Pipeline prospect, has seen a lot of development from previous operators but limited drilling. Renegade has been sampling infill soil and mapping fields to verify and improve old data. It is proposed that field work be continued, followed by the completion of additional geophysical surveys and the analysis of current data.
Cash & Finance Position
Renegade Resources reports a cash balance of AU$0.713 million at the end of 31 December 2021. The Company's NPAT attributable to the members of Renegade for the reporting period was AU$2,046,670.