Highlights

Jindalee Resources Limited (ASX:JRL) holds a strong portfolio of projects with potential for multiple mineral commodities.
Jindalee is exploring for nickel, lithium, gold, magnesite, uranium, and iron ore through its high-grade project portfolio.
The Company's McDermitt project is poised to deliver a large, steady supply of lithium in the US market.
Jindalee Resources Limited (ASX:JRL), a highly regarded company in the Australian resources sector, continues to focus on the advancement of its high-quality projects in Australia and the US. The mineral explorer is known for holding a diverse and strong portfolio of projects with the potential for multiple mineral commodities.
Through its high-grade project portfolio, Jindalee is exploring for nickel, lithium, gold, magnesite, and iron ore, with many of its projects being explored by third parties at no cost to the Company. The Company provides shareholders with indirect exposure to multiple commodities via its investee companies, including gold and copper (through Alchemy Resources) and uranium (through Energy Metals). Meanwhile, the Company's geologists are constantly reviewing new opportunities in the resources sector.
Given this backdrop, let us quickly discuss the key commodities that the Company is exploring through its high-quality projects:
Lithium
Listed on the critical materials lists for the US Department of Defence & South Korea, lithium is ranked number 15 on the British Geological Survey '2015 Risk List'. Moreover, lithium is one of 23 commodities in the 2017 US Geological Survey report - 'Critical Mineral Resources of the US'.
Jindalee owns two well-known lithium projects in the US – the McDermitt Lithium Project and Clayton North – which were acquired in mid-2018. At these projects, lithium is discovered in extensive fine-grained sediments outcropping at surface. In April this year, the Company confirmed McDermitt as one of the largest lithium deposits in the US with an Inferred and Indicated Mineral Resource of 1.43 billion tonnes at 1,320ppm lithium for 10.1 million tonnes LCE (lithium carbonate equivalent).
Related Article: Jindalee Resources winds up preliminary scoping study at McDermitt project
Notably, Jindalee's Widgiemooltha project in Australia also holds potential for pegmatite hosted lithium mineralisation, akin to that supporting the nearby Bald Hill and Mt Marion lithium mines.
Gold
In Australia, Jindalee is focusing on the extensions of mineralised trends where prior exploration has been minimal or interpreted to have been unsuccessful due to transported cover or other impediments. The Company believes these areas depict the "last frontier" for the discovery of huge gold deposits in Australia.
Currently, Jindalee is rebuilding its portfolio of gold projects with its applications in the Eastern Goldfields and in the Widgiemooltha area. The Company further retains an indirect stake in gold via its shareholding in Alchemy Resources Limited (ASX:ALY).
Base Metals
The Widgiemooltha district is highly prospective for the discovery of nickel sulphide deposits, and exploration targeting is currently progressing in the area. Interestingly, Jindalee's landholding in the Widgiemooltha district has continued to grow over time.
Also Read: Jindalee Resources (ASX:JRL) to Investigate Nickel and Gold Potential at Widgiemooltha Project
Moreover, the Company's shareholding in Alchemy Resources provides shareholders with exposure to different projects, including the Karonie gold project (WA), Bryah Basin gold and base metals project (WA), and joint venture agreement with Heron Resources Limited over properties in central NSW (the Lachlan Fold Belt/Cobar Basin and West Lynn Projects) prospective for high purity alumina, gold, and base metals.
Other Commodities
The Company's projects and stakes in other companies also provide it with exposure to some other commodities, including magnesite, iron ore and uranium, as summarised in the figure below: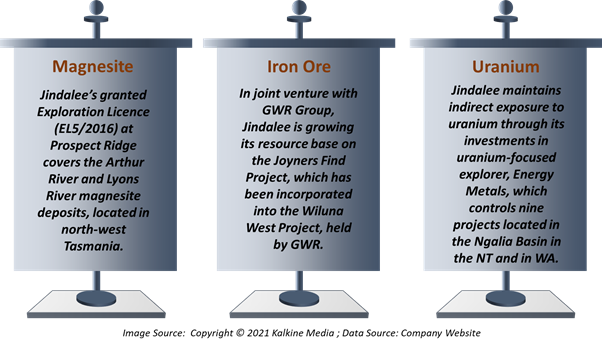 Bottom Line
All in all, Jindalee's diverse asset portfolio spans a range of commodities across multiple projects in the United States and Australia. Among these commodities, the Company is primarily focusing on lithium through its advanced McDermitt project, which is poised to deliver a large, steady supply of lithium in the US market. The looming supply shortage of lithium and the growing demand for electric vehicles are unfurling a lucrative opportunity for the Company in the lithium space.
As of 3:34 PM AEST, Jindalee shares are trading at AU$2.22.
Must Read: Jindalee shares up over 4X in 2021 so far amid notable developments at McDermitt project