Highlights

Smarts Underground is slated to become the main source of mill feed for the Karauni Gold Project.
The maiden Ore Reserve of Smarts Underground is estimated to be 1,082,000 tonnes with an average grade of 2.6g/t Au for 89,400 ounces of gold.
The preliminary economic assessment for a LOM of 2.5 years, revenue is estimated to be around US$137 million and net cash flow is expected at US$47 million.
Troy Resources Limited (ASX:TRY) is going from strength to strength on exploration and development fronts on its flagship Karouni Gold Project in Guyana. The Company has undertaken greenfield as well as brownfield exploration on the tenement and delineated prospects with significant gold potential.
Troy is a net gold producer, extracting the yellow metal from open-pit mines, including Hicks 4 Phase 1 & 2, Spearpoint and Goldstar pits. After considerable production from these mines, Troy has decided to stop stripping of materials as the average grade of ore has fallen below the cut-off grade.
To keep the project in production, Troy had already started the hunt for the next significant mine on the project to keep the mills running. After series of exploration operations and careful analysis of available data from geophysical and drilling surveys, Troy chose Smarts Underground for the next round of production on the Karouni Project.
Location of Smarts Underground and other prospects on the project (Image source: Company update, 30 July 2021)
Maiden Ore Reserve of Smarts Underground
Troy appointed Auralia Mining Consulting to evaluate and estimate the maiden Ore Reserve of Smarts Underground. Earlier, the Company had announced a Mineral Resource of 3 Mt with an average grade of 3g/t Au for 287,600 ounces.
Auralia estimated the Ore Reserve based on the geotechnical assessment of Smarts Underground. It came around 1,082,000 tonnes with an average grade of 2.6g/t Au for 89,400 ounces of gold. The Ore Reserve is estimated on the basis of two mineralised zones - the first zone lies directly beneath the Smarts 3 pit, and the second one is located beneath Smarts 2 area. Also, mineralisation remains open at depth.
Unlocking the economic value of Smarts Underground
Troy evaluated the key economic indicators of the mine, keeping the gold price at US$1,700/oz. The key cost inputs are based on the pricing estimates provided by the contractors involved in the development of decline for the mines.
Taking initial life of mine (LOM) to be 2.5 years, key financial figures are as below: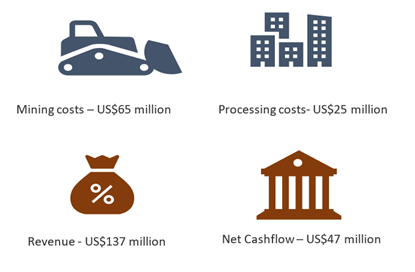 Economic assessment of Smarts Underground (Data source: Company update, 26 July 2021)
Funding
Troy needs to access only 600m to reach the first zone of mineralization, which can yield up to 23,500 ounces of gold. This can fetch a revenue of up to US$40 million. After the initial capital funding, the project could self-sustain itself after two months of development operations.
Way forward
Completion of a geotechnical report carried out by Peter O' Bryan & Associates
Seeking and analysing bids quotations for underground mining operations from contractors.
Review and accessing alternate mining methods on Smarts Underground.
Shares of Troy Resources are in voluntary trading halt since 30 August 2021, pertaining to the release of an announcement.