Summary

Torrens listed on the ASX in January 2021.
Torrens is an emerging mineral resource company with a diversified exploration portfolio.
Since its inception in 2014, the Company has built a strong project portfolio, keeping gold, copper and cobalt in sharp focus.
Torrens' board comprises resource veterans Bill Bloking, Steve Shedden, Mike Collings and Richard Grauaug, who have vast collective industrial and commercial experience.
Torrens' portfolio includes two key gold projects in the productive Victorian goldfields and adjacent NSW, and a joint ventured copper project in South Australia.
A fourth project, incorporating former producing copper-gold mines and smelter, is under application in an area just outside Port Moresby, the capital of resource-rich Papua New Guinea, where Managing Director Steve Shedden has extensive exploration experience.
The commodities markets are on fire. Base metals, including copper, iron ore and aluminium, are drawing strong demand globally, as economic activities are heating up after a pause induced by the COVID-19 pandemic.
Analysts are calling it a commodity supercycle, in which the commodity prices appreciate significantly. A typical supercycle lasts 3 to 4 years.
We witnessed the gold price rally of 2020 as the yellow metal breached its all-time high price to hit USD$2,064 per ounce. The precious metal is currently trading in the range of USD$1,800-1900 per ounce.
Base metal prices, particularly copper, are also very strong and are predicted to move further north. The battery metals, including cobalt, lithium and vanadium, are also gaining traction with an unprecedented rise in the worldwide production of electric vehicles and the relentless electrification and industrialisation of the world's growing population.
Investors are looking at metal stocks that can diversify their portfolio to leverage the rising demand for precious and base metals.
Torrens is an ASX-listed explorer, cashed up and led by a professional and very experienced team, which is engaged in the exploration and potential mining of metals in all three categories – precious, base metals, and battery metals, which are witnessing a boom of unprecedented dimensions.
Torrens Mining Limited (ASX:TRN) is an established Australian mineral exploration company engaged in the exploration and development of copper, cobalt, and gold.
The Company employs state-of-the-art exploration to achieve robust economics from its projects with the goal of building a profitable exploration and mining business. It has a first-class team of geoscientists, assisted by consultants across all the related disciplines including mining, metallurgy, geophysics, geochemistry and mineral economics.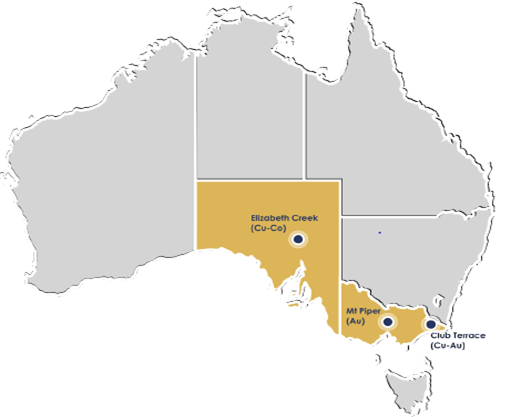 Project Location Map (Image source: Company update, 30 April 2021)
Since its inception in 2014, Torrens is moving on a fast-track path of exploration and development of the projects, positioning itself on a high-growth curve to maximise the value for shareholders and all stakeholders.
Torrens operates two key exploration projects in the prolific Victoria goldfields - Mt Piper in Central Victoria and Club Terrace in Eastern Victoria and NSW. The Company has an operating exploration joint venture with Coda Minerals (ASX:COD) which is advancing the Elizabeth Creek copper project, located in the heart of South Australia's Olympic Copper province. Coda earned a 70% position in the project by expending AUD$8.62M since its entry in early 2017. Torrens is now contributing 30% funding.
A Sneak Peek at Torrens' Project Portfolio
Mt Piper Gold Project - This strategically located gold exploration project covers an area of over 1,600 km2 in the productive Central Victorian Goldfield. Wholly-owned by Torrens, the project is located in close vicinity of Central Victoria's major gold mining area, including the Fosterville Gold mine and, particularly, Mandalay Resources' Costerfield Gold Mine.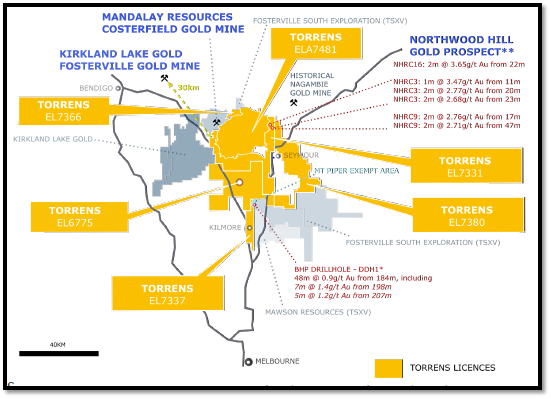 Mt Piper Location Map (Image source: Company update, 30 April 2021)
The main target at Mt Piper is gold mineralisation characterised by fine grained, disseminated, sulphide-locked gold hosted by quartz veins and stockworks, of the type currently, and very successfully, mined by Mandalay Resources at Costerfield and Kirkland Lake Gold at Fosterville. This type of gold mineralisation has, typically, only very subtle surface expression, unlike that of the famous Ballarat, Bendigo and other goldfields, which are characterised by extensive surface alluvial gold deposits which changed the economy of the world after their discovery in the 19th Century and lead to underground mining of coarse gold hosted by quartz vein systems. Previous exploration on Torrens' tenements has identified several geochemically anomalous gold zones, including the Northwood Hill Gold Prospect, where previous drilling intersected important gold mineralisation yet was never followed up by exploration at depth.
The drill-ready Northwood Hill Gold Prospect has a strong surface gold trend, which stretches over 5 km. An airborne magnetic survey and drilling is planned in this prospect area in the immediate future.
Torrens also holds exploration licence ELA7481, which, very uniquely, incorporates about 440sq.km. of essentially unexplored yet highly prospective ground. Torrens will seek entry to this ground, most of which is owned by the Australian Commonwealth Government, when the tenement is granted, expected by late 2021.
Club Terrace Copper-Gold Project – The project tenure covers the major regional-scale Combeinbar Fault structure in Eastern Victoria, and extending across the State border, into south-eastern NSW. Previous exploration and historical mining along the fault zone revealed extensive gold and base metal mineralisation and anomalism, but this is highly prospective mineral exploration area has yet to receive attention it deserves.
The project is 100% owned by Torrens. It comprises one granted exploration licence and two exploration licence applications in Eastern Victoria and a single exploration licence in NSW which abuts the Victorian ground.
Fault structure in Club Terrace (Image source: Company update, 30 April 2021)
Apart from gold, the project has significant potential for copper, lead, and zinc. The project area remains significantly underexplored, and Torrens has commenced exploration in the area, which is planned to include airborne geophysical surveying, geochemical surveying, geological mapping and drilling.
JV Project - Elizabeth Creek Project - The Elizabeth Creek Project is an established copper-cobalt project, with significant Indicated Mineral Resources of copper and cobalt.
A major drilling program is currently underway, with the key objective of a significant increase in Mineral Resources. Drilling is also underway to test potential at depth, below the flat-lying copper-cobalt shale-hosted, Zambian-style, copper-cobalt mineralisation, for IOCG (Iron Oxide Copper Gold) mineralisation.
The region in which the Elizabeth Creek is located is known as the Olympic Copper Province, justifiably famous for its IOCG mineralisation at BHP's Olympic Dam and OZ Mineral's Prominent Hill and Carrapateena copper-gold-uranium mines, which makes it the most productive copper province in Australia and one of the largest in the world. Further adding to the impressive list of known mineralisation in this copper-rich region is BHP's recent and sensational Oak Dam West IOCG discovery, which is located only some 15km from Torrens-Coda's Emmie Bluff copper prospect.
Coda Minerals Limited (ASX:COD) is the Manager and Operator of the project, owning a 70% interest, while Torrens controls a 30% interest. The Elizabeth Creek Project has an existing Mineral Resource of 280,000 tonnes of CuEq from two of its prospects - MG14 and Windabout.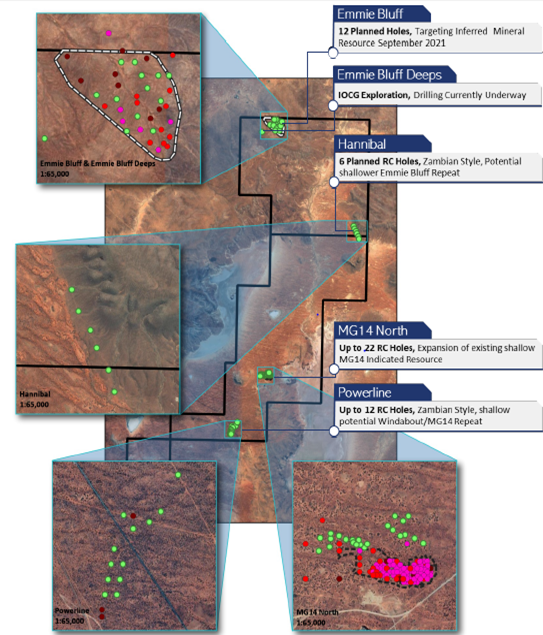 Prospects Location and Drill Plan (Image source: Company update, 20 May 2021)
The Joint Venture is moving aggressively on the project, with the current drilling campaign aiming to produce a maiden Mineral Resource of the Emmie Bluff copper-cobalt deposit and to bring the project significantly closer to potentially mineable status. The project is being pursued with a dual strategy of targeting both the Zambian-style copper mineralisation, and the deeper IOCG mineralisation.
Near-Term Exploration Results:
Mt Piper Gold Project
Drilling campaign at the Northwood Hill prospect at Mt Piper
First results of the drilling campaign expected mid-2021
High resolution aeromagnetic survey to commence in June
Soil sampling results at Mt Piper mid-year
Elizabeth Creek Copper-Cobalt Project
Drilling campaign at the Emmie Bluff prospect, targeting a maiden JORC-compliant Mineral Resource
Deep (1200 metres) IOCG drilling of Emmie Bluff Deeps
Drilling for extensions of the MG14 Indicated Mineral Resource
Drilling for new copper-cobalt discoveries at Hannibal and Powerline prospects
Progressive results of the drilling campaign are expected in Q3/Q4 2021
All in all, Torrens, a newly listed entity on the ASX, is entering a new and vigorous exploration phase, as the Company marches ahead with its strategy to build a profitable exploration and mining business amid strong tailwinds in the commodity markets.