Summary

GSM is focused on unlocking the full potential of gold, lithium and base metal mineralisation at the Yule project using systematic exploration strategy.
GSM has delivered exciting results from its phase 1 and 2 drilling programs at Yule.
Major drilling programs are planned to follow up on gold targets, in addition to a reverse circulation program on the lithium targets.
Golden State Mining Limited (ASX:GSM) has released its quarterly activities report for the period ended March 2021. The report highlights the developments at its flagship Yule project in the Mallina Basin of Western Australia, along with drill campaigns planned for the year.
At the end of the quarter, GSM held a cash balance of AU$3.4 million.
Must Read: Golden State Mining's (ASX:GSM) A$3.2M Placement to Fire Up 2021 Mallina Basin Exploration
Phase 2 Aircore Drill Program at Yule
The explorer announced excellent assay results for the outstanding target areas during the quarter. The final assay results from the phase 2 reconnaissance program further built on the exciting targets identified during phase 1 reconnaissance drilling.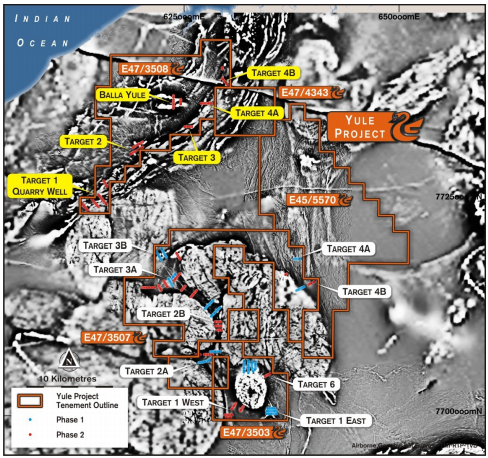 Drill collar and target locations of Phase 1 & 2 reconnaissance program at Yule Source: Golden State Mining ASX 3 May 2021
All holes during the phase 2 reconnaissance program were either drilled on nominal 160m centres to blade refusal or to the limit of available drill rods (156m maximum).
Some of the key outcomes of the phase 2 drilling program included –
Numerous 4m composite intervals of gold grades greater than 0.1 ppm.
20% or 39 holes in the phase 2 showcased anomalous or elevated gold and/or arsenic.
Broad intervals of elevated gold grades over downhole widths of 12m or more.
Must Read: Golden State Mining Eyes Stellar 2021 with High Potential Activities Planned at Yule
Phase 2 Drilling Targets at Yule South
Target 1 West
The company drilled 21 holes on four variably spaced traverses (at 160m centres) for a total advance of 2,168m.
Two AC traverses targeted magnetic anomalies along an interpreted south-east structural trend. The best gold intersections included –
20GSYSAC0202 - 4m at 0.11g/t Au from 109m
20GSYSAC0203 - 3m at 0.10g/t Au from 113m
Further, these intercepts were complemented by numerous intervals with elevated +10ppb gold.
Infill drill holes 20GSYSAC0300-301 recorded silica and pyrite alteration and intersected areas with elevated gold grades. 20GSYSAC0300 recorded a wide interval of over 48m with gold grades exceeding 10 ppb levels.
Two additional AC traverses tested magnetic dislocations to a north-south structure and parallel demagnetised zones. Some of the intersected anomalous gold intervals include:
20GSYSAC0214 - 4m at 0.10g/t Au from 94m
20GSYSAC0215 - 4m at 0.10g/t Au from 32m
Target 2
A total of 12 holes were drilled at Target 2A for a total advance of 722m. Further, additional end of hole (EOH) arsenic anomalies recorded are expected to help in 2021 target vectoring.
At Target 2B, 14 holes were drilled on three east-west traverses aggregating to 859m. Although no significant gold intersections were recorded, multiple EOH +50ppm arsenic anomalies were registered, one of which was in hole 20GSYSAC0273 – 1m @ 666 ppm from 40m.
Target 3
At this target, 36 holes were drilled to a depth of 2,159m. The best gold intersection was recorded at 20GSYSAC0226 with an intercept of 4m with 50ppb, 50m downhole.
Six additional traverses were drilled at Target 3A in proximity to the existing traverses that were tested during phase 1 of the program.
Another six holes aggregating to 482m were tested on a north-north-west trending traverse at Target 3B, 1.2km east of phase 1 drilling. The most notable intersection included –
20GSYSAC0241 – 23m @ 29ppb from 30m and a >50ppm arsenic anomaly at the EOH (74-75m).
Target 4
On two east north-east traverses, six holes were drilled with a total advance of 602m. Four holes were drilled on the eastern traverse in proximity to phase 1 targets. Drill hole 20GSYSAC0291 hit a +50ppm EOH arsenic anomaly with elevated gold levels (+30 ppb over 12m interval).
Further, hole 20GSYSAC0293 recorded low-level interval with elevated gold +10ppb, 69m downhole including an intercept of 4m with 55 ppb gold grades.
On the western traverse, two holes were drilled with the most notable gold intersection of +50ppb interval in hole 20GSYSAC0290.
Target 6
Five holes, 20GSYSAC0295-299 were drilled for about 488m on a single east north-east trending traverse. Although, no substantial gold intersections were recorded, numerous elevated +10ppb gold intervals were recorded in 20GSYSAC0296.
Yule North
Target 1 Quarry Well
A total of 29 holes were drilled to test three traverses, spaced a kilometre apart for a total advance of 1,571m. The best gold intersection was a 6m intersection with 63ppb gold w recorded within the cover sequence.
Initially, numerous gold intersections of +10ppb were reported from the target, of which two occurred in fresh rock at the EOH.
Quarry Well East
Six holes were drilled on one NW traverse for a total advance of 323m. The best gold intersection was recorded at -
20GSYNAC0033 - 6m @ 0.18g/t Au from 6m downhole
Target 2
A total of 18 holes were drilled on two ~500m spaced traverses for a total advance of 1,681m. No substantial +50ppb gold intersections were recorded at this target.
Target 3
As many as 15 holes aggregating to 1,281m were drilled on two N-S traverses. Furthermore, an east-west traverse, 2.5km south-east of Balla Yule, was tested. A total of six holes were drilled for a total advance of 451m. No significant gold or base metal intersections were recorded at the targets.
Target 4
At the target, 20 holes were drilled at three distinct traverses for a total advance of 2,143m. The southernmost east-west traverse at Target 4A included an 18m interval from 6m at hole 20GSYSAC0092.
Notably, 20GSYNAC0088 recorded the best bedrock intersection with 1m intercept at a gold grade of 0.11g/t within a 20m +30ppb elevated gold interval, 89m downhole.
The wide intersected zones with elevated gold levels at the target include a 4m +50ppb interval within 40m at hole 20GSYSAC0091. Several +10ppb gold intervals were recorded at the hole 20GSYNAC0094 from 139m.
Gold and Lithium Drilling Campaigns at Yule project
4,000m RC/Diamond drilling program at gold targets – GSM has planned a follow-up RC and diamond drilling campaign at Yule. The program, contingent on statutory approvals, will follow up on the gold targets identified from the phase 1 and 2 aircore drilling programs.
The drilling campaign, planned in May 2021, targets to follow up on anomalous gold intersections such as –
Target 1 East
20GSYSAC0002 – 4m @ 2.3g/t Au including 1m @ 7.6g/t Au from 99m
20GSYSAC0013 – 18m @ 0.17g/t Au from 104m
1,500m RC Program at LCT Pegmatite Targets - Four LCM pegmatite targets were generated on the basis of lithium pathfinder analysis from the results of the phase 1 and 2 AC programs. A 1,500m RC drilling program has been planned to test these targets.
The campaign is expected to start in June 2021, subject to statutory approvals.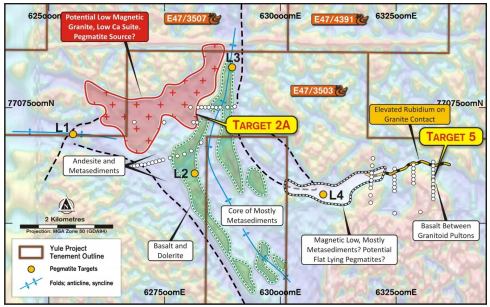 Lithium target locations (Source: GSM Announcement 3 May 2021)
For Detailed Discussion: Gold and Lithium Hunt on the Cards in Golden State Mining's 6-Month Game Plan at Yule
Four Mile Well
At this project, GSM is engaged in designing and planning of a geochemical program to assess the remaining targets that were not covered under the first geochemical program. Activities at the wholly owned Four Mile Well project are scheduled to begin in June 2021.

Planned June Quarter Activities (Source: GSM update, 3 May 2021)
AU$3.2M Placement
During the quarter, GSM closed a bookbuild to raise AU$3.2 million, via a placement, from professional and sophisticated investors.
The placement was divided into two tranches: the first tranche raised AU$1.7 million (before costs) in Marchand the second tranche, subject to shareholder approval, raised AU$1.5 million (before costs) in April.
On 7 May 2021, GSM traded at AU$0.130.
Also Read: Impressive Exploration Efforts at Yule Beef Up Golden State Mining's (ASX:GSM) First Half