Summary

On the back of strong operational delivery, Saunders International achieved robust financial results for H1.
The Company has outperformed the ASX 300 Index over the past 12 months.
Its FY21 strategic outlook is bolstered by encouraging market factors.
Multi-disciplined engineering and construction company Saunders International Limited (ASX: SND) has delivered another set of solid half-yearly results, validating its high-quality and cost-effective engineered solutions well-suited for diverse sectors.
Notwithstanding the COVID-19 disruptions during the first half of FY21, Saunders moved from strength to strength and pulled off strong performance across the critical aspects of the business operations and financial frameworks.
The Company's renewed operating model and successful project delivery in the period fuelled shareholders' value, with Saunders outperforming the ASX 300 Index over the past 12 months.
The robust performance seems to have lit a fire under the Company, expediting its journey and providing a springboard for growth.
ALSO READ: What Are The Pockets Of Opportunities For Saunders International (ASX:SND) in 2021?
With this backdrop, let us explore Saunders' performance during H1 FY21 ended 31 December 2020 and current market opportunities shaping FY21 priorities and outlook.
Strong First-Half Financial Performance
Saunders' solid financial results complement its exciting operational performance, underpinning the strategic growth plans.
Key Financial Highlights for H1 FY21 include:
Revenue of $53.4 million, up 80% from the same period a year ago.
EBITDA of $5.02 million, up 238% over the year-ago period.
EBITDA margin improved to 9.4%
NPAT of $2.71 million, up 422% PcP
Strong order book of $91.1million
Dividend declared on 24 February 2021 at 0.75 cents, DRP activated
Saunders' financial position strengthened during the first half, with cash and cash equivalents of $15.80 million.
The Company continues to focus on generating cash via successful project delivery and working capital management. It does not have any interest-bearing loans, except for insurance premium funding and finance leases.
Key Operational Highlights
Saunders leveraged its 69 years of experience and in-house expertise for delivering a comprehensive range of projects across, but not limited to, design, construction, manufacture, installation, and maintenance services.
The Company remained vigilant of the disruptive COVID-19 scenario, with all its employees proactively responding to the challenges presented by the pandemic. Consequentially, Saunders delivered strong safety performance and achieved more than 3 million hours LTI-free milestone during the period.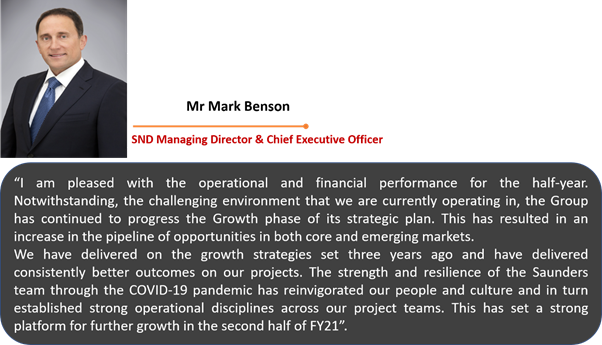 As part of Sydney Trains iconic Sydney Harbour timber deck replacement project, Saunders has successfully manufactured and delivered highly technical precast panels.
The Company, during the period, achieved further penetration into the defence sector and is currently working on four major defence sites.
The participation of Torres Straight Islander and Saunders Aboriginal increased across the Company's projects during the period. Meanwhile, Saunders' team was also involved in charitable events and contributions for Red Cross, Foodbank and Westpac Rescue Helicopter.
Strategic Outlook for FY21
Saunders is witnessing an increased level of enquiries concerning new contract business across various sectors and service markets. The recent increase in activity has been fuelled by a mix of various market factors.
The company focuses on the recent market initiatives in its varying operational sectors, backed by scale, technical expertise, and long-standing relationships.
ALSO READ: Riding high on a bumper FY20, What are Saunders International's (ASX:SND) FY21 Objectives?
Boosting Australia's Diesel Storage - Saunders is focused on assisting its customers in preparing for the Federal Grant application process for $200 million in grants as part of the "Boosting Australia's Diesel Storage Program". It would translate to over $400 million in construction.
The Company would continue offering technical assistance, value engineering and budget pricing to the customers through to grant approval.
Infrastructure - As part of the infrastructure development portfolio, Saunders is committed to the Federal Government Bridge replacement program and the NSW Government's "Fixing Country Bridges" program.
The Company eyes to expand its civil as well as structural offering to the local government authorities and other existing clients.
Defence - Saunders will look to participate in the Defence Fuel Transformation Program and expand its service offering to the existing defence clients under the existing Capital Facilities and Infrastructure program, which is currently under construction by the Company of ~$40 million.
It intends to win and deliver works under the DFTP Tranche 2 program (budget $500 million) between 2021 and 2026.
ALSO READ: Saunders International (ASX:SND) Keeps Up The Good Work, Flaunts New Project Wins
Maintenance - Saunders would support its long-standing customers by transforming recently announced refinery closures into terminals, which include assistance in asset shutdown.
The Company would continue to expand its recent closure experience in the energy as well as other industrial markets. Meanwhile, it would focus on long-term national maintenance contracts via integrated asset management.
Saunders' revenue for the financial year 2021 is expected to lie in the range of $100-$110 million. Meanwhile, EBIT is anticipated to be 7.0% - 8.0%.
SND shares traded at $0.680 on 26 February 2021, up by 1.5% from its last closing price.