Summary

The three recently drilled wells on Sunburst Formation in the Brooks area have recorded IP30 flow rate of 505 boe/d.
Calima Energy has unveiled a 14% increase in current production to 2,818 boe/d from Blackspur Q1 2021 production.
To bolster the production further, Calima is planning to drill six more wells on its proven reserves. The drilling program will commence in late-May 2021.
Calima's merger with Blackspur Oil Corp. has provided exposure to the low-cost development of oil & gas assets.
ASX-listed oil & gas player Calima Energy Limited (ASX:CE1) has updated the market with production highlights from its recently acquired Blackspur Oil Corp assets in Canada. Blackspur performed the three-horizontal Sunburst Formation operations at its core Brooks area in March 2021. After completion, the wells were put under a 30-day production test flow, also known in the industry as IP30.
The IP30 or first thirty days' production rate has been recorded at 505 boe/d, surpassing type curves estimates by 28% for Sunburst wells (393 boe/d budgeted).
The cost to drill these wells was 20% under budget at C$2.2 million. Two of them are horizontal directional wells, while the third was re-entry into an existing well.
Latest update: Calima Energy (ASX:CE1) seals Blackspur merger deal, will add 3,000 boe/d of hydrocarbon production
Copyright © 2021 Kalkine Media Pty Ltd.
Also read: Calima undertakes AUD 38M capital raising
Production Increased to 2,818 boe/d
The current production has surged by 14% from Blackspur Q1 2021 production to 2,818 boe/d. By December 2021, the production is forecast to increase up to 3,400 boe/d, taking the entire year's average to 3,000 boe/d. At the current market price of ~US$60/bbl, CE1 expects an adjusted EBITDA of C$18 million for the rest of the eight months of the year.
At the current market price of WTI crude of ~US$60/bbl, Calima expects a payback period of less than six months. Type Curve Economics has churned out before tax IRR of above 500% and estimated ultimate recovery of 218,000 boe from the Sunburst wells with 77% of liquid production.
Mr Jordan Kevol, CEO and President of Calima Energy, expressed his views on the encouraging IP30 results, stating: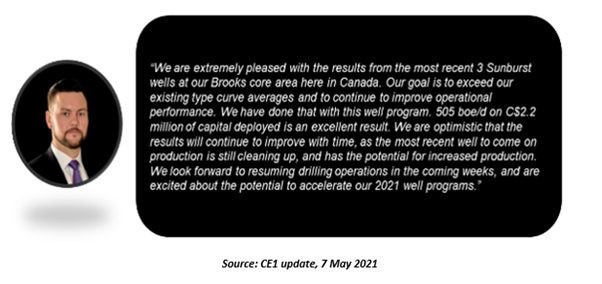 Read more: Calima Energy (ASX:CE1) in High Spirits on Making Impressive Blackspur Acquisition progress
Near-Term Plans
Calima will soon mobilise teams to commence drilling programs in the Brooks and Thorsby area. A total of six-well campaign is expected to begin by the end of May 2021.
3 Brooks (Sunburst) wells commencing late-May 2021
3 Thorsby (Sparky) wells commencing mid-July 2021
Calima will fund the campaign from operating revenue and working capital facility by the National Bank of Canada. The operating revenue currently stands at C$4 million per month.
The drilling of development wells on the proven reserves of Brooks and Thorsby will provide exposure to economies of scale, and the Company could leverage the strong crude oil prices sustaining in the market.
Drilling of more wells could be planned if the crude oil price and demand remain strong.
Also read: How Calima Energy took the oil and gas sector by storm in 2020
As of 7 May 2021, the shares of CE1 are consolidating at the current level of A$0.009. The Company has a market cap of A$70.29 million.