Summary

Renegade Exploration Limited has provided an update about its continued exploration progress at Yandal Project.
RNX has undertaken significant activities to identify fresh targets for exploration at the Yandal project.
RNX had finalised a Sale and Purchase Agreement to sell the Yukon Project in November 2020.
The acquisition of Carpentaria Joint Venture Interest remains subject to regulatory approvals.
Mineral explorer Renegade Exploration Limited (ASX:RNX) has been moving ahead with exploration across its Yandal East Gold Project in Western Australia as well on the other fronts like the acquisition of an interest in the Carpentaria JV and sale of its Yukon Project.
The exploration progress at Yandal Project includes the aero magnetics and conclusion of a 400 x 100m spaced infill gravity survey, proceeded further with its comprehensive review of geological data.
INTERESTING READ: A Look at Recent Significant Milestones of ASX:RNX
Let us discuss these developments in detail.
Exploration Progress at Yandal Project
The gravity survey was undertaken across the Yandal East tenement package to define further the present target structures, including Ward and Mizina, and generate fresh targets for exploration. The data from this survey has been incorporated into the RNX's GIS, with preliminary reviews being encouraging as they have highlighted new structures and helped identify new drill targets.
Furthermore, data from the drone EM survey over the Riches and Baxter/Andrews prospects have also been fed into RNX's GIS. The Company looks forward to undertaking a ground-based geophysical survey in February 2021 across these nickel and gold prospects.
Interesting Read: Back to Back Acquisition Agreements Fuelling ASX:RNX's Evolution Into Mid-Tier Resource Company
Recent EM Survey at Riches Prospect (Source: ASX Announcement 28 January 2021)
A field program over these prospects has been recently implemented, where 128 rock chip samples were collected and are currently in lab for assaying.
September Quarter Update: ASX:RNX Speeding up Exploration at Yandal East Project, Reports September Quarter Full of All Round Progress
Sale of the Yukon Project
RNX finalised negotiations concerning the sale of the Yukon project to an investor group during the December quarter. After signing the Letter of Intent in October 2020 with Scarfe Holdings Inc, RNX finalised the sale and purchase agreement by the end of November 2020.
Important discussion at: ASX:RNX Executes Share Purchase Agreement For Sale of Yukon Project
The total consideration for the transaction includes the following: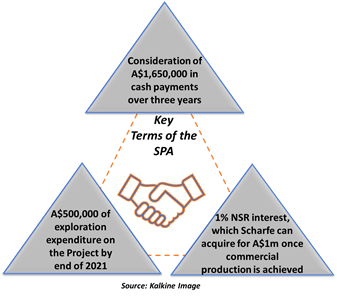 Did you read: ASX:RNX Unlocking Potential in Major Gold Province While Seeking Fresh Opportunities
Acquisition of Interest in Carpentaria JV
Other than this, the Company has moved ahead with the continued review of fresh opportunities in-line with its business. RNX shall acquire the interest held by Sovereign Metals Limited (ASX:SVM) in the Carpentaria JV (CJV).
Location of the Carpentaria JV Permits (Source: ASX Announcement 28 January 2021)
Notably, SVM's interest in the JV currently stands at around 23%. SVM's interest has reduced to this latest level on choosing not to contribute to the expenditure on the JV tenements.
RNX and SVM have drafted and agreed to the payment terms mutually to acquire the interest in CJV.
FOR DETAILS OF THE CONSIDERATION AND OTHER TERMS, VISIT: ASX:RNX To Acquire ASX:SMV's Share in Attractive Carpentaria JVA
As of now, the acquisition of the interest in the CJV by Renegade remains conditional to obtaining various necessary regulatory approvals.
Interestingly, Mount Isa Mines Limited (MIM), the manager of the Carpentaria JVA which holds a right of first refusal to this transfer of interest, did not utilise the same.
Potential to evaluate opportunities has been highlighted through preliminary due diligence. This was identified by historical work on both gold as well as copper prospect tenements.
Funding and Cash Position
On the funding front, RNX had concluded a capital raising worth $750,000 in October 2020 to meet various financial requirements, including financing the programs at Yandal Project, follow fresh opportunities and meeting the working capital requirements.
Did you read: ASX:RNX On The Hunt For Drilling Targets At Yandal East, Begins A Drone Survey
During the quarter, the Company incurred total cash expenditure of $87,000 on exploration activities, and there was zero expenditure on activities concerning mining production or development.
As per the Company's cash flow report, RNX's cash and cash equivalents totalled $983,000 at the end of the December quarter.
RNX shares last traded at $0.008 with a market capitalisation of $6.90 million.
*All financials in AUD, unless specified.