Highlights

Renegade Exploration has been making notable strides forward with its engagement in various activities.
RNX had revised the SPA, resulting in a cash payment of AU$500,000 and completed the sale of the Yandal East Project.
RNX looks to advance some smaller prospects within the CJV to generate value for both partners.
Due diligence is ongoing with respect to several potential new project opportunities for RNX.
Exploration and development company Renegade Exploration Limited (ASX:RNX) seeks to generate long-term shareholder value by discovering, acquiring and advancing mineral deposits.
Recently, RNX has been quite active and has reached key milestones that enhanced the Company's financial position to drive early work on current and existing projects during the September quarter ended 30 September 2021.
Let us look at the key developments of the Company during the period.
RELATED ARTICLE: Renegade Exploration (ASX:RNX) Well Financed for Future Projects with Key Developments
Amalgamation of Yandal Tenements
RNX has concluded the sale of the Yandal East Project to Strickland Metals Limited (ASX:STK), resulting in the consolidation of the ground position in the Yandal belt. The ground currently under the control of STK has a strike length of approximately 100km and controls many known gold deposits.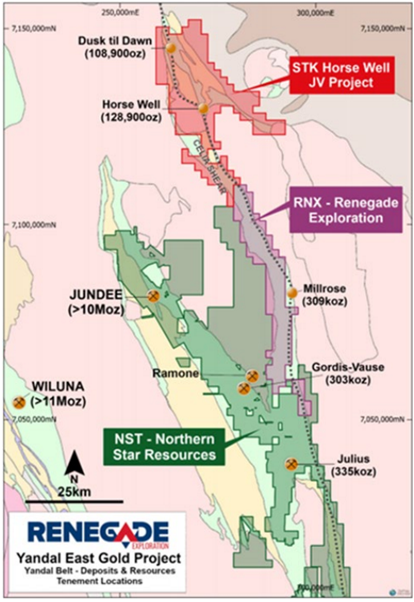 Source: RNX Announcement 29/10/21
RELATED ARTICLE: Renegade (ASX:RNX) retains indirect interest despite divestment of Yandal East Project
Moreover, the terms of the agreement between RNX and STK entitles RNX to a 0.5% Net Smelter Royalty on any commodity mined from the Renegade Joint Venture tenements.
Recently, STK has declared encouraging base metal results at the Iroquois Project, located south of the Earaheedy base metal project of Rumble Resources Limited (ASX:RTR). Besides this, STK is also continuing drilling at its current gold prospects and is planning work across prospects located on the earlier RNX tenements and at the Millrose gold deposit.
These programs comprise 100,000m and 30,000m of air-core drilling and RC drilling, respectively, along with significant geophysics and soil sampling programs in the next eighteen months.
RELATED ARTICLE: Renegade Exploration (ASX:RNX) on the lookout for further developmental opportunities
Revised SPA for sale of Yukon Project
RNX had revised the Share Purchase Agreement (SPA) associated with the sale of its Yukon Project to Scharfe Holdings Inc., which resulted in a cash payment of AU$500,000. Moreover, RNX recently received a demobilisation claim from Yukon based drillers related to equipment removal from the Yukon Project site. The equipment has been present on-site for around a decade, and its removal has been recently finalised.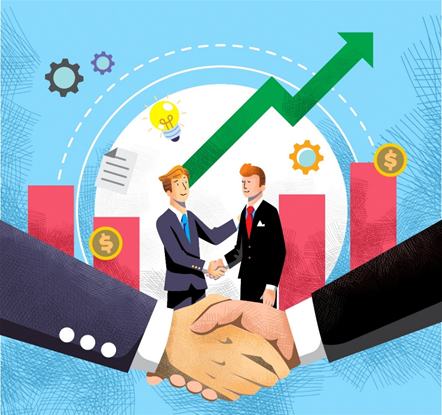 Source: Copyright © 2021 Kalkine Media
The subsequent final amount claimed was CAD263,000 and was provisioned in RNX's 2021 annual accounts in the amount of AUD250,000. However, RNX strongly disagreed with the amount payable, and the claim was then settled for AU$114,000.
RELATED ARTICLE: Renegade Exploration Limited's (ASX:RNX) strategy in focus amid recent developments
Progress at CJV
RNX had shown keen interest in advancing some smaller prospects within the Carpentaria Joint Venture (CJV) to develop value for both partners. The exploration work during the quarter mainly revolved around geophysics and the review of earlier drilling results.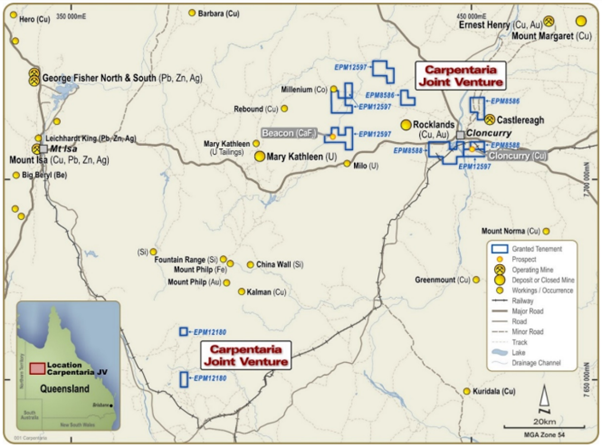 Source: RNX Announcement 29/10/21
At the quarter-end, RNX had AU$839,000 cash at the bank, and holds 40 million shares in STK, which are valued at ~AU$3.5 million as of 29 October 2021.
Source: RNX Announcement 29/10/21
RNX also made it to the list of 34 companies with a successful application for the Junior Minerals Exploration Incentive Scheme and has been awarded tax credits worth AU$250,000. The benefit of this can be transferred to new shareholders who shall take part in upcoming capital raisings intended for exploration work within Australia.
Moreover, RNX has assessed multiple prospective new projects with ongoing due diligence in this respect.
RELATED READ: Renegade Exploration (ASX:RNX) ends June quarter with significant strategic progress
Bottom Line
RNX remains suitably financed to follow and evaluate current and new opportunities with a focus on gold and base metal projects. Moreover, through the advancement of potential prospects, RNX looks to execute its business plan.
RNX stock ended the session at AU$0.008 after reaching the day's high of AU$0.009 on 29 October 2021.