Summary

Pacifico Minerals Limited (ASX:PMY) is set to get a new name - Boab Metals Limited (ASX:BML).
The Consolidation of Capital on 25:1 basis is complete, with new share structure adding more interest for long term institutional investors.
The Company marked significant milestones at Sorby Hills in 2020, fast-tracking the project progress.
Australia's lead and silver explorer, Pacifico Minerals Limited (ASX: PMY) is looking forward to some significant transitions in 2021, while it continues to build upon the past developments. One of the major shifts expected to strengthen the Company's Kimberley focus is, its change of name to Boab Metals Limited.
Meanwhile, Pacifico has completed the consolidation of capital on 25:1 basis, with new share structure adding more appeal to long-term institutional investors.
PMY shares traded at $0.485 on 11 January 2020.
Pacifico is now bracing for change of the Company name and its ASX trading symbol, effective from 12 January 2020. Notably, the Company will trade on Australian Stock Exchange under the ASX Code: BML.
Furthermore, Pacifico will embark upon 2021 strategic initiatives against the backdrop of successful explorations at its flagship Sorby Hills project, hosting high-grade lead and silver resources.
ALSO READ: 5 Reasons Why Pacifico's (ASX:PMY) Sorby Hills is Set for Excellent Achievements in 2021
Developments Panning Out at Sorby Hills Project
2020 turned out to be a significant year for Pacifico, owing to substantial developments. The release of a pre-feasibility study was a shining moment for the company as it highlighted the low-risk nature of Sorby Hills and indicated strong pre-tax economics associated with the project.
ALSO READ: Pacifico Minerals (ASX:PMY) on track to become a significant Lead-Silver producer in Western Australia
Meanwhile, the project's Mineral Resource upgrade was also a major highlight of the year bygone. Notably, maiden Ore Reserve at Sorby Hills was reported to be 13.6Mt at 4.6% equivalent, which is sufficient to support an initial mine life of 10 years.
Besides, the Phase IV drilling at Sorby Hills project is complete. While the assays are awaited, the preliminary observations signal a very positive outlook for the project resource and pit designs.
ALSO READ: Pacifico Minerals (ASX:PMY) Chalks Out Another Victory with the Completion of Phase IV Drilling at Sorby Hills
Other Notable Activities of 2020
Pacifico has secured funding to progress Sorby Hills project to a final investment decision. The project has advanced to the NAIF's (Northern Australia Infrastructure Facility) detailed due diligence phase, which is the third stage of the four-phase debt funding assessment process.
Furthermore, the year saw Gary Comb being appointed as Pacifico's Chairman. He has not only enhanced Board capabilities, but also seems to have offered his expertise in development and operations of the project, thereby steering the Company ahead.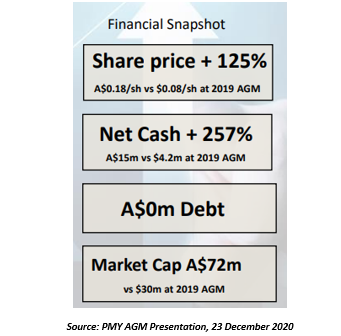 Road Ahead
With a hawk-eyed focus on growth, operational milestones and decent financial footing backed by cash reserves worth $15 million, Pacifico is all set for 2021 exploration initiatives. The Definitive Feasibility Study (DFS) for Sorby Hills is currently underway. The completion of DFS would further move the project closer to the development.
All in all, with its clear objective and series of consistent undertakings, Pacifico is all geared up to become a signature lead-silver producer by 2023.
READ MORE: What does 2021 hold for Pacifico Minerals (ASX:PMY)?