Summary

NOVONIX Limited (ASX:NVX) has released its activities report for December 2020 quarter.
The Company met a slew of milestones and ended the period with $25 million cash balance.
NOVONIX continues to examine clean energy policies in Europe and North America; intends to liaise with appropriate agencies.
NOVONIX is engaged in multiple potential technology partnership opportunities with international partners to enable faster global deployment of PUREgraphite's technology
Partaking in the ongoing reporting season of ASX-listed companies, NOVONIX Limited (ASX:NVX) disclosed its progressive October – December 2020 quarter activities report.
© Kalkine Group 2021
NOVONIX is a developer and provider of high-performance materials, services as well as equipment for the international lithium-ion battery (LIB) industry. Its stated mission is to assist in the deployment of LIB technologies, globally, for a cleaner energy future.
Collaboration Updates
In December 2020, the Company became a founding member of the Zero Emissions Transportation Association (ZETA). ZETA supports the goal that 100% of vehicles sold by 2030 should be electric vehicles.
NOVONIX also announced a strategic alliance with Harper International in December 2020. The alliance pertains to specialized furnace technology for battery anode material.
The Company and Samsung SDI have agreed that the full production qualification program will be based around material produced in a 2k ton per year expansion.
RELATED READ: NOVONIX (ASX:NVX) announces agreement with Harper International; expands Samsung SDI collaboration
PUREgraphite Developments
The Company launched the transition plan from Generation 1 furnace technology to Generation 2 systems. This is for the qualification of full 2k ton per annum planned plant capacity. The first Generation 2 system is likely to begin installation at the PUREgraphite facility in Feb 2021.
Samsung and Sanyo will receive materials from Generation 2 furnace systems for mass production qualification after installation and commissioning.
NOVONIX is processing new precursor materials for lesser cost and better performance with solid performance results that validate PUREgraphite's processing to be flexible to input materials.
NOVONIX continued conducting sampling programs with local and global battery makers along with automotive OEMs. Strong feedback and the need to see demonstrated higher volume production was witnessed.
Battery Technology Solutions
Across the quarter, NOVONIX witnessed strong revenue growth, engagement in new materials development, evaluation programs and downstream application projects.
The Company expanded staff, cell building capability, dryroom and infrastructure to support an increasing amount of new projects began for customers in the mobility, energy storage and consumer electronics sectors.
Cathode Commercialization Developments
Pilot line 90% and analytical lab were commissioned during the last quarter . and electrochemical testing on newly synthesized materials continues for internal qualification.
Additionally, NOVONIX continued growth in IP with additional patent applications expected to be filed in early 2021. The Company is also engaged with multiple current commercial precursor and cathode suppliers.
Launches & Presentation
In October 2020, the Company launched an Investor Newsletter. The second Investor Newsletter was released in December 2020.
In December 2020, NOVONIX presented at the Benchmark Week Conference.
GOOD READ: NOVONIX Limited (ASX:NVX) Forecasts Synthetic Graphite to Win per Panel at Benchmark Week 2020 Conference
Post-December Quarter Achievements
NOVONIX was recently added to the OTCQX Composite Index and the OTCQX International Index. In January 2021, Prof. Jeff Dahn was appointed Chief Scientific Advisor. His term begins in July 2021 while he continues his work with Dalhousie University and Tesla.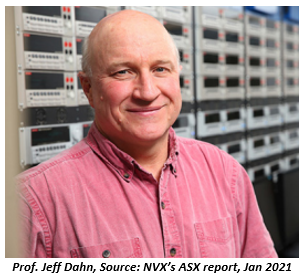 The Company was also awarded USD 5.57 million from U.S. Department of Energy in partnership with Harper International and Phillips 66 for developing next generation furnace technology to deploy at its PUREgraphite business.
DETAILED READS:
NOVONIX (ASX:NVX) finds a spot in OTCQX International Index
Why Jeff Dahn's significant appointment set NOVONIX (ASX:NVX) stock soaring?
Novonix (ASX:NVX) shares shoot up as PUREgraphite notches over $5M US grant