Summary

King River Resources has completed a high purity alumina (HPA) prefeasibility study, demonstrating the financial and technical viability of an HPA refining operation at Kwinana.
The highly positive study outcomes confirm that the Kwinana HPA Project is well-positioned to become a global HPA participant.
While the demand for HPA backed by the technology and energy sectors is rising, the number of global suppliers is limited.
KRR is focused on positioning itself to become a significant producer of 4N HPA in the rapidly developing markets for LED, EV battery, smartphone and television screen, and other associated high-tech products.
King River Resources Limited (ASX: KRR) is relishing not an overnight success but a culmination of well-planned meticulous efforts, as the Kwinana high purity alumina (HPA) prefeasibility study (PFA) results have turned out to be a fine coda to eventful undertakings.
The exploration mining company has completed the PFS with flying colours, doing an outstanding job in demonstrating the financial and technical viability of its 100%-owned HPA project, to be stationed in the Kwinana industrial area near Perth, Western Australia.
The project is designed to produce 9,000 tonnes per annum of 99.99%+ purity aluminium oxide. It is to be noted that the Kwinana industrial area offers access to feedstock and reagent suppliers, infrastructure, port, energy supply, and a skilled workforce.
ARC Specialty Metals Pty Ltd, a wholly owned KRR subsidiary, owns the Kwinana HPA Project.
ALSO READ: King River Resources Making Major Strides in HPA Space Amid Escalating Demand

Massive success is evident from the results of the PFS, putting KRR at the vantage point to be a significant global participant for HPA.
Triggered by the exciting update, KRR share price skyrocketed more than 6% to A$0.034 on 16 June 2021.
ALSO READ: King River Resources (ASX: KRR) Turbocharges HPA Prefeasibility Study
With this backdrop, let us explore the key highlights of the Kwinana HPA PFS and its implications for KRR's impressive HPA journey.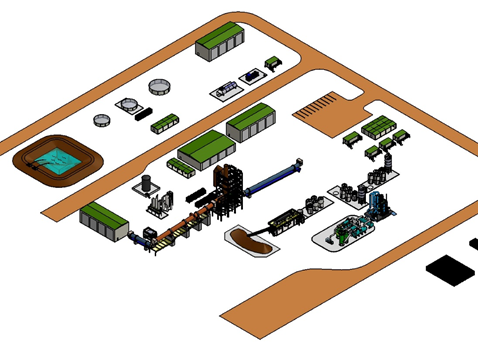 Source: KRR Website
PFS points at robust economics
The study affirms the value and economic robustness of the HPA project, with the timeframe of the financial model not constrained by a Mineral Resource as the HPA production relies on an industrial chemical feedstock. The Company has sourced aluminium feedstock with low deleterious elements.
Furthermore, the timeframe for the project, which is initially modelled on a 25-year operation, can be realistically extended further.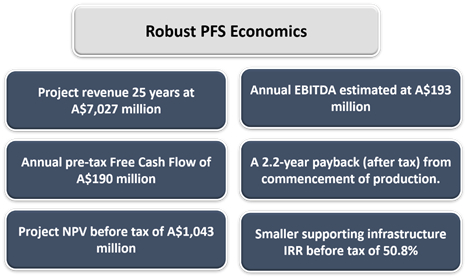 Image Source: Copyright © 2021 Kalkine Media, Data Source: KRR update, dated 16 June 2021
Competitive capital and production costs
The PFS has established competitive pre-production capital cost estimate for the HPA project, thanks to the relatively simple purification refining process.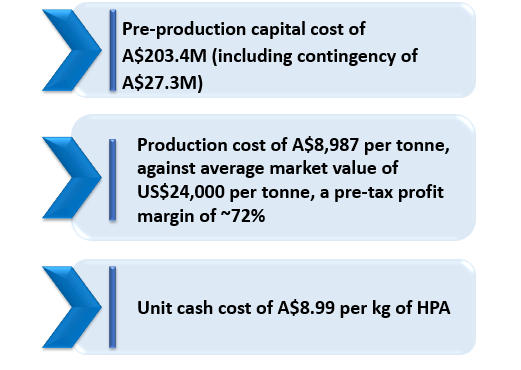 Image Source: Copyright © 2021 Kalkine Media, Data Source: KRR update, dated 16 June 2021
READ MORE: How King River Resources (ASX:KRR) is poised to reap rewards of HPA tailwinds
Conventional process technologies
The HPA production at the Kwinana-based processing plant would use locally produced or imported aluminium chemical feedstock.
Moreover, the Company's ARC HPA process flowsheet utilises readily sourced reagents in addition to conventional crystallisation purification and calcination technologies and unit components.
Significantly, laboratory scale testwork has demonstrated that the flowsheet can produce high recoveries of alumina into a high purity HPA product, considered commercially scalable and would be tested by a pilot plant.
ALSO READ: King River Resources (ASX:KRR) Turns In Healthy March Quarter with HPA Production Progress
Growing demand complements the expected price surge
The project boasts the extraction of high value 4N HPA, which despite the rising demand from the technology and energy sectors, has limited suppliers across the globe. In the current backdrop, KRR is well-positioned to cash in on the upbeat market opportunity.
The growing demand from two very large and expanding industries – light emitting diodes (LEDs) and electric vehicles (EVs) is proving to be a significant market booster for ≥99.99% purity (4N+) HPA. The demand for this product is projected to grow at 13.7% annually to 53,000 tonnes by 2028.
With the supply landscape currently appearing to be trailing behind the demand pace, the current price of 4N+ HPA, which is ~US$24 per kg in over-the-counter large transactions, is expected to increase further.
ALSO READ: King River Resources (ASX:KRR) in excellent shape with major headways across projects
KRR on track to become a significant global HPA producer in the buoyant settings
The PFS highlights the potential for KRR to become a significant global producer of high value HPA outside of Japan, US, Europe, and China.
Significantly, HPA is a part and parcel of emerging products such as LEDs and lithium-ion battery separators, used in clean energy and high technology applications, like lighting and EVs.
Following the PFS completion, KRR will move into a Definitive Feasibility Study. The Company is continuing to examine necessary project approvals. Meanwhile, it will explore funding initiatives to take the project forward to production.
KRR is aiming to initially commence the production of HPA as the first stage of a more diversified suite of specialty metals including high purity vanadium pentoxide and titanium dioxide products from its Speewah deposits in the Kimberley region of Western Australia.