Source: Kodda, Shutterstock
Summary

Mader Group represents a unique disruptive business model, which has yielded 16 years of remarkable organic growth.
The company is spreading its wings to new territories with the key objective of providing specialised heavy equipment maintenance services, well suited to the mining and civil sectors.
MAD boasts a highly experienced team of +1,450 highly skilled technicians and professionals with a fleet of more than 600 vehicles mobilised for equipment maintenance and repair work.
Equipment maintenance expert Mader Group Limited (ASX:MAD) has a disruptive business model, driving remarkable growth on a global scale.
The company has delivered 16 years of organic growth, with FY20 revenues of $274 million and a compound annual growth rate of +25% during FY2016-FY2020. MAD has stable financials and a strong track record of dividend payouts.
The business model has already proven its efficacy in the US market, with whopping 166% year-on-year revenue growth in 1H FY21. The company entered the US market in August 2018 and now, it is all set to foray into the Canadian heavy industry and mining services sector by the end of FY21.
The company has pegged its growth at 157% in other parts of the world for the first half of FY21.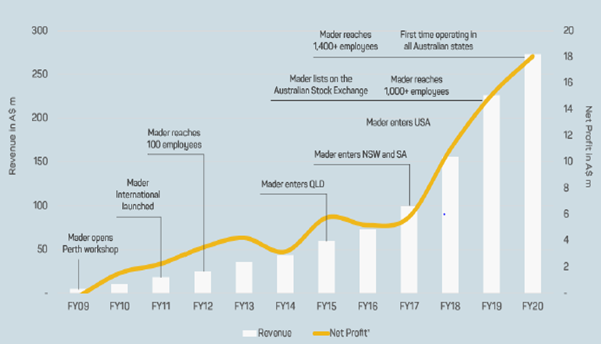 Journey of Mader Group (Image source: Company update, 16 March 2021)
These figures reflect how well the Company is catering to its client base and securing new projects. MAD has been instrumental in 20x successful rollouts to new regions and new service areas. The unique and effective business model of the group has the potential to deliver a significant growth in the near- to mid-term.
Also Read: How Mader Group (ASX:MAD) is powering the mining industry forward
Given this backdrop, let us skim through the various services offered by the global provider of specialist maintenance for mobile and fixed plant equipment in the mining and civil industries.
Services: Highly Specialised for the Industry
Mader Group provides end-to-end maintenance solutions to mining and civil equipment across the globe. The company has marked its presence in 17 countries, serving more than 200 clients and delivering specialised services to over 350 sites.
The business' mechanically minded specialists service and repair all makes and models of heavy mobile equipment including earth moving equipment, excavators, wheel loaders, graders, water trucks, dozers, drilling rigs and more. They also supply maintenance solutions within the fixed plant space, offering maintenance, services and repairs to processing and non-processing infrastructure facilities, power generation stations, and port and rail infrastructure.
Some of the service categories include:
Fixed & Mobile Plant Support
Mader Group is a well-renowned name for providing maintenance solutions in the heavy equipment sector. This includes 'tap on, tap off' maintenance, long-term preventative maintenance programs, project work, shutdowns and more. Their highly diversified range of clients operate across all commodities and include a number of large, blue chip owner miners, tier one contractors right down to small 'mum and pop' businesses.
Rapid Response Team
Shutting down of any facility or any critical equipment amidst operation may incur heavy losses, and clients could miss delivery deadlines. Mader Group has technical teams on standby, which can be deployed within 72 hours to the site for breakdowns repairs and emergency support – a service quite essential for the resources sector.
Shutdown & Breakdown Support
The machines and equipment running 24X7 sometimes need a change of components or midlife maintenance work to increase and optimise the life of the system. Such operations require a high level of technical know-how and a well-coordinated team for successful execution. For safety reasons, the production line or any operational line needs to be shut down properly.
At Mader, there are dedicated teams with such specialised skills that the client could depend upon for their shutdown support for both planned and unplanned shutdown operations. Often the teams are working on production critical machinery, so efficient and reliable maintenance is imperative for the customer.
Boilermaking & Line Boring
Be it repairs, maintenance or bespoke fabrication of fixed/mobile equipment, end-to-end solutions are ready within the company. The company deploys a specialist team of welders and precision line boring technicians to minimise downtime and maximise productivity on site.
Rail & Port Maintenance
Rail and ports are the most economical means for hauling. Mader Group has at its disposal a bevy of experienced and well-seasoned rail mechanics and specialised teams to look after the maintenance of rail and port infrastructure.
Electrical Services
Equipment maintenance isn't entirely mechanical, a large element of service and repair work involves highly specialised and intricate electrical maintenance. The demand for automotive and high voltage electricians is increasing with the increase of autonomous and electric vehicles further driving this trend. Mader's technical team has experience with electric drive equipment and autonomous hauling systems and are working with all the biggest names in mining.
Drill Support Team
The team provides maintenance and repair services for surface top hammer, rotary drilling rigs and DTH. This service is a team-based solution designed for planned maintenance and unplanned outages.
Digger Support Team
Excavators are production critical in any mine site setup. The excavator specialists at Mader Group ensure that equipment is maintained to the highest level of standards and mining operations continue at optimal performance with minimal down time.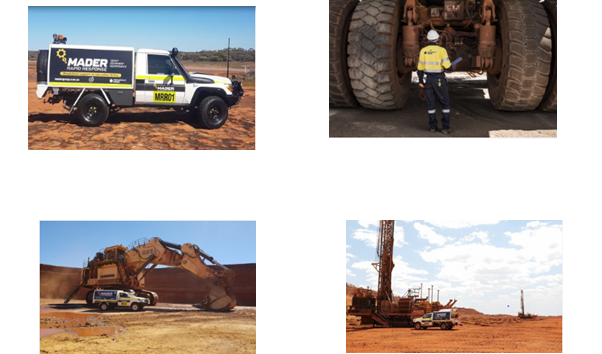 Specialised services by Mader Group (Image source: Company website)
All in all, on the back of its highly specialised services, Mader Group is marching ahead towards its strategy of unlocking growth in highly attractive addressable markets.
Share Price Movement
MAD traded at $0.950 per share on the bourse on 16 April 2021. The company has a market cap of $191 million.
Note: All currencies are in AUD.