Summary

Gold players witnessed buoyant prospects with impeccable gold price rally amid the coronavirus pandemic.
King River Resources is well placed with high-grade gold projects and an encouraging market scenario.
The Company commenced exploration at its gold projects in 2020, on the back of highly encouraging past results.
KRR discovered a new high-grade gold zone at its WA gold project.
While it has been a choppy ride for many industries, bullion counters are buzzed with activities as investors are seeking security in resilient gold assets against the pandemic-stimulated volatility. As a result, the demand for gold-related investments has remained stunningly high, pushing gold spot price to above US$2000 during the mid-2020.
With this backdrop, let us look at the developments panning out in the gold market and how King River Resources Limited (ASX: KRR) is positioned to leverage the exciting prospects.
Also Read: Recounting King River Resources' (ASX:KRR) 2020 Journey Across Projects
Encouraging Gold Exploration Potential
Reports have suggested that the high prices for the yellow metal have translated into exploration optimism. The zeal for gold exploration is validated by investors' interest, who backed solid 2020 financing trends.
The Resources and Energy Major Projects 2020 report (released by the Department of Industry, Science, Energy and Resources of Australia) also points at strong investment trends in gold exploration.
As per the report, the value of gold-related projects edged up by 35% over the 12 months from the start of November 2019 to the end of October 2020. Furthermore, gold exploration expenditure in the country reached nearly A$1.2 billion in 2019-2020. Notably, the spending in gold exploration accounts for over two-fifth of the total mineral exploration expenditure incurred in Australia.
2021 is expected to carry forward the buoyant drift, with an anticipated uptick in exploration budget providing additional momentum to gold exploration.
Widespread Volatility Continues to Fuel Gold Prices
The COVID-19 death count in the US has crossed 400,000 mark, surpassing military causalities witnessed by the country during World War II. Meanwhile, the virus strain from the UK continues to remain as another critical concern. It is suggested that this strain could be up to 50% more transmissible.
Although the mass vaccination programs worldwide are sending signals for global recovery, pre-pandemic situations cannot be expected anytime soon. In his recent address, US President Joe Biden indicated that the darkest days against the pandemic lay "ahead of us, not behind us".
It could mean that volatility, triggered by the onset of coronavirus, is expected to remain rampant, consequently, gold-backed securities are likely to stay ahead of the curve in the New Year.
ALSO READ: A Growth-Stimulation Outlook for King River Resources' (ASX: KRR) HPA in the New Year
King River Resources Fast-Tracking Gold Projects' Development
The impeccable rally of the yellow metal and the presence of high-grade gold projects in the top mining jurisdictions have created a golden opportunity for King River Resources' (ASX:KRR) gold exploration endeavours. Taking a cue from the encouraging gold market scenario, the Company kickstarted exploration and drilling program at its gold project portfolio in the mid-2020.
Mt Remarkable Project
The 2,300km2 Mt Remarkable exploration licences cover the Whitewater Volcanics, which hosts high-grade gold mineralisation. King River Resources believes in the potential for discovery of further high-grade deposits along the trend, which is highly prospective and has encountered minimal previous exploration.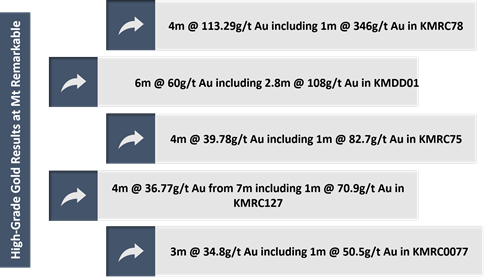 Kalkine Group Image (Data Source: KRR ASX Update, 16 August 2020)
The drilling program aimed at high-grade targets, identified in the last couple of years, with the main focus remaining on Trudi vein.
In January 2021, the company unveiled that 33 holes were drilled for over 2,310 metres in late-2020. The drilling at Trudi Offset and Jennifer North has returned significant results, with best result of 6m @ 5.25g/t Au including 1m @ 30.1g/t Au received from the 5-metre-grid drilling of the main Trudi (western side).
Detailed Discussion at More Golden Glory for King River Resources (ASX:KRR) at Mt Remarkable
Tennant Creek Exploration
In addition to a robust Mt Remarkable Project, King River Resources also holds 16 tenements, covering an area of 7,900km2 in the Tennant Creek Region. The tenements include 14 granted and two applications. The critical project areas include:
Tennant Creek East
Tennant East/Barkley
Rover East
Kurundi
The geophysical surveys conducted in 2019 returned exceptionally positive results, which are subject to follow-up drilling. Besides, reconnaissance exploration and ground and airborne geophysical surveys would advance other priority targets for drilling.
Also Read: King River Resources (ASX:KRR) Unveils Gold Potential With Prospective Ironstones Uncovered in Tennant East
All in all, the resource inventory at the Company's gold projects is expected to grow with drilling programs and surveys aimed at extending the mineralisation beyond the current resource boundary.
KRR was trading higher by 3.703% to A$0.028 on 19 February 2021 (AEDT 01:31 PM).