Summary

IOUpay Limited has received commitments for $50,000,000 using its placement capacity.
The proceeds will be used to support the current operations as well as new product development activities.
The Company is focused on accelerating its market position as a leading operator in the Southeast Asia digital payments and BNPL sectors.
IOUpay Limited (ASX:IOU) has secured binding commitments worth $50 million via a placement to pursue growth initiatives. Closed within two days, the placement marks the largest single raising in the history of the Company.
IOU is a Southeast Asia-focused fintech company, offering digital commerce software solutions and services in a secure manner while processing transactions for banking, payments, and purchases.
The Company is actively pursuing enhancements to its platform and development of its Buy Now Pay Later (BNPL) offerings.
PREVIOUS UPDATE: IOUpay (ASX:IOU) Ropes in EasyStore To Bolster BNPL Offering, Stock Soars 15%
Largest Single Raising in IOUpay's History
IOUpay witnessed strong demand for the placement from new and existing institutional investors, with the applications substantially exceeding the available capacity.
IMPORTANT READ: IOUpay (ASX:IOU) in Catbird Seat to Cash In on Digital Payments Boom
Pursuant to the placement, the Company offered 100 million shares to investors at a per-share offer price of 50 cents, indicating a 28.57% discount to the closing price of $0.70 on 15 February 2021. The price of 50 cents for each share also signifies a 15.06% premium to the 15-day VWAP of IOU shares on the ASX, before the date of the placement.
The settlement for the placement is scheduled on 22 February 2021 while allotment is due for next day, followed by the commencement of trading on the ASX on 24 February 2021.
Proceeds to Accelerate Growth Initiatives
IOUpay plans to utilise the funds raised towards its current operations, including: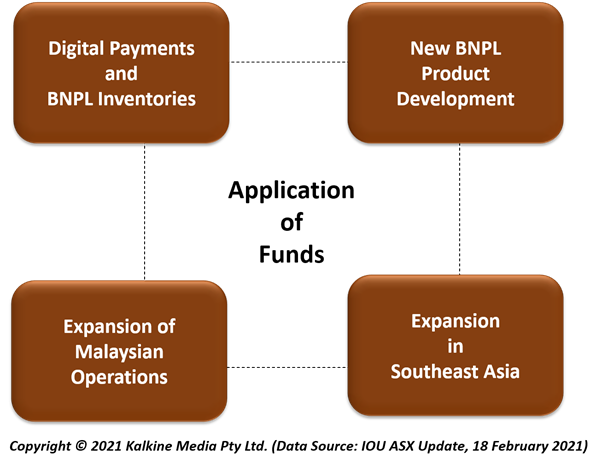 The funds will also be directed towards administrative and other costs.
INTERESTING READ: IOUpay Limited (ASX:IOU) eyes dominance in SEA Digital Payment Market
The Company believes that the current trend of growing digital commerce in SEA would continue, amid the progressive shift towards online purchases and cashless payments. IOU has rolled out new products and services in order to meet the escalating demand for digital commerce in the region. It remains on track to further progress and achieve milestones.
DECEMBER QUARTER UPDATE: IOUpay (ASX:IOU) ends eventful December quarter on a high note
Stock Information - IOU shares quoted at $0.615 per share at 02:56 PM AEDT on 18 February 2021.