Highlights

Alchemy Resources enjoys exposure to diversified mineral assets in the WA and NSW regions.
The Company has a dominant position in the WA gold belts with 1800km2 of a land package.
ALY operates the West Lynn Project in the NSW region with significant Ni-Co potential. Nickel and cobalt are in the limelight, as they are the essential ingredients of Li-ion batteries.
The Company's diversified asset portfolio also includes copper, lead and zinc projects.
The commodity market has been on fire. The price of several commodities including gold, silver, copper, iron ore, lithium, nickel, cobalt, and coal either peaked or reached all-time highs during 2021.
However, investors have been cautious as the price of some of the above-mentioned commodities slumped lately, particularly iron ore. Meanwhile, gold prices seem to be trapped in the range of US$1760/oz to US$1,850/oz.
Such volatilities in the price of certain metals can create wealth in a blink, while in some cases, investors may find themselves trapped at higher levels. It is not easy to predict the market, and if you are not a professional, it becomes next to impossible to decide your next move.
One can choose to diversify the portfolio to minimise such volatilities. In the investment world, portfolio diversification is one of the methods that aid in reducing overall risk. Portfolio diversification acts as a hedging element. The basic homework would require looking for companies that provide exposure to diversified mineral bases.
Here, we are discussing one ASX-listed mineral explorer with mining interests in gold, base metals, and battery metals.
Alchemy Resources Limited (ASX:ALY) is an Australian explorer with dominant landholdings in the Western Australian and New South Wales regions. The Company operates two gold projects in WA and NSW, and is a 20% JV partner in the Bryah Basin gold and copper projects. The base metals and Ni-Co projects are located in the NSW region.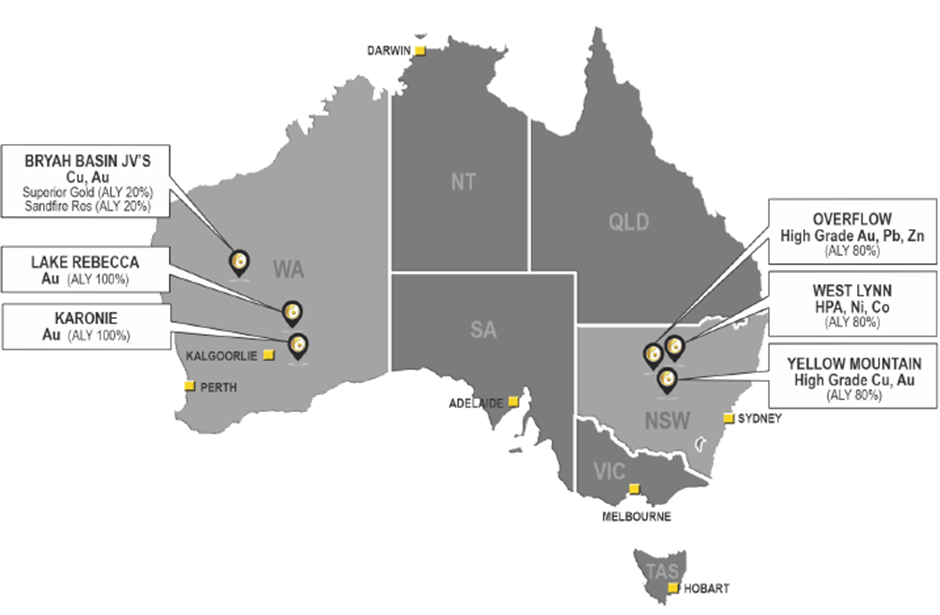 Alchemy Resources' Project map (Image source: Company update, 18 November 2021)
Related read: Alchemy Resources making rapid strides at high-grade WA and NSW projects
A Sneak Peek at Alchemy Resources' Project Portfolio
Karonie Gold Project - The wholly owned project sits within one of Australia's most well-endowed gold belts. The project is spread over an area of 1179km2 in the Kurnalpi Terrain greenstones. It includes 12 exploration licences and three exploration licence applications (ELA).
Last year, the Company announced a maiden Mineral Resource Estimate (MRE) for the project of 111,100oz @ 1.2g/t Au.
Alchemy has commenced a drilling campaign at the gold project. The aircore drilling campaign will target a 10km long corridor adjacent to the Aldiss Mining Operations of Silver Lake Resources at Karonie East. Two more drilling campaigns are planned during the year, focusing on the Western Brown / Gilmore and Challenger / Esplanade targets.
Detailed Discussion at: Alchemy Resources (ASX:ALY) kicks off gold-focused aircore drilling at Karonie
Lake Rebecca Project – Lake Rebecca is in the initial stage of exploration. The Company is currently busy compiling the exploration data. This will help in generating targets for the upcoming exploration operations in the project area.
Bryah Basin Project - Alchemy's JV in the Bryah Basin Project represents near-term potential on the Hermes gold deposit. Superior Gold, the JV partner on the project, plans to commence mining on the Hermes deposit in 2022. The JV project lies along the strike of the De Grussa copper mine.
In the project, Alchemy retains a 20% interest free carried to production, then 20% share of costs to production repaid from 50% of Alchemy's share of profit.
Related read: Will 2022 add lustre to Alchemy Resources' (ASX:ALY) golden dreams?
West Lynn Project - The project holds potential for lateritic Ni-Co and alumina. The project has an estimated resource potential of 21.3Mt @ 0.84% Ni, 0.05% Co, and 6.6Mt @ 20.8% of alumina.
Nickel and cobalt are the basic components of lithium-ion batteries. As the electric vehicle industry is gaining traction, and the demand is forecast to remain strong in the coming years, the demand for battery materials, including lithium, cobalt and nickel are also expected to surge.
Also, cobalt is the most expensive metal when compared to all other battery materials. The battery manufacturers are looking for legitimate and ESG-compliant sources of cobalt. The West Lynn project can provide a better alternative for cobalt supply as most of the current supply comes from Congo, which is often accused of human rights violations and employing child labours at its mining sites.
Overflow and Yellow Mountain projects - The Overflow and Yellow Mountain projects host gold mineralisation along with the potential of base metals.
The Company plans to undertake drilling on the Overflow Project during 2022 as mineralisation has been traced over a 700m strike length. The project, which has not witnessed drilling since 1986, has potential for gold, copper, lead, and zinc. Grab samples from the project area have resulted in 7.15% Cu, 6.4% Pb.
Way Forward
Alchemy Resources has planned robust exploration and drilling campaigns over its projects during 2022.
(Image source: Company update, 18 November 2021)
ALY shares traded at AU$0.012 on 27 January 2022.