Summary

Imugene Limited (ASX:IMU) delivered an insightful presentation at the ShareCafe Small Cap "Hidden Gems" webinar held last week.
The Company provided an overview of its developing range of new and novel immunotherapies at the event.
Imugene expects the commencement of the onCARlyticsTM Phase 1 study in 2022.
Clinical-stage immuno-oncology Imugene Limited (ASX:IMU) recently participated in the ShareCafe Small Cap "Hidden Gems" webinar, held on 11 June 2021. The Company's CEO and Managing Director, Leslie Chong, delivered an insightful presentation at the event, providing an overview of Imugene's developing range of new and novel immunotherapies.
Good Read: Success Story of Imugene Limited (ASX:IMU): Australia's Newest AUD 1 Billion Company
Imugene is a biotech firm headquartered in Australia and publicly traded on the Australian Securities Exchange. The Company holds three novel technology platforms - Oncolytic virotherapies, onCARlytics in cellular therapy and B-cell activating immunotherapies - aimed at treating a variety of cancers in combination with standard of care drugs and emerging immunotherapies.
Here are the key highlights of the presentation shared by Ms Chong at the webinar:
Progress in B-cell immunotherapies
Imugene's B-cell immunotherapies primarily comprise HER-Vaxx and PD1-Vaxx, targeting gastric and lung cancers, respectively.
HER-Vaxx is in advanced stages of development, with the recruitment of patients under Phase 2 gastric cancer trial already completed. The first patient was enrolled under the Phase 2 trial of HER-Vaxx in March 2019, while the last patient was enrolled in January 2021.
In patients receiving HER-Vaxx plus chemotherapy, the Phase 2 interim data demonstrated a Hazard Ratio of 0.418 (80% 2-sided CI: 0.186, 0.942) and Overall Survival of 14.2 months, compared to 8.8 months in patients receiving chemotherapy alone. This interim analysis data was expanded by Imugene's Chief Medical Officer, Dr Rita Laeufle, at the American Association for Cancer Research (AACR) Annual Meeting held this year.
Read More at Here is Imugene's latest update on anti-cancer therapies HER-Vaxx & CF33
The vital clinical endpoint of Progression Free Survival (PFS) has also been met in Phase 2 clinical trial of HER-Vaxx, with top-line data expected in August 2021.
Do Not Miss: Imugene Limited (ASX:IMU) Marks a Major Breakthrough in HER-Vaxx Phase 2 Trial
In addition to HER-Vaxx, Imugene is also progressing with the development of its B-cell immunotherapy PD1-Vaxx, which is currently in the Phase 1 clinical development stage. The Company dosed its first Non-Small Cell Lung Cancer (NSCLC) patient under PD-1 Vaxx's Phase 1 trial in December 2020 and proceeded to the third and final highest dose cohort in April 2021.

The Phase 1 trial of PD-1 Vaxx has been designed to seek safety, tolerability, and early response signals to determine the optimal dose for further development.
Must Read: Imugene Ticks Off a Key Milestone in PD1-Vaxx Phase 1 Trial, Shares Up
Development in oncolytic virus program
Imugene is continuing to work towards the clinical development of CF33, which has been developed in two constructs - VAXinia (CF33+hNIS) and CHECKvacc (CF33+hNIS+antiPD-L1). CF33 has shown strong anti-tumour responses in preclinical studies, better than Amgen or Genelux oncolytic virus.
Recently, the Company has also entered into a licensing agreement with the City of Hope for patents covering onCARlyticsTM, which is a novel CD19 expressing oncolytic virus. onCARlyticsTM is a solid tumour fighting combination treatment that puts together the Company's oncolytic virus CF33 with Chimeric Antigen Receptor (CAR) T cell therapy.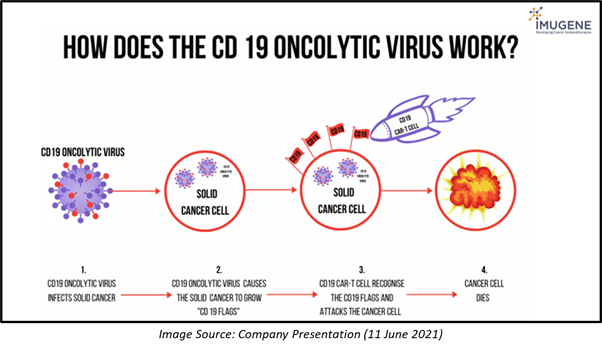 CAR T cell therapy has had limited activity in solid tumours, largely due to a lack of selectively and highly expressed surface antigens, such as the blood B cell antigen CD19. The four FDA approved CD19 CAR T drugs currently work in only blood cancers, with solid tumours remaining the holy grail.
Notably, onCARlyticsTM makes the treatment of solid tumours by CAR T drugs viable. Imugene expects the commencement of the onCARlyticsTM Phase 1 study in 2022.
Interesting Read: Imugene Enters into Licensing Agreement with City of Hope for Patents Covering onCARlyticsTM
As of 2:36 PM AEST, Imugene shares are trading at AU$0.340.