Source: Jason Benz Bennee,Shutterstock
Summary

Horizon Minerals released interim results for the half year ended 31 December 2021.
Gold rally and strategic orientations have proven significant to the progress of HRZ exploration undertakings.
Horizon is advancing to become a significant gold production company, with the processing facility situated at Boorara.
Horizon Minerals Limited (ASX: HRZ) has remained highly active in Western Australian goldfields, with its strong project pipeline witnessing impressive progress concerning gold exploration and production. Backed by strategic operations, the Company was able to fast-tract developments amid the COVID-19 pandemic.
Meanwhile, the gold rally proved to be a significant boost to the Company's endeavours, leveraging its position in the gold market. The Interim Financial Report of the half year ended 31 December 2020 highlights the milestone-rich journey of Horizon during the period.
HRZ shares traded at $0.1 on 4 March 2021 (AEDT:11:13 am).
ALSO READ: Horizon Minerals' (ASX:HRZ) golden run continues with high-grade results at Peyes Farm
Let us explore the Company's progress across different fronts catalysing its growth prospects.
Source: HRZ ASX Update, 2 March 2021
Exploration Progress across Horizon's Project Portfolio
Horizon continued exploration initiatives across its wholly own tenure in WA's Goldfields. The focus of the activities was majorly on reserve conversion drilling in Coolgardie region at:
Teal- Jacques, Peyes, Teal East,
Binduli- Crake
Rose Hill
Significantly, a total of 189 reverse circulation holes and 12 diamond drill holes were completed for 4719 metres and 1138.2 metres, respectively.
Key milestones achieved by the Company includes
Drilling finished at two advanced stage exploration projects including Baden Powell and Binduli (Coote), returning encouraging outcomes with consistent mineralisation of gold.
Wrapped up greenfields style exploration at Teal (Wills Find and Yolande) and Binduli (Honeyeater, Darter).
Horizon completed a small aircore (interrupted) program at Windanya which was further resumed in January 2021.
Two gravity surveys concluded at Kanowna South and Yarmany.
Six further magneto-telluric (MT) accomplished at the Nimbus area (covering Black Flag, Binduli-Teal, and Balagundi-Kanowna South)
Independent consultants concluded project reviews for Gunga West and Golden Ridge, with both deposits having marginal economics with a scenario for pit cutback or extension.
For all the prospect areas, target generation studies finished as well as POW's lodged.
Mine Development Undertaken
During August 2020, Stage 1 mining at the Boorara Gold Mine completed six weeks prior to the schedule. The three trial pits (each at Crown Jewel, Regal East and Regal West deposits) were concluded mining 513,000 BCM ore.
The second and third milling campaigns occurred during the period. Gold produced from the second milling campaign (totalling 1,845 fine ounces) attracted the average sale price of AUD 2,654 per ounce.
The third milling campaign consist of ore from the trial pits (Regal East, Regal west and, Crown Jewel). Gold generated from the campaign amounted to 2,491 fine gold ounces with all gold attracting average sale price of AUD 2,466 per ounce.
The campaign generated gold ounces totalling 1,182 and traded at an average sales price of AUD 2,356 per ounce.
Copyright © 2021 Kalkine Media Pty Ltd.; Data Source: HRZ ASX Updates (15 December 2020, 6 October 2020, 7 August 2020 & 23 February 2021)
Feasibility Progress across the projects
In relation to feasibility, significant work was undertaken metallurgical, geotechnical, evaluations, infrastructure and approval on Rose Hill, Kalpini, Binduli and Teal.
ALSO READ: Horizon Minerals (ASX:HRZ) sitting on a sweet spot with high-grade results from Jacques Find Gold Project
Rosehill Project
The feasibility study continued, involving an update to the high-grade Rose Hill Resource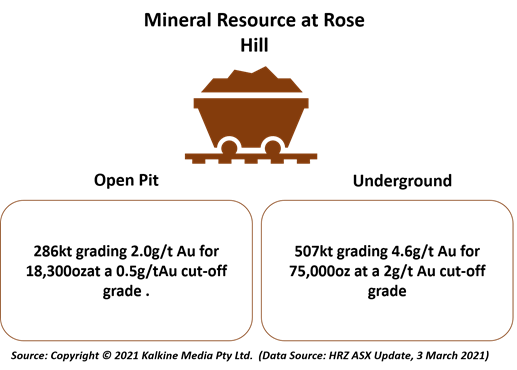 Other Significant Developments Bolstering Horizon's Progress
Sale of Nanadie Well Copper-Gold Project
Horizon divested its entire stake in the Nanadie Well project to Cyprium Metals Limited (ASX: CYM) for a total consideration (cash and shares) of AUD 1.5 million.
PFS at Richmond Vanadium Project
During the period, Horizon Minerals Released a positive Pre-Feasibility Study (PFS) dedicated to Lilyvale vanadium deposit development. The PFS was based on an initial 20-year life at the deposit indicating the project's financial viability.
Apart from finalising the optionality within the PFS to the next level of study, Horizon shall continue discussions with potential offtake partners.
Capital Raising
Horizon issued around ~115 million HRZ fully paid ordinary shares for raising AUD 15 million.
Profit after tax for the half year ended 31 December 2021 was more than AUD 2 million. Cash and cash equivalents with Horizon at 31 December 2020 was AUD 15.77 million.