Summary

Horizon Minerals has received significant high-grade and shallow mineralisation results at its Kestrel discovery.
Kestrel is a part of the Binduli project area, which already hosts the advanced Crake and Coote projects.
The 10,000 metres RC and diamond drilling program is on the cards in the September quarter of 2021.
Horizon Minerals Limited (ASX: HRZ) has cracked significant mineralisation at its Kestrel discovery, a part of the Binduli gold project area in the Western Australian goldfields. The new drilling results from the Company's 100% owned Kestrel returned thick zones of shallow and high-grade mineralisation, building on the proven success at Binduli.
RELATED ARTICLE: Horizon Minerals (ASX: HRZ) continues its gold quest with excellent drilling results at Binduli
Commenting on the latest set of assay results, Horizon Managing Director Mr Jon Price stated that Binduli already hosts the advanced Crake and Coote projects, located seven kilometres to the south. He added that Horizon could see the potential for the emerging goldfield to become a significant contributor to the Company's longer-term production profile.
Source: HRZ ASX Update, dated 2 August 2021
RELATED ARTICLE: Horizon Minerals' (ASX:HRZ) golden run continue at Crake with the latest results
The focus of Horizon's extensive 50K metres drilling program across its project portfolio is to organically grow the resource base within a 75 kilometres radius of the mill proposed at Boorara and add to the six core development projects under evaluation. Binduli area is one of the core developments projects.
ALSO READ: Horizon Minerals (ASX:HRZ) Revving Up Developments to Monetise High-Grade Gold Deposits
A Background to exploration drilling
Several shallow anomalies from previous work were identified during the target generation study. These anomalies either drilled too shallow to penetrate the depleted cover or were not followed up. The field inspection of such sites has noted extensive kilometre scale hydrothermal alteration centred on the Kestrel area in many drill spoils.
Kestrel's gold mineralisation is typically found in quartz veins which ranges from 3-15 metres width and has minor pyrite and various amounts of silica-carbonate-sericite-chlorite alteration.
RELATED ARTICLE: Horizon Minerals' (ASX: HRZ) Project Acquisition Further Widens its Gold Footprint
Drilling Results at Kestrel
The drilling program completed 15 RC holes for 1,630 metres at the emerging Kestrel prospect. The assay results for eight holes, stepping out to the south and east, are pending. It includes repeat assays due to a considerable degree of nuggety gold panned from samples.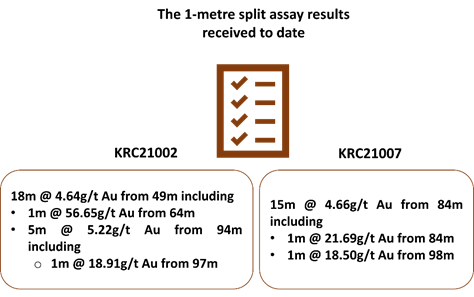 Source: Copyright © 2021 Kalkine Media, Data Source: HRZ ASX update, dated 2 August 2021
The Company intends to complete bulk one-kilogram Leachwell sampling, screen fire assay testing, acid digest as well as standard assaying techniques to deliver the most representative results possible.
ALSO READ: Horizon Minerals (ASX:HRZ) in a Solid Position with 34% Gold Grade Uptick at Boorara
What will be the next steps?
The upcoming activities to be undertaken at the Binduli project area includes:
The program, dedicated 10,000m RC drilling, is to commence in September Quarter 2021. This shall help to test strike extensions at Kestrel outside the current 200 metres strike zone and depth extensions to 250 metres.
Diamond drilling program to commence in the current quarter to provide samples for initial metallurgical assessment and information on structural geology.
Multiple targets along the 10 kilometres Janet Ivy shear between Crake and Honeyeater will be tested with the RC rig to 90-150 metres depth.
Triggered by the latest set of assay results, HRZ shares surged over 4% on 2 August 2021, and ended the day at A$0.12.