Source: Dmytro Budnik, Shutterstock
Summary

Empire Resources Limited has made praiseworthy progress across its project portfolio to enhance its understanding of geology in the area.
Simultaneously, the Company has delivered significant growth for its shareholders over this period.
ERL remains confident about its upcoming planned programs to be executed across its project portfolio.
Over recent times, Empire Resources Limited (ASX:ERL) has shown strong commitment towards developing a sustainable and profitable mineral business backed by a team of professionals experienced in various realms, including exploration, development as well as finance.
Empire Resources has in its kitty two highly prospective projects with excellent potential and has made noteworthy exploration progress across them. The exploration activities of ERL have returned encouraging results that add value to the Company's future pipeline of activities across the project portfolio.
INTERESTING READ: Empire Resources Limited Calls the Tune in Its Significant Landholdings, A Walk Through Its Project Portfolio
ERL delivers notable growth for shareholders
In tandem with these exploration efforts, the Company has also delivered significant value for its shareholders. Over the past year, ERL stock has increased by ~84% till the closing price on 26 March 2021. The Company has turned the corner around a challenging past year and looks to generate value from direct exploration continuously.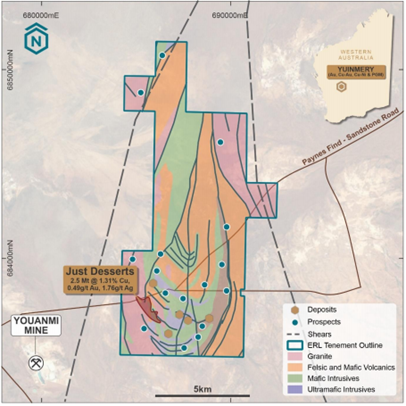 Yuinmery Project Location Map (Source: Company Announcement 15 February 2021)
Over the years, ERL has enhanced its understanding of the geology, alteration features and structure at its Yuinmery Project. Besides this, the opportunities for the Company to target earlier untested areas have expanded due to this enhanced knowledge coupled with the finding of new copper-gold, copper-nickel and PGM occurrences.
Significantly, the Company's conceptual models of VMS deposits, layered PGM incidents, and orogenic gold mineralisation utilised to concentrate on exploration have evolved over time.
DID YOU READ: 3 Key Elements of Empire Resources Lucrative Investment Portfolio
The road ahead
Going forward, ERL looks to benefit from a consistent exploration method to enrich and complement its present knowledge base. The Company has planned a detailed structural interpretation of the Yuinmery project in conjunction with geophysical techniques such as ground gravity and DHEM surveys.
The Company is at an advantage as these programs have an established record of being successful in identifying VMS deposits.
There is an ongoing geochemical and geophysical analysis, which the Company plans to utilise for the identification of the specific type of geochemical discontinuities or stratigraphic horizons.
DECEMBER QUARTER UPDATE: Empire Resources poised for more glory after Busy December Quarter
In order to test its pipeline of targets, the Company has engaged a systematic exploration approach. Under this approach, ERL has plans for first-pass AC, infill AC and RC programs at several regional targets and pending RC results.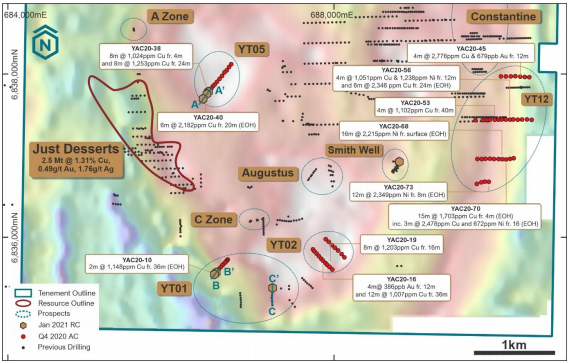 Yuinmery Deposits, Prospects and Drill Collar Locations (Source: Company Announcement 15 February 2021)
Furthermore, ERL has also planned a diamond and RC drilling to assess conductive bodies at greater depths as well as favourable stratigraphic and structural targets for VMS mineralisation.
The Company is now optimistic about drilling high-grade repetitions target and prospective expansions adjoining and in proximity with recognised deposits. With a substantial shortage of drilling at depth throughout the Company's tenement suite, ERL looks to take advantage of the opportunity to discover positive host rocks.
RELATED: What is the forward plan of Empire Resources (ASX:ERL)?
On 26 March 2021, ERL stock closed at AUD 0.013 with an AUD 11.81 million market capitalisation.